Louis Vuitton academic partnership with Italy's oldest school of cinema
Louis Vuitton Rome Etoile Maison Opening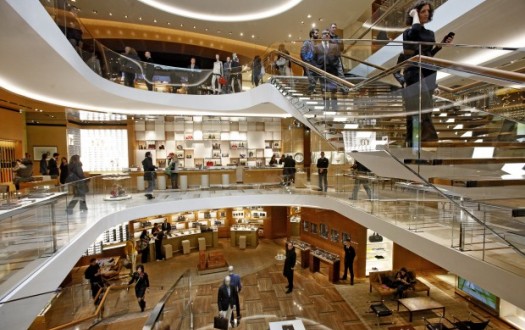 Italy's oldest school of cinema (Centro Sperimentale di Cinematografia/ Italian National film school) and Louis Vuitton signed a three-year academic partnership that will aid students of cinematography, set and costume design in their creative tuition.
There will be costume workshops "focusing on the design of the late 17th century" conducted by famed Italian costume designer Piero Tosi.
The luxury house will "assist in the formation of an honors committee composed of key figures in cinema; the tutoring of young talents enrolled at the National School of Cinema; the establishment of a scholarship for students with limited means; and the creation of workshops to complement the school's current curriculum".
"[Centro Sperimentale di Cinematografia and the house] share a lot of values in common: transmission of heritage, savoir faire, passion for creation and support of talent," South Europe president of Louis Vuitton Geoffroy van Raemdonck explained. "We share that this is the oldest school, and we are a very old brand. It was very easy from the first discussion to understand how this partnership would live."
Louis Vuitton opened the first Louis Vuitton Maison in Italy on 29th January 2012. With the opening of the new boutique in Rome called the Etoile Maison, the world renowned trunk and luggage-maker marks a major achievement in its history, and firmly reaffirms its presence in Europe.
The Louis Vuitton Maison Etoile Rome includes a book room dedicated to Italian cinema and a 19-seat cinema, which will screen short films, documentaries and original LV creations.
Watch the Rome film project presented above.