Celebrity Chef Wylie Dufresne's kitchen renovation features a large walnut island for entertaining and food prep, rich brass stools and a grand stainless steel 42″ True Residential Refrigerator.
As one of the most recognizable and innovative culinary figures, the James Beard Award-winning, Michelin-starred chef is known as the leading proponent of modernist gastronomy in America. He has received numerous accolades and acclaim for his landmark restaurant wd~50 and East Village restaurant Alder. In 2017, Wylie opened his first casual venture, Du's Donuts and Coffee, adjacent to The William Vale Hotel in Williamsburg, Brooklyn.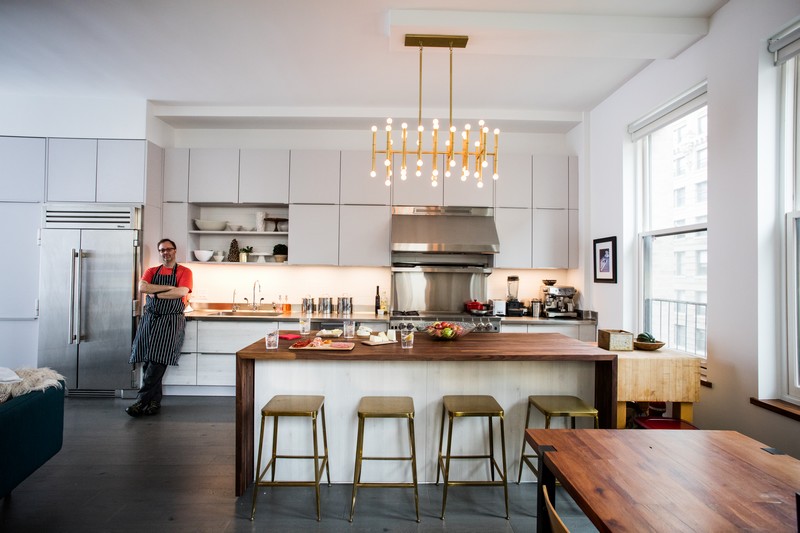 A James Beard Award winning chef, veteran restaurateur and current owner of Du's Donuts in Brooklyn, Wylie Dufresne knows a thing or two about kitchens. Having just acquired his former childhood home in the heart of NYC, the time came for Wylie to renovate the kitchen according to his and his own family's needs. A meaningful project for the chef, the renovation features stainless steel countertops, rich wood accents, and a trio of True Residential offerings: True 42″ Fridge, True Clear Ice Machine, and True Dual Zone Wine Cabinet. Each unit has the look and performance of commercial refrigeration, but is sleek, timeless, and beautifully refined for the home.
Here are Chef Wylie's key ingredients for a True Chef's Kitchen:
Strong Commercial Feel, Refined for the Home
With more than 24.44 cubic feet of stylish, stainless steel refrigeration, True's 42" luxury refrigerator is changing the way we think about luxury appliances for chefs and families alike. True's noise-conscious engineering balances commercial performance with residential environments.
"With hygienic, attractive stainless steel interiors and incredibly sturdy drawers, the True 42" delivers that commercial strength that I rely on at work to my home," commented Wylie.
Going with the (Work) Flow
"So much about functionality of a kitchen is tied to movement within it," says Wylie. In a residential setting, not only does the kitchen accommodate the cook (or multiple cooks!), but also guests seeking refills, roaming children, restocking appetizers, etc. The key is different "zones."
For his home kitchen, Wylie created a separate zone for ice with True's Clear Ice Machine. The highest-performing, most energy-efficient clear ice machine available to homeowners, it incorporates TruLumina Lighting System and is UL-rated for both indoor and outdoor use. Another benefit? Chefs know that freezers should be dry environments.
Though they are widespread on the market, ice machines within freezers are not preferable as they create excess frost. When the occasion calls for wine, Wylie selects from his True's Dual Zone Wine Cabinet. Meticulously designed to preserve the best bottles, the unit features independent climate zones that provide precise control, offering separate temperature ranges from 40°F to 65°F. The system also boasts glide-out, vibration-dampening racks to protect those vintage wines, echoing the pulling motion of drawers in a restaurant kitchen.
Leftovers, Rethought
As both a family man and a professional chef, Wylie values refrigeration that allows for an array of fresh ingredients and meals, and packed school lunches for his children. True's exclusive cascade airflow system provides consistent temperatures throughout the unit so food stays just as fresh–and nutrient packed–as when first cooked.