The Fondation targeted 700,000 visitors the first year after the inauguration on October 24, 2014.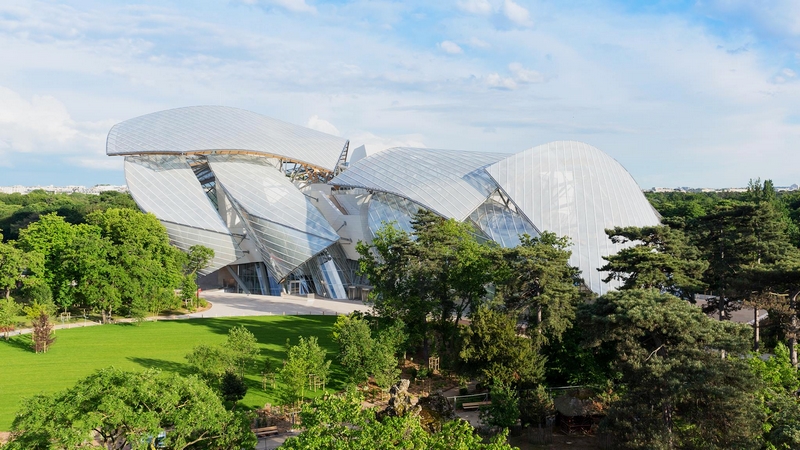 The Fondation Louis Vuitton celebrates a year of existence. Opening its doors a year ago, The Fondation has emerged as a major institution in the cultural landscape of Paris, France, and indeed the world. It is welcoming exhibitions, artistic and musical performances, concerts, plus master classes and educational workshops. Artists to date have ranged from Lang Lang to Kanye West and Kraftwerk.
With a transparent lightness that evokes the sails of a ship, 3,600 glass panels constitute the roof of the impressive building designed by Frank Gehry. Conceived as a vessel floating in its natural environment, the boldly unique building was made possible thanks to innovative expertise and technologies. This architectural feat has become a new symbol of Paris, as well as of a France focused on vibrant innovation.
In addition to its own collection, the Fondation Louis Vuitton has organized several temporary exhibitions, alternating between contemporary shows and historical perspectives. Olafur Eliasson presented unique installations created specially for the Foundation, while the most recent exhibition, Keys to a Passion, brought together an emblematic selection of major works from the 20th century that connect with the four core themes of the collection.
For its 2016 program, the Foundation will feature contemporary Chinese art, both in its own collection and in a series of exhibitions.
Currently on show is the third hang which centers around the "popist" and "music/sound" axes of the Collection from the Fondation Louis Vuitton. The third hang will be on show until the 4 January, 2016.
The first axis of the hang, 'Pop', brings together works which highlight artists'interest in objects and images circulated by the media, TV, cinema, and the Internet. The featured artists are: Jennifer Allora & Guillermo Calzadilla, Jean-Michel Basquiat, Mohamed Bourouissa, Gilbert & George, Andreas Gursky, Bertrand Lavier, Adam McEwen, Michel Majerus, Christian Marclay, Philippe Parreno, Richard Prince, Sturtevant, Andy Warhol.
The second axis, music / sound, displays works that take on the form of environments, sculptures, videos, pieces where music and sound are used as integral parts of the works themselves. The featured artists are: Marina Abramović, Pilar Albarracín, Ziad Antar, Ulla von Brandenburg, John Cage, Rineke Dijkstra, Cypri.