1932: Chanel celebrates the 80th Anniversary of its first collection of high jewelry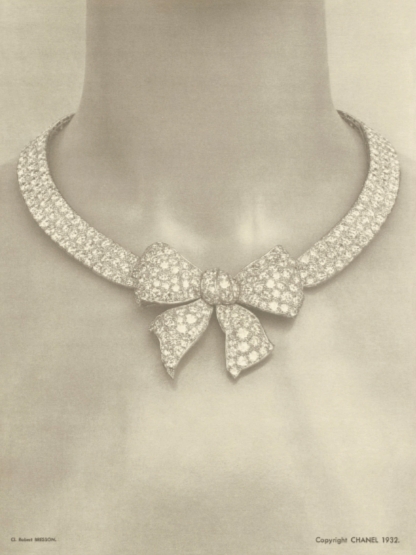 Chanel celebrates the 80th Anniversary of its first collection of High Jewelry created by Mademoiselle Chanel, "Bijoux de Diamants."
In 1932, at the request of the International Diamond Guild, Coco created "Bijoux de Diamants", Chanel's first collection of high jewelry. The diamonds were mounted in platinum, an extravagance that only Coco can afford after the 1929 crash.
From that era, only two original pieces were preserved – a ring and a brooch. For the 80th Anniversary of its first collection of high jewelry, Chanel will unveil this summer 80 pieces of the "1932" high jewelery line inspired by the original collection.
Coco declared that she started creating costume jewelry because she felt that it was refreshingly free of arrogance, during a period that tended towards ostentatious displays of luxury.
"This consideration faded into the background during the economic recession, when, in every sphere of life, there emerged an instinctive desire of authenticity, and amusing trinkets were once put into their proper prospective," Gabrielle Chanel wrote in 1932.
"If i have chosen diamonds, it is because they represent the greatest value in the smallest volume. And my love of things that glitter has inspired me to try to combine elegance and fashion through the medium of jewelry".
Looking at the original designs – the "Comète" necklace, star or node, or the fringes bracelet, the jewelry never lost the sparkling charisma. The "Comet" became "Shooting Star", and is redrawn on a necklace that can be worn as a brooch.