New Oceanis 38 – top honors for "Best Boat 2014" in the SAIL's 31 to 40-foot monohull category.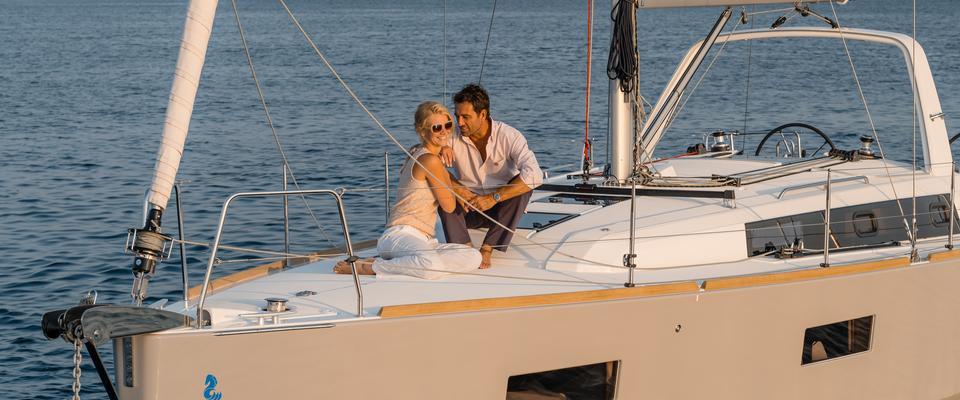 SAIL magazine announced winners of its "Best Boats 2014" contest, and Beneteau's new Oceanis 38 received top honors for "Best Boat" in the 31 to 40-foot monohull category. Oceanis 38 is "very unusual"  thanks to the vessel's modern design, open floor plan, and never-seen-before volume for a 38-footer.
Peter Nielsen, Editor in Chief at SAIL magazine and "Best Boat" judge, reviewed the Oceanis 38 during its launch at the U.S. Sailboat Show in Annapolis last month. Nielsen commented that the Oceanis 38 is unlike any production boat he has ever seen and concluded, "Beneteau is onto something."
Indeed, the new Oceanis 38 can be a daysailer, weekender, or cruiser based on the owner's needs and preferences.The daysailer offers an open, loft-like space with clean lines and an uncluttered feel. A two-person berth is located far forward and the aft of the yacht is dedicated to storage.
The weekender features two and three-cabin layouts, which can remain open or enclosed based on privacy preferences. It can also include a separate shower, fitted galley and extra table in the salon and/or cockpit. The weekender offers the most flexibility allowing many interior components to be added to the yacht as the owner's needs evolve over time.
The cruiser can have two or three fitted cabins, a large galley, mainsail arch, helmsman seats and swim platform. While more conventional, its owners can choose the layout configuration and some components based on personal inclination.
The Oceanis 38 features a continuous full-length chine and deep draft T-shaped keel, which have proven to enhance performance, increase stiffness and provide stability while reducing heel. Moreover, the yacht's twin rudders make way for a more responsive helm.