Extraordinary Object: Van Cleef & Arpels Fée Ondine Automaton.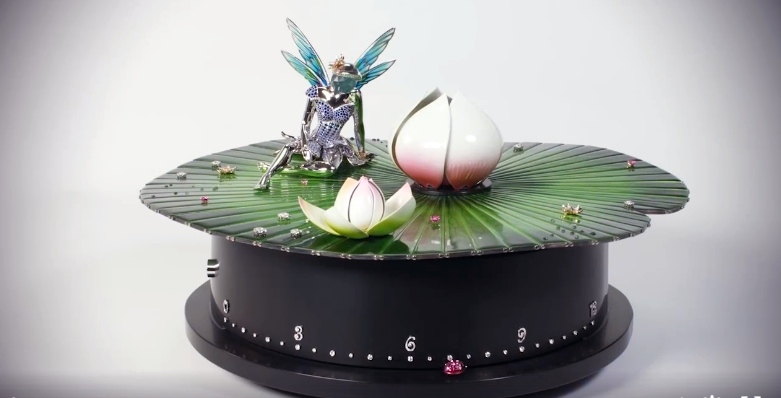 At this year's SIHH/ 2017 Salon International de la Haute Horlogerie held these days in Geneva, Van Cleef & Arpels debuts the Fée Ondine Automaton made in collaboration with François Junod. Junod is an automatier, or automaton maker based in Ste-Croix, Switzerland. Bringing together several jewelry and watchmaking traditions, this Extraordinary Object owes its existence to the savoir-faire of the numerous craftsmen who have taken part in its creation.
An automaton is a self-operating machine, or a machine or control mechanism designed to automatically follow a predetermined sequence of operations, or respond to predetermined instructions. Some automata, such as bellstrikers in mechanical clocks, are designed to give the illusion to the casual observer that they are operating under their own power.
Bringing together the jewelry and watchmaking traditions, this unique piece marks a new chapter for the Maison, in keeping with precious objects such as carriage and table clocks.
The highly complex mechanism – which animates various elements and also tells the time – gives pride of place to an ephemeral poetry: movement and lightness, the beauty of nature, the grace of a fairy waking from sleep and the nuances of precious stones and enamel. This bejeweled tableau comes to life with infinite delicacy.
Contemporary automata continue this tradition with an emphasis on art, rather than technological sophistication. Contemporary automata are represented by the works of Cabaret Mechanical Theatre in the United Kingdom, Dug North and Chomick+Meder, Thomas Kuntz, Arthur Ganson, Joe Jones in the United States, Le Défenseur du Temps by French artist Jacques Monestier, and François Junod in Switzerland.
Van Cleef & Arpels also presented a new Poetic complication watch: the Lady Arpels Papillon Automate in a tribute to the Enchanting Nature.