San Francisco's Dorade won Trans Pacific Sailing Race.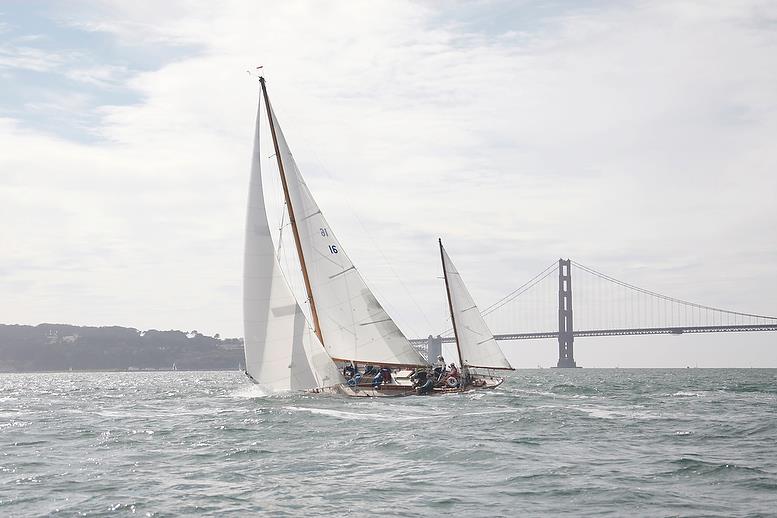 "They said we'd never make it and if we did it would take four weeks," said Dorade skipper and co-owner Matt Brooks. "Skeptics said it was like taking a fine piece of antique furniture and dropping it in the ocean, and she shouldn't be sailed hard in blue waters."
Dorade, a narrow-beamed wooden boat built in 1929, proved those skeptics wrong by winning the 2013 TransPac Race from Long Beach to Honolulu on corrected time of 132 hours, 20 minutes, and 55 seconds, beating her closest competitor, Roy Disney's Pyewacket, by just over two and a half hours. She also took top honors in her class.
The Transpacific Yacht Race (Transpac) is an offshore yacht race starting off Point Fermin, San Pedro, near Los Angeles, and ending off Diamond Head Lighthouse in Honolulu, a distance of around 2,225 nautical miles (2,560 mi; 4,121 km). Started in 1906, it is one of yachting's premier offshore races and attracts entrants from all over the world. The race is organized by the Transpacific Yacht Club. The race is famous for fast downwind sailing under spinnaker in the trade winds.
Dorade's victory comes 77 years after the first time Dorade won the TransPac race in 1936, when she was owned by San Francisco's James Flood. Dorade's victory in 1936 helped put the fledgling St. Francis Yacht Club on the map in 1936, and she did the club proud once again in 2013 by flying under the St. Francis colors.
"We thought if we could match Dorade's 1936 record of thirteen days that would be absolutely fantastic," said Brooks. "We actually beat that record by more than a day. To do what we've done exceeded all our expectations."
Dorade yacht set a steady pace from Long Beach to Honolulu in conditions that were ideal for the first wave of starters in the 22 on July 8, turning in an average speed of 7.8 knots, 8.1% faster than her performance in 1936. She also hit a lifetime record speed of 15.9 knots.
Brooks and his wife Pam Rorke Levy bought Dorade in 2010 and spent more than a year refitting it for ocean racing, with the goal of repeating the many races the boat won in the 1930s, a record of wins that stands unbeaten today. They entered the 83-year-old Dorade in the TransPac against the advice of many in the sailing community, who view the boat as an irreplaceable piece of maritime history. Sea trials and constant refinement of the boat's systems have been ongoing over the past three years.
"Really there were eight of us on this — seven crew members and the eighth was Dorade — and she didn't disappoint us," said Brooks. "She performed flawlessly and did everything we asked her to do."
"This is such a great story," said Jim Flood, whose father owned Dorade during the 1930s. "The old boats and old people still have hope."
"What really great and exciting news to have the Dorade win the TransPac Race again," said Judy Flood Wilbur. "My father would have been really thrilled as his win in 1936 was one of the highlights of his life! He truly loved the Dorade."