An illuminated sculpture of 245 hand-blown glass LED pendant lights.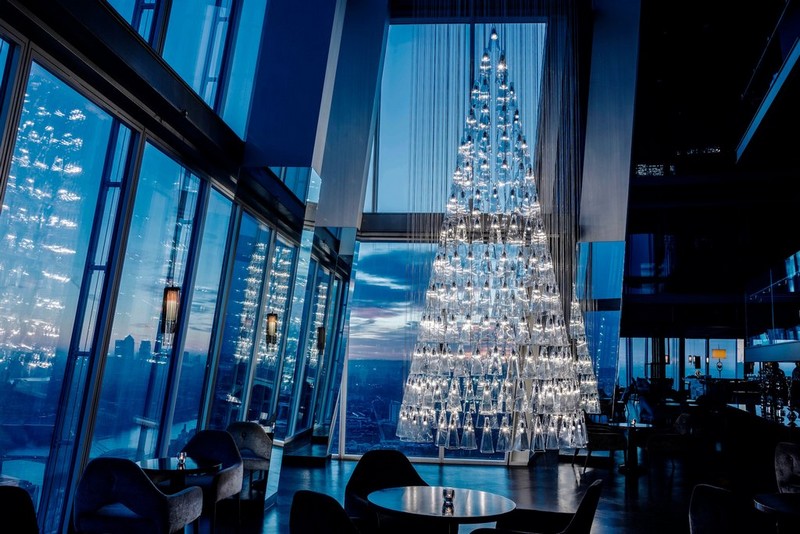 Designed by UK designer Lee Broom and manufactured by contemporary glassware brand Nude, 'The Tree of Glass' within the Restaurant Aqua Shard in London is an illuminated sculptural take on a traditional Christmas tree comprised of 245 limited edition hand blown glass LED pendant lights inspired by the striking architecture of The Shard. This is a unique opportunity to be part of this Christmas celebration and donate to the British Red Cross.
The limited edition Lee Broom and Nude pendant lights crafted from clear glass feature two reeded facets to give maximum light refraction. Each pendant comes with a polished chrome fitting, 2w dimmable LED and ceiling rose and will be delivered in February 2018 once the tree is dismantled.
The tree this year will raise funds for the British Red Cross and two of its fundraising programmes, the UK Solidarity Fund and London Fire Relief Fund.
"You will receive from the installation; one hand made glass shade with chrome pendant light fitting and chrome ceiling rose plus a dimmable 2w LED (200 lumens brightness, 2700k) and driver. From your £150.00 ; £100.00 goes to the British Red Cross, £25.00 covers repurposing, packing and postage and £25.00 VAT which goes to the UK Government," explained leebroomstore.
"As the shard is such an iconic London building we wanted to choose someone London based who fitted with our brand ethos of 'simple is beautiful', lee is already an accomplished lighting designer so was a perfect fit. he's also adept at modernising traditional objects, so we thought this would work well with creating a contemporary Christmas tree," nude team told designboom.
"Previous creators of the Aqua Shard Christmas Tree have included Vivienne Westwood and David Attenborough and many designers across the world have reimagined the classic Christmas Tree in many varying ways so I certainly had large shoes to fill. with this particular reinterpretation, I wanted to create something contemporary which had an almost architectural quality to it given the building we were presenting in. I also wanted to incorporate lighting into the design as this is something I am well known for. finally, I wanted to ensure the installation as a whole felt recognisably festive, without being fussy," added Lee Broom.
The London Evening Standard has named Lee Broom one of London's most influential people in their annual Progress 1000 list 2017. The list which was announced in September, celebrates London's most influential people across politics, business, finance, retail, hospitality, media, arts, design and entertainment. It is a huge honour to receive such a prestigious accolade alongside so many other inspiring Londoners.