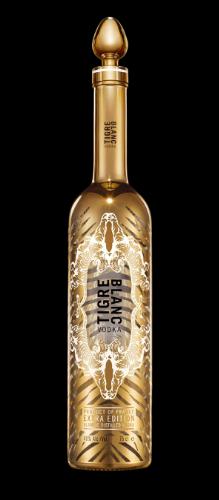 The spirits business is evolving. Consumer interest in the luxury wines category is growing at a fast pace. According to Terlato Wines CEO William A. Terlato, the industry is starting to look a lot like the wine business, with mixologists, craft bartenders and consumers embracing a new category of small-production, hand-crafted, super-premium brands.
"Our Luxury Wine Report indicates that today's consumers are actively looking for new brands and categories to discover and share, and their preference for luxury wines and craft spirits is growing well above the category," explains Terlato. His company launched a new Artisan Spirits portfolio, commencing with two long-term partnership agreements: Langley's No. 8 gin and Tigre Blanc vodka.
To launch its new Artisan Spirits division, Terlato Wines has entered into partnership with Langley's No. 8 gin, a super-premium London gin crafted from a proprietary recipe.
The Langley Distillery in Birmingham, England has been producing award-winning gins since 1920. For Langley's No. 8, Dawkins and partner Mark Crump use 100 percent English grain spirit and a blend of eight secret botanicals, picked at their freshest to produce a gin with smooth, rounded flavors. Langley's No. 8 is distilled in a small, English-made, 53-year-old copper pot still named Constance, and nicknamed "Connie," in honor of the Master Distiller's late mother. The brand name was inspired by the eighth of 12 gin blends tasted by its crafters – and the one that was preferred for its balanced and complex finish.
"After a blind tasting of Langley's and 20 other gins, we knew this was the one," said Terlato. "The makers are serious about their craft and the product reflects that. They've created a super-premium London dry gin that is the essence of the ultimate gin and tonic and a game changer for other cocktails as well."
Langley's No. 8 will be available in early 2014.Terlato Wines also has entered into a partnership agreement with French boutique vodka brand Tigre Blanc, a super-premium vodka
produced in the Cognac region of France from 100 percent French wheat, using fresh locally sourced spring water. Produced by hand,
in the same small alembic stills used to produce Cognac, Tigre Blanc reflects the terroir of Cognac, with a round, smooth, well-
balanced flavor.
According to Tigre Blanc President Renaud Dutreil, "Tigre Blanc has been well-received in key luxury goods markets around the world. The Terlatos are known as the clear leaders in luxury wine and are the perfect partner for our artisan vodka.""After meeting Renaud and his team, I knew Tigre Blanc was the right fit for our portfolio," said Terlato. "Not only is the vodka exceptional, but their knowledge of the luxury spirits market is unmatched. As former head of LVMH North America, Renaud is very knowledgeable about the luxury market. Tigre Blanc will have enormous appeal to a specific audience of luxury consumers that search for the highest quality in every category."
Tigre Blanc was originally created by the Belleville family. Francois Belleville's interest in Indian art and culture led to Tigre Blanc and a partnership with the "Save the Tiger Fund" project in India. A portion of profits from the sale of each bottle of Tigre Blanc helps fund conservation efforts to save wild tigers.