Chinese interest for luxury watches is growing.
The big players get bigger
Chinese consumers are becoming more educated and sophisticated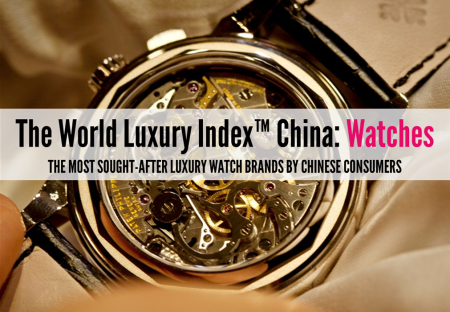 A near 40% increase in searches shows that the interest for luxury watches in China remains strong despite a macroeconomic slowdown, according to the "World Luxury Index China: Watches" study launched by Digital Luxury Group (DLG) and Luxury Society.
The level of interest in Prestige category watches is booming in China, whilst others show growth but at a more conservative level. Interest in Prestige brands – Breitling, Hublot, Omega, Panerai, Rolex and TAG Heuer – increased by over 70%, say the authors of the study.
The analysis of 65 international watch brands shows that every category of luxury watches from "prestige" to "haute horlogerie" has seen an increase in interest comparing the first half of 2012 to the same time period in 2011, with a near 40% increase in aggregate searches.
"The interest continues to grow, but there are indicators that the purchase cycle has slowed," indicates Florent Bondoux, Head of Strategy and Intelligence at DLG.
"The three brands that have increased the most in search volume year-over-year (Rolex, Omega, and Cartier) are also the brands that represent the biggest slice of search market share," adds Bondoux.
In an immature market where awareness of smaller brands is yet to be developed, the lucky winners enjoy a more prevailing dominance. Out of 65 brands analyzed, the top ten most-searched luxury watch brands (Omega, Rolex, Longines, Cartier, Rado, Patek Philippe, Vacheron Constantin, IWC, Piaget, Chanel) represent nearly 80% of the search market. Compared to a mature market like France, where the top ten represent 64%, this is quite a difference.
After enjoying years of success in the major coastal cities of Shanghai, Beijing, etc., the big watch brands are making a play in inland China, where the economy is booming and luxury consumption is waking up.
When looking at the way consumers (or would-be consumers) search for luxury watches, it is noted that for the first time this year style-related searches (such as "men's watch" or "classic style") have surpassed price-related searches. This is the cause of several factors, from a more educated consumer who is now deciphering between a brand's different models, to gift-purchase related searches which tend to skew more generic.
"This more sophisticated and educated consumer marks an opportunity for brands to better localize to the needs and desires of the Chinese audience," concludes Shanghai-based Pablo Mauron, DLG China's General Manager.
The ranking and analysis of the most sought-after luxury timepiece brands in China is based on the unbiased search inputs coming from Google and Baidu, and examines 1500+ watch models, through 14 search intentions.