The most luxurious chocolate experience in the world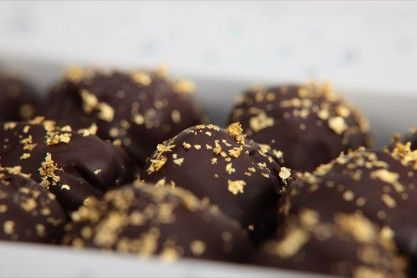 "The Chocolate" is the home of the most luxury chocolate truffles. The cocoa beans for this chocolate are refined using the traditional granite stone mill,  thus creating a smoother tasting experience.  The cocoa beans are ground to no more than 15 microns – this makes the smoother texture in the mouth because it can only detect a granule size of over 18 microns. Industry standards are approximately 30 microns.
All of the luxury champagne truffles feature edible 24ct gold and the handmade chocolate truffles are presented in a crafted box inlayed with Swarovski Crystals.
Made from 63% dark chocolate, the handmade champagne truffles are produced by a small artisan chocolate maker located in Tuscany, which was recognized by the Academy of Chocolate as one of the finest in the world. Numbered 15 per box, these sweets are coated with real 24 carat edible gold, while the box itself is adorned with 400 Swarovski crystals.
To be able to live a moment of intense pleasure with The Chocolate, it will cost you 225 euros the box. After countless trials, tastings and tears  The Chocolate makers have decided that the ingredients to their ganache will remain a closely guarded secret.