Roland Iten & Bugatti Automobiles Belt Buckle: a unique mechanical belt mechanism reminiscent of a fine watch movement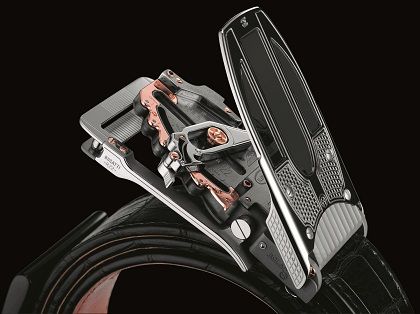 Geneva Motor Show 2011was the perfect opportunity to introduce accessories such as belts with automotive inspiration. Have you ever thought of how it would look a hign-tech belt impregnated with the Bugatti spirit? Since 2002 Roland Iten and Bugatti Automobiles have been working together on the engineering and manufacture of a luxury mechanical buckles. 
The Roland Iten R22 Mk.I-22mm "Bugatti edition" buckle is comprised of precisely 100components in solid white gold with rose gold accents, lightweight titanium and stainless steel. Each piece of this limited edition series of 22 mechanical belt buckles, has been entirely handcrafted, polished and assembled by R Magnin Bijouterie in Geneva, Switzerland and supervised throughout the production process by Roland Iten himself.
The Roland Iten-Bugatti unique mechanical belt mechanism reminiscent of a fine watch movement is 100% made with Geneva watch-making machinery and features custom bridges, cogs, wheels, springs and pinions all interconnect to create a mechanism that allows the wearer to obtain the absolute precise fit.
"When you turn the ignition of a Bugatti, it doesn't roar into action like so many sports cars, it turns over flawlessly, a sound that reveals the highest level of tuning and results in phenomenal car speeds of over 400 km/h," explained Roland Iten. A Roland Iten mechanical accessory performs to the same grade of excellence – the sound of its mechanism in motion, the feel of the materials and its handling are on par with the most sophisticated engines –something that can only be appreciated by a true gentleman connoisseur.
By utilising the high precision mechanics capability of the Swiss watch making industry, the Roland Iten Mechanical Luxury Company produces highly unique mechanical men's accessories, thus pioneering a new segment in the high end luxury goods industry which it calls "Mechanical Luxury for Gentlemen".
Why mechanical buckles? A man who wears a solid gold horological machine on his wrist is not wearing it because it tells time. He wears it because he likes to celebrate the core values of tradition, unique craft and timeless beauty. These are the same core values built into the Roland Itend belt buckles and they are appreciated by the same discerning client.