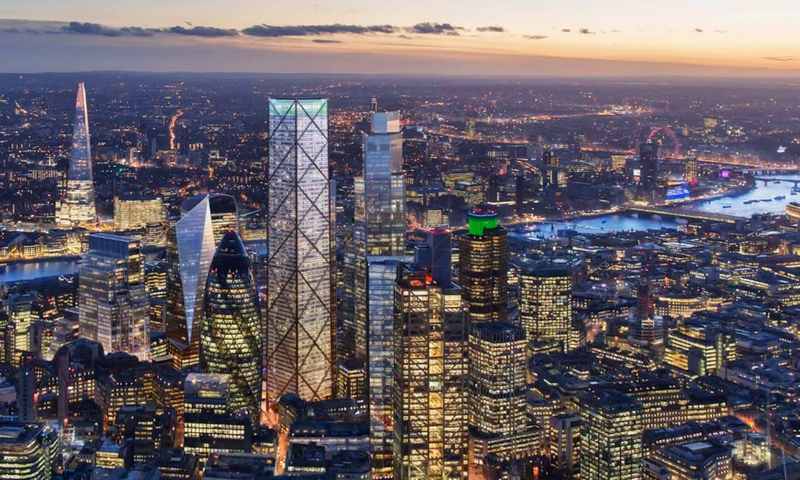 ---
This article titled "1 Undershaft, the tallest skyscraper in the City of London, revealed" was written by Oliver Wainwright, for theguardian.com on Monday 7th December 2015 13.07 UTC
"I wanted to do something calm," says the architect Eric Parry, who on Monday unveiled his plan for what will be the tallest building in the City of London, which will rise 309.6m in the heart of the city's financial district, squeezed between the Cheesegrater and the Gherkin. "It is the last piece in the jigsaw," he says of his addition to this great dinner party in the sky, "so I wanted to do something that isn't flamboyant."
After a decade of outlandish proposals for the City, Parry has come up with a refreshingly blunt stick of a building for the centrepiece of the district's "cluster" of office blocks. It takes a square footprint and shoots it up 73 storeys, trussing the slender shaft up with gigantic red cross-gartered bracing. Between these will run horizontal lines of white louvres, so that when you look up from the street the soaring obelisk will appear as a solid white mass.
Parry's plans for 1 Undershaft – which will be the same height as the Shard, that being the maximum height allowed – may come as something of a surprise, given that just a few months ago he published a book called Context in which he warned: "An orgy of tall buildings will transform and arguably overwhelm London." This flood of towers, he added, is swiftly turning the city from one with a skyline dotted with white stone buildings, to one of "green glass envelopes imported from far afield, representing the Faustian pact of national commerce and real estate".
Today, standing in his office before a model of the design, he says: "I've always loved the way Portland stone buildings emerge out of what I see as the City's deathly disease of greenish-grey glass. Our tower aims to combine the autumnal beauty of rust red with the bright white of spring."
The matte Cor-Ten steel will absorb light, he says, while the white gloss will glint all the way to the top, using colour-changing paint at the upper levels to cap the tower with a sparkly rainbow headband. With its simple form, exposed structure and whiff of industrial engineering, 1 Undershaft has the air of a no-nonsense skyscraper more commonly found in Chicago or New York, only dressed up in a slightly prissy costume – or with extra English refinement, depending on how you see Parry's penchant for decorative dressings.
Its silhouette is subtly tapered, he says, so its facades converge at an imaginary focal point 10 times its height – a learned nod to Edwin Lutyens' Cenotaph memorial in Whitehall, whose planes meet at a projected spot 1,000ft in the air.
Parry won an invited competition a year ago – against David Chipperfield, David Walker and PLP – and has been working flat out ever since, ready to submit a planning application in January 2016. The client hoped to build an even taller tower, but restrictions from the Civil Aviation Authority set a maximum height over the City so planes don't have to slalom between spires. It was also restrained by the City's new approach to less exhibitionist silhouettes. Parry's design was originally meant to be crowned with a pointy hat, like Cleopatra's Needle or the Washington Monument, but the planners requested "a less demonstrative top. They didn't want another overt shape."
The self-styled thinking developer's architect, Parry doesn't dwell on the supercharged speculation that is driving London's steroidal thicket of towers. He's keen to talk about his work opening up the City's 14th-century Charterhouse in Smithfield, a former Carthusian monastery that's still home to an almshouse for 40 brothers. He is steeped in the medieval history of the Square Mile, which gives encouragement that his tower might be wrought with sensitivity to its context – as much as a 90,000sq m office silo can.
Like the neighbouring Cheesegrater by Rogers Stirk Harbour + Partners, his tower will be jacked up in the air so it has a 10m-high open space at ground level. This will restore a visual connection between its diminutive neighbours, the 12th-century St Helen's Bishopsgate and the 16th-century St Andrew Undershaft churches, which cling on like stone crumbs at the base of these glass cliffs. Still, they've always been loomed over. Undershaft is so-named because it stood in the shadow of a great maypole in medieval times, until the shaft was seized by an angry mob in 1547 and destroyed as a pagan idol. Little can they have imagined that an even mightier shaft would one day return on the same spot.
"The thing that's most interesting in all this is urban design," says Parry, deflecting the discussion away from the fact that he is penning the City's tallest totem. He's more concerned with fixing the human experience at street level: "The project is really all about public space."
He has shifted the tower's core to the west, forming a protruding "bustle" of lift shafts that run two-thirds of the way up the building. This opens up a 150m-long stretch at ground level, so the gothic arches of St Helen's church can converse with the exposed metallic intestines of Lord Rogers' Lloyds building to the south.
In the middle of this space, in front of his tower, Parry proposes a sunken plaza, lined with cafes and shops, to create "a convivial space for meeting", like the excavated piazza in front of New York's Rockefeller Center. It too could play host to a market or skating rink. "It is in the heart of the insurance district," he adds, "which is all about loitering. It's slightly conspiratorial."
The public will also have to descend into this brokers' den to reach the top of the tower where, above the obligatory swanky restaurant, will be a two-storey viewing gallery, promised to be open to all for free. Compared to the Walkie-Talkie's corporate "sky garden" or the Shard's £25 viewing deck, it could actually be a real public attraction. A looping ramp will take visitors on a 360-degree journey, circling what Parry describes as an "inverted diorama" that explains the history of the city, likely to be developed with the Museum of London.
These are the first images to be revealed, launching the public consultation this week. The project has been shrouded in secrecy since the site was acquired for £288m in 2011 by Singaporean magnate Kuok Khoon Hong and Chinese-Indonesian businessman Martua Sitorus, the billionaire founders of the world's largest palm oil producer Wilmar International.
Their business was named the world's least environmentally friendly company by Newsweek in 2012, while a Friends of the Earth report last year detailed a catalogue of landgrabs, deforestation and human rights abuses – all claims the company has denied. The 1 Undershaft proposals have been commissioned by Singapore-based Aroland Holdings, whose major shareholders (including Khoon Hong and Sitorus) are currently building the tallest tower in Indonesia, along with high-rises in Singapore, Beijing and Chengdu.
"It's interesting being at this point in the chess game," says Parry. "At the higher level of buildings, this is really the endgame. I don't think there's more coming on this scale."
Ironically, a building of almost the same height, and about twice its width, is arriving next door: 22 Bishopsgate, now under construction on the site of the ill-fated Pinnacle, will stand as a monumental tombstone, congealing the City cluster together into a single solid lump.
guardian.co.uk © Guardian News & Media Limited 2010
Published via the Guardian News Feed plugin for WordPress.