Fausse Cartier, vrai casier
The luxury sector continues to advocate against counterfeiting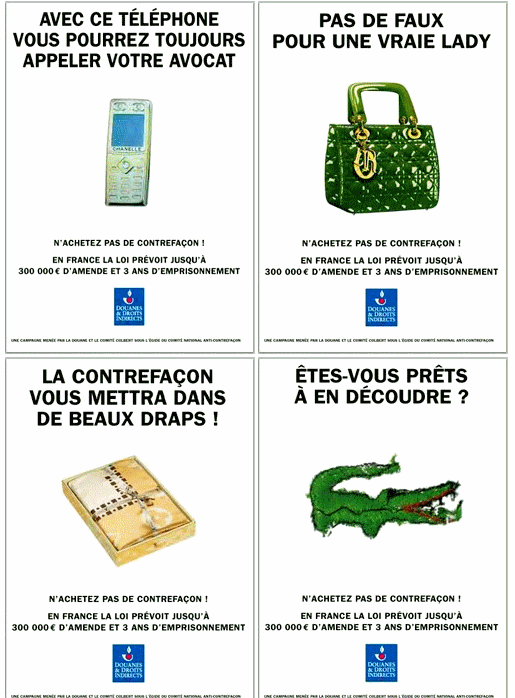 "Buy a fake Cartier, get a genuine criminal record" "With this phone, you better be ready to call your lawyer!" "Real ladies don't like fake" "Are you ready to unravel this one?" "A bet on the wrong horse can be very expensive" "Counterfeits are no bed of roses" "Lucky charm? Unlucky at customs".
French Comité Colbert, standard-bearer for French style and the luxury industry, launched its new anti-counterfeiting campaign with 10 000 posters that will be displayed all summer in the 18 busiest French airports. The campaign has been taken up also in Europe: the Customs administrations in six other EU countries have adopted it to raise awareness among their citizens. There are now local language versions in Croatia, Hungary, Italy, Romania, the Czech Republic and Slovakia.
Seven new tag lines were launched by the chairmen of companies belonging to the Comité Colbert, which likes to use humour to get travellers' attention.
Longchamp and Van Cleef & Arpels have joined ranks with Cartier, Chanel, Christian Dior, Lacoste and Louis Vuitton, involved for years in this initiative conducted under the auspices of the French national anti-counterfeiting committee (CNAC).
And the initiative has proven effective: Consumers in France are more aware than those in other EU countries that common European laws exist to protect intellectual property rights (84% of respondents in France, which ranked first among EU countries, according to a Eurobarometer survey in 2009).
Given the magnitude of trafficking, the Comité Colbert continues to give top priority to the fight against counterfeiting.
In France, the number of knock-offs seized by Customs went from 200,000 in 1994 to 8.9 million in 2011. It is estimated that counterfeiting costs the French economy between 30,000 and 40,000 jobs a year and 6 billion euros in losses. The number of counterfeit products sold online and seized by Customs has grown exponentially, increasing by a factor of nearly 20 in five years.
"The protection of intellectual property rights makes it possible to grow competitive French businesses and safeguard French jobs. The combat of the Comité Colbert, which is of long date, illustrates the luxury sector's commitment to the fight against counterfeiting to protect our know-how and creation," said Elisabeth Ponsolle des Portes, President and CEO of the Comité Colbert.