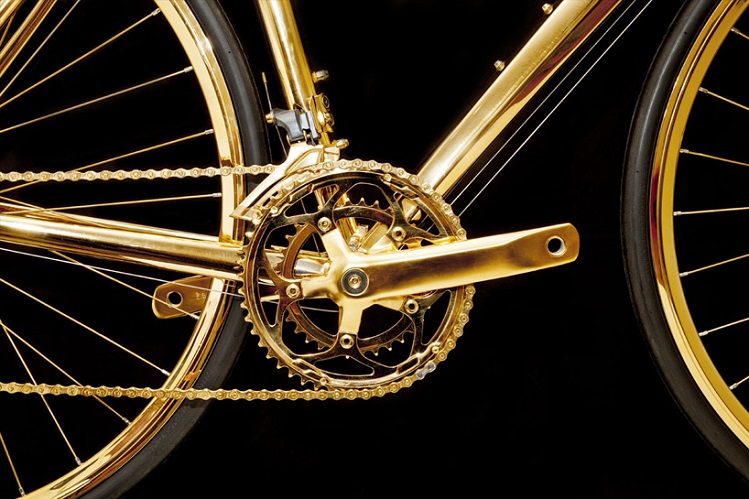 ---
This article titled "The beauty of bikes – redesigning two wheels" was written by Rowan Moore, for The Observer on Sunday 8th November 2015 09.30 UTC
"The bicycle is a great good," said Samuel Beckett, the cycling enthusiast who also wrote some plays, "but it can turn nasty, if ill-employed." Well yes indeed. Bikes can be vehicles for ET or Lance Armstrong. They played a part in the emancipation of women and of people who couldn't afford horses or cars. They can be emblems of right-thinking, environmentally friendly city government or the weapons of self-righteous, passive-aggressive machismo. John Major, citing Orwell on Englishness, spoke of "old maids bicycling to holy communion through the morning mist"; Alfred Jarry, in his 1902 novella Supermale, imagined a man who followed a 10,000-mile cycle race against a locomotive by having sex 82 times in 24 hours, with fatal consequences for at least one of his partners.
Like a steam engine or a gun, the bicycle is one of those machines that seems to have existed forever, to have been an eternal idea waiting to be found rather than the outcome of various Victorian gents proceeding through trial and error. It is something to do with their basic simplicity, the way they are extensions of and reflections of the body, also the way they are a bit like horses and a bit like skeletons.
Steam engines are obsolete and guns can be nasty, which leaves bicycles in a special position. They are archetypes on to which people project their hopes for society, for cities and for the environment. In Britain they have a role as bastions of pride in industry and sport, making bikes and riding them fast being two things the country or, rather, certain people within the country currently do well. At least some of these attributes might explain why it will soon be possible to see a lot of bicycles on display in two of London's major institutions. Ai Weiwei's bike-rich show at the Royal Academy is already on. Cycle Revolution, the Design Museum's last exhibition before it relocates next year to the former Commonwealth Institute in Kensington, opens in 10 days' time.
Cycle Revolution will divide cyclists into four "tribes" – "high performers", "thrill-seekers", "urban riders" and "cargo bikers" – with associated exhibits and the voices of "advocates" for each category. Chris Hoy will speak for high performers, and the Team GB Olympic bike, essential to his and others' success, will be put on a plinth. The Lotus 108, on which Chris Boardman started the UK's modern Olympic success by winning a gold medal in 1992, will be shown. The BMX racer Shanaze Reade will represent thrill-seekers. The urban riders section will include the rival giants of British small-wheeled, folding-bike manufacture, Moulton and Brompton. Under "cargo bikers" you will find Porterlight Bicycles, whose founder, Lawrence Brand, gave up a career in the City to realise his idea of a freight bike, which he also tested by riding from Bucharest to the Chinese border.
The exhibition will show urban projects such as the mayor of London's superhighways and "mini Hollands", which are cycle-friendly town centres. There will be the more speculative Thames Deckway project, which at an estimated cost of £600m would put cycle tracks on pontoons in the Thames. This sounds a bit pricey and its designs still look crude and underdeveloped. It needs to address rather obvious practical questions (given that the Thames is very much not a straight line, how good a transport route can it be? How exactly do you get on and off the deckway?), but it has the advantage over other things-on-water fantasies that, if it did actually work, it would serve a clear purpose.
There will also be possible bikes of the future, most of them with a sustainable theme, in plywood, bamboo or solid ash, or foldable, packable or dismantlable, or 3D-printed. It is a feature of bikes that, while the basic form is hard to reinvent, immense ingenuity can go into the composition of its basic parts. The degree of current reinvention sets them apart from cars, which have remained fundamentally similar for years now, apart from progressive upgrades in their efficiency.
This property, of inviting multiple variations within a simple theme, is not unlike the infinite expression that can be found in the familiar, relatively few elements of human physiognomy and dress. It allows bicycles to be invested with subtle increments of meaning, aspiration and status. To spend thousands on a custom-made bicycle, as is increasingly popular, is not necessarily just about comfort and pleasure, but also about a sublimated form of display. To invest design energy in renewable materials is praiseworthy but, given that bicycles don't weigh much compared to other industrial objects, which might therefore benefit more from such an approach, you wonder if part of the attraction is not in the symbolic power of a bike. It might be more useful to make an articulated lorry more sustainable, but it wouldn't look so cool.
For bicycles are messengers. Picasso recognised that they carry meaning when he made a saddle and handlebars into a bull's head, and Duchamp (in his case, non-meaning) when he put a bicycle wheel in an art gallery. Now they are emissaries of hopefulness, healthiness, humanity, social spirit and benign technology. When a city is held up as model of enlightened management, from Bogotá to Copenhagen, you can be sure that bicycles won't be far away. When Boris Johnson wants to set himself apart from the run of charmless, uncaring Tories, he wields a bike. If Ambrogio Lorenzetti were painting his allegory of good government today, or if Plato were writing The Republic, there would be pedals in them.
It can get absurd and simplistic. The obsession with cycle lanes can obscure the fact that other things, such as good housing and well-made public spaces, make a good city. A panglossian belief in the blamelessness of bikes ignores their sublimated aggression, which can then surface in various forms of rage. A cycling crowd might, as it passes through a city, carry the pious aura of a procession of monks, but to taxi drivers and pedestrians it can look more like a horde of Huns. But for all that the bike is, as Beckett said, more good than bad. It is also, for an invention nearly two centuries old, remarkably good at representing the beliefs and values of the present.
• Cycle Revolution is at the Design Museum, London SE1 from 18 November to 30 June
guardian.co.uk © Guardian News & Media Limited 2010
Published via the Guardian News Feed plugin for WordPress.