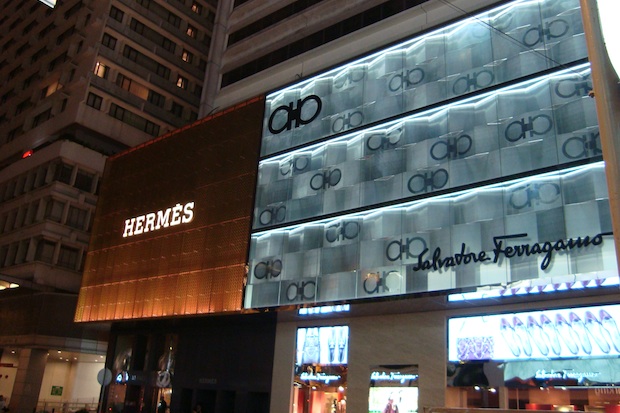 Hurun Report releases Chinese Luxury Consumer Survey 2014 and Hurun Best of the Best Awards 2014.
According to Hurun Report Chinese Luxury Consumer Survey 2014, the average spending of China's high net worth individuals has decreased by 15%, with spending on gift giving down by a dramatic 25%. HNWIs are busier than ever. They are taking more business trips – up 7% to 7.5 days a month, leaving less free time to travel for leisure. The number of days they spend on holiday has decreased by 10%. The average HNWI took 7.5 days holiday last year, whilst working more
weekends. The number of HNWIs who have emigrated, or are planning to do so, rose from to 64% up from 60%, driven mainly by the number of super-rich who have
already emigrated.
2014 is the tenth year that the Hurun Research Institute released the Hurun Best of the Best – Hurun Report Chinese Luxury Consumer Survey 2014. Hurun Research conducted the survey between May and November 2013, interviewing on a one-on-one basis 393 Mainland Chinese 'millionaires', defined as individuals with a personal wealth of Renminbi 10 million or more (equivalent to USD 1.6 million / Euro 1.2 million / GBP 1 million). Amongst them were 41 'super-rich', defined as individuals with wealth of RMB 100 million (USD 16 million / Euro 12 million / GBP 10 million). The ratio of males to females was 6:4. Over the
past 10 years, Hurun Research has interviewed 4818 millionaires, of which 12% are super-rich, making the Hurun Report Chinese Luxury Consumer Survey the
largest and most comprehensive survey of its kind in China, an ISO9000 for China's luxury sector.
The Hurun Business Confidence Index shows that the confidence that Chinese millionaires have in their economy has risen for the first time in 5 years, with 3 out of 10 feeling 'extremely confident'. Real estate was the investment of choice, followed by equities, although the super-rich shunned equities and invested more heavily in art and alternative investments. Gold was down 6% in comparison to last year.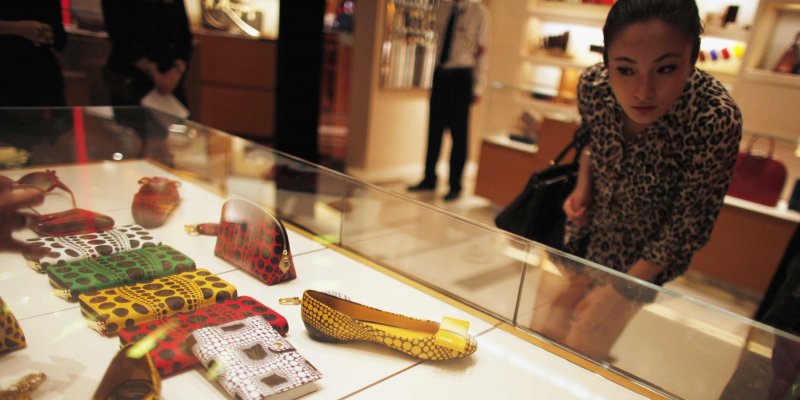 The average age of respondents was 38 years old; the same age as last year. The average age of the super-rich interviewed was 39 years old, 1 year younger than last year. The average wealth of respondents was RMB 59.2 million, last year's average wealth was RMB 59 million. Significantly more emphasis has been placed on health over the past 5 years.

The number of HNWIs who do not smoke has risen to 61%, up from 40% 5 years ago, and the number who claim not to drink has doubled to 40% over the last 5 years. Travel is their favourite leisure activity, whilst swimmingand golf continue to be the most popular sporting activities. Jogging has risen to 3rd place, resembling more the Western concept of fitness regimes, whilst for female HNWIs yoga continues to be most popular. Collecting traditional Chinese ink paintings has now overtaken collecting watches, although the super-rich still prefer collecting watches.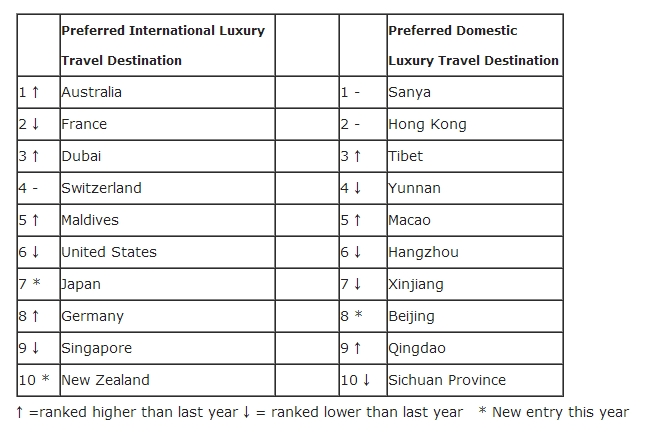 The top international travel destinations are Australia and France, while Sanya and Hong Kong are the chosen domestic destinations. Millionaires send their children abroad to study at an average age of 18 years old, whereas among the super-rich, the average age is 16. For pre-university education, 28.7% say UK is the destination of choice , whilst the US remains at the top for post-graduate education at 36%
.
Respondents hailed from 23 different provinces across China, with Shanghai, Beijing and Guangzhou accounting for 60%. By regional distribution, 48.6%, 30.8% and 19% of respondents came from East China, North China and South China respectively.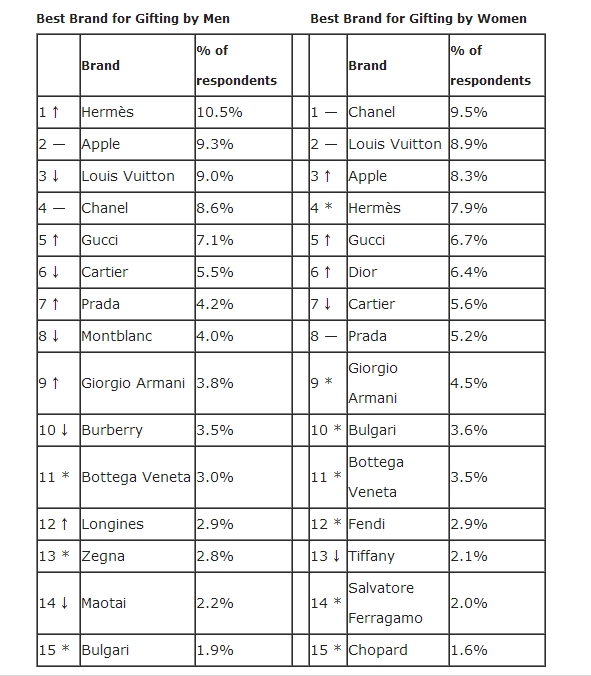 Hurun Best of the Best Awards 2014
The Best of the Best Awards rank the high net worth community's favorite luxury brands in each category. The Star Performer is given to the brand which is favorably recognised within its own industry and has developed the most throughout the past year. The Best New Arrival award is given to the brand which experienced high growth in popularity, reputation, and new product sales over the past year.
Jewelry, Watches and Fashion Brands
Best of the Best – Jewelry, Watches and Fashion Brands:
Best Jewelry – Cartier
Best Jade – Cui Huang Ge
Best Luxury Writing Instrument – Montblanc
Best Overall Watch – Patek Philippe
Best Watch with High Complications – Patek Philippe
Best Jewelry Watch – Cartier
Best Fashion Label For Men – Giorgio Armani
Best Fashion Label For Women – Chanel
Best Luxury Children's Garments – Burberry
Best Accessory for Men – Hermès
Best Accessory for Women – Hermès
Cars in China- Best of the Best
Best Super Luxury Executive Car – Rolls-Royce Phantom
Best Super Luxury Car for Self-Drive – Maserati GT
Best Luxury Executive Car – Mercedes-Benz S-Class
Best Luxury SUV – Audi Q7
Best Luxury All-terrain SUV – Land Rover-Range Rover
Best Executive Car – Audi A6L
Best High Performance Sports Car – BMW M3
Best Supercar – Lamborghini LP700-4 Aventdor
Best Roadster – Mercedes-Benz SLK
Best Luxury Sports Car – Porsche 911 Carrera
Yachts – Best of the Best
Best Yacht Brand – Ferretti
Luxury Yacht Brand Best New Arrival – FIPA AB116
Business Jets-Best of the Best
Best Business Jet Brand – Gulfstream
Best Large Size Business Jet – Embraer Legacy 650
Best Ultra Long Range Business Jet – Dassault Falcon 7x
Best Business Jet Operator – Deer Jet
Best Jet Financier – Minsheng Financial Leasing
'
Business Jets – Star Performers
Helicopter Star Performer – Bell Helicopter
Ultra Long Range Business Jet Star Performer – Bombardier Global 6000
Business Jet Sales Advisor Star Performer – Genesis Aviation
Jet Financier Star Performer – ABC Financial Leasing
Business Jets China- Best New Arrival
Mid-Size Business Jet Best New Arrival – Embraer Legacy 550
Long Range Business Jet Best New Arrival – Dassault Falcon 5x
Air Taxi Best New Arrival – Piper Meridian
Alcohol/ Tobacco in China – Best of the Best
Best Premium Imported Spirits Brand – Louis XIII
Best Premium Whiskey – Royal Salute
Best Cognac Brand – Martell
Best X.O Cognac – Hennessy XO
Best Single Malt Whiskey – Macallan
Best Chinese Spirits – Moutai
Best Premium Champagne Brand – Perrier-Jouët
Best Premium Cigarette – Chunghwa
Best Cigar Brand – Davidoff.
Clubs in China- Best of the Best
Best Private Club in China – Chang'an Club
Best Elite Circle Club – Le Cercle
Best Private Club in Shanghai – The Roosevelt Club
Best Modern-Day Members Club in Shanghai – M1NT
Best Private Club in Beijing – Hong Kong Jockey Club Beijing Clubhouse
Best Private Club in Sichuan – Chengdu China Club
Best Private Club in Suzhou – Hanyuan International
Best Golf Club in Zhejiang – Fuchun Resort
Travel China – Best of the Best
Best Luxury Hotel Brand – Shangri-La
Best Hotel in Sanya – Ritz-Carlton Sanya
Best Luxury Hotel in Guangzhou – Ritz-Carlton Guangzhou
Best Luxury Hotel in Beijing – China World Summit Wing
Best Hotel in Sichuan – Shangri-La Hotel Chengdu
Best Luxury Resort Under 50 Rooms – Aman Resorts
Best Tax Refund Brand – Global Blue
Best Luxury Travel Retail – Dfs
Best International Brand of Healthcare Management – Lemen Int'L
Best Luxury Travel Agency to Antartica – Diadema
Best Domestic Business / First Class – Air China
Best International Business / First Class – Singapore Airlines
Best Domestic Luxury Destination – Sanya
Best International Luxury Destination – Australia
Best Air Route from China to Europe – Emirates
Best London Luxury Shopping Destination – Harrods
Best Spa Brand – Banyan Tree Spa
Best Fashion Roast Duck Restaurant in Beijing – Duck de Chine.
Furniture – Best of the Best
Best Furniture – Davinci
Best Luxury Kitchen Appliance – Miele
Best Luxury Bathroom – Duravit
Best Cabinets – Schiffini
Best Mattress – Hästens
Best Piano – Steinway & Sons