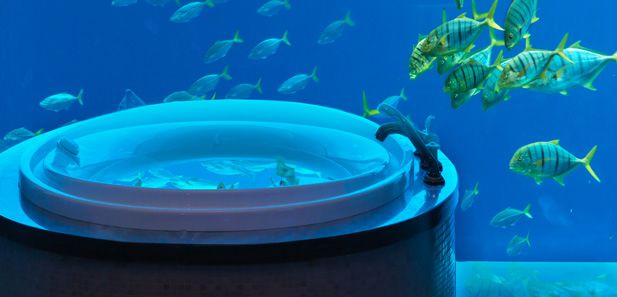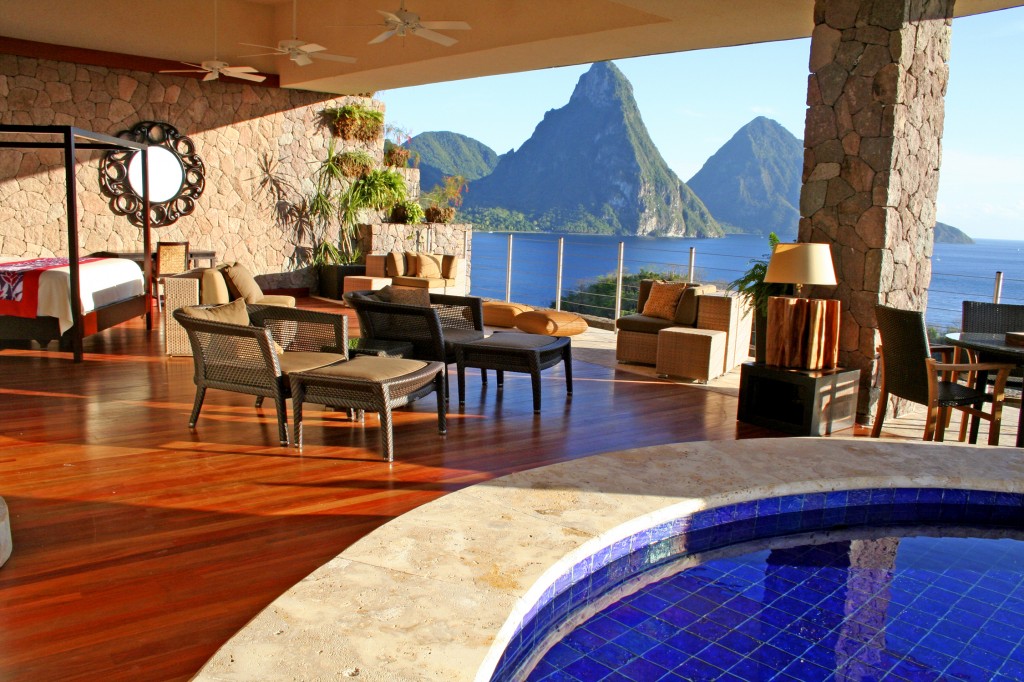 From strictly functional marginal status to temples for mind and body, the bathrooms gained an absolutely central part of the home. Just a few decades ago, the bathroom was a Spartan space. It seems that we are now light years away from that cold look. The smart luxury bathrooms of today offer the chance to make a statement in a home, discover the healing power of water, master the art of balance, give a deep sense of relaxation and pure joy.
Integrating music & technology, bringing the soothing elements of nature into your bath, the home-spa features, chromatherapy, aromatherapy, heated floors, screens hidden in the mirrors or exquisitely crafted, sculptural bath sinks, are the latest ideas in bathroom design which can work for you. Remember that visiting a luxury spa isn't the only way to relax and recharge. Creating spa-worthy experiences have become easier with treatments which simulates the experiences of a rolling river, the total sound vibrations or bubble massage in a champagne-like cushion of air.
Let's take a look at some of the most exquisite bathrooms of the world. The inspiration comes from the luxury hospitality chains and companies which are always in the vanguard of the sector. Embracing wellness and luxury that lasts, these high-end bathrooms allow to restore balance to the mind and spirit.
The body remembers a blissfully relaxing experience: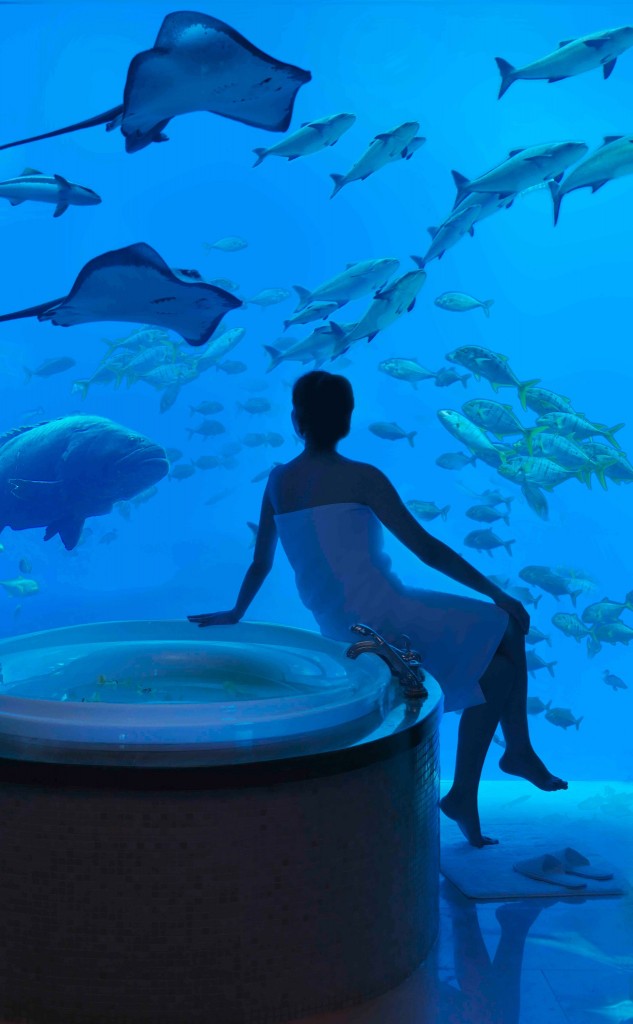 The underwater Poseidon suite at Atlantis, The Palm, Dubai
The lagoon outside the bathroom at Dubai's Atlantis The Palm is home to over 65,000 marine animals. Enjoy a relaxing bath whilst looking at the sea creatures. The ultimate romantic getaway complete with a dedicated butler on hand 24/7 to meet all travellers' requests.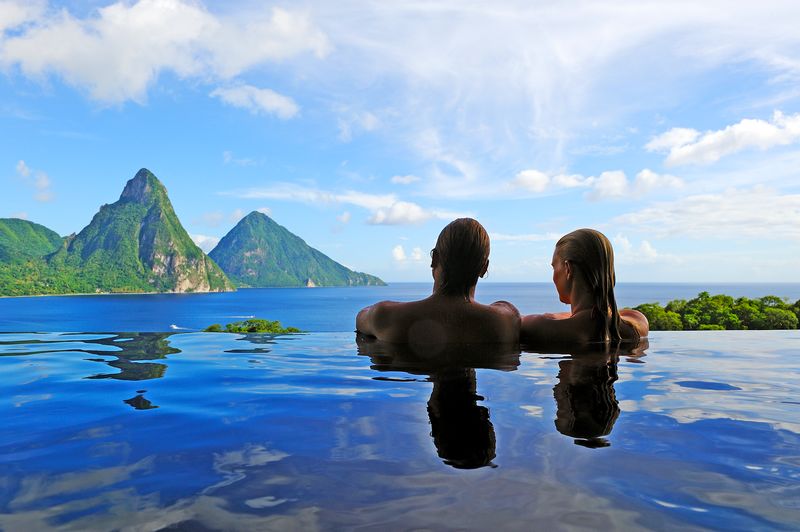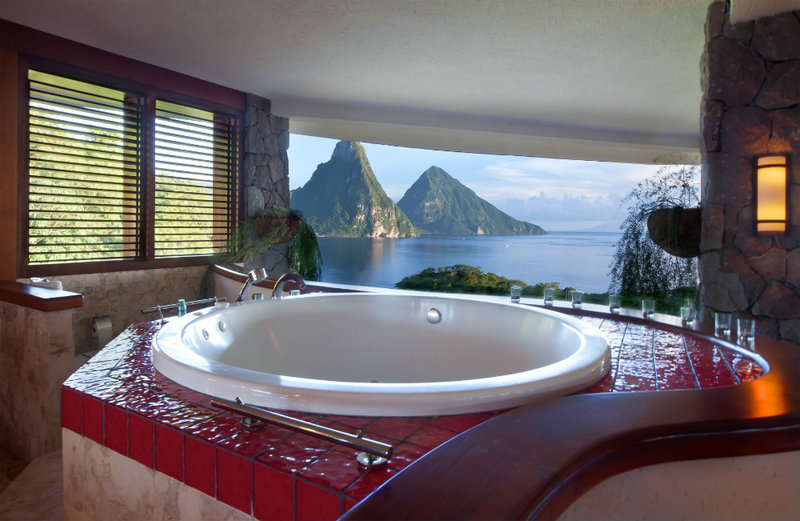 Jade Mountain Resort, St. Lucia
Jade Mountain Resort in St. Lucia is the place to find one of the world's most exotic bathrooms with spectacular views. Individually designed, the bathrooms feature dramatic faucets, porcelain sinks and toilets. Why not trying soaking in the chromatherapy whirl pool tubs whilst enjoying St Lucia's stunning scenic beauty.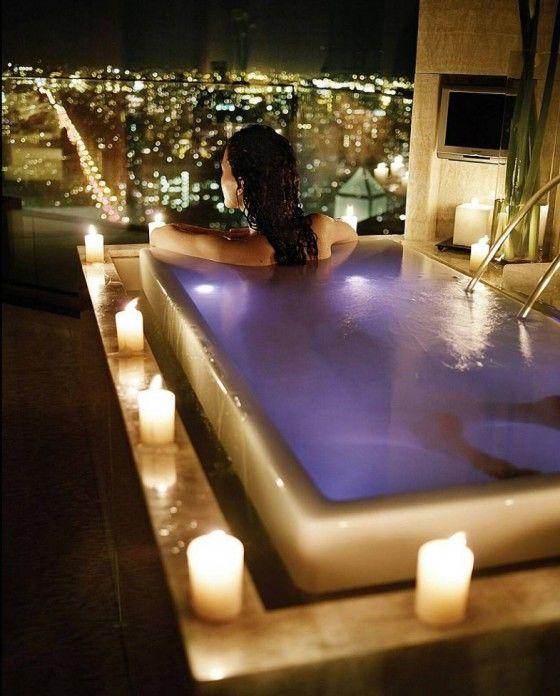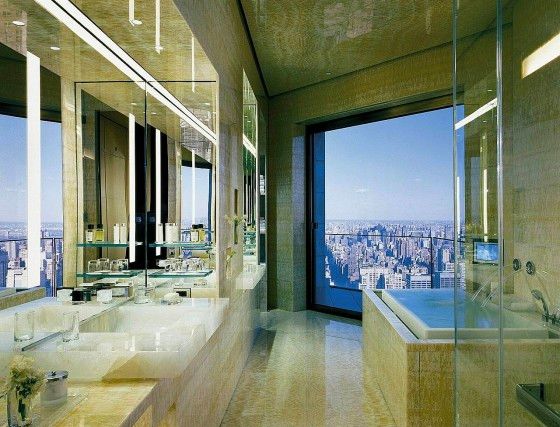 Ty Warner Suite, Four Seasons Hotel New York
With an average price per night of $41,000, Ty Warner Suite at Four Seasons Hotel is in one the world's most exclusive hotel suites. It is said that the penthouse is practically floating in Manhattan. The master bathroom includes an outdoor balcony overlooking Central Park. An indoor-outdoor Zen garden overlooks downtown Manhattan and the Statue of Liberty. The Penthouse also features a private spa room and an oversized dressing room clad entirely in leather. The
penthouse is a collaboration between owner Ty Warner, designer Peter Marino and architect I.M. Pei. Another highlights of the bathrooms are: "infinity-edge bathtub with chromatherapy, a separate glass-enclosed rain shower, radiant-heated floors, and sinks carved from a solid block of rock crystal".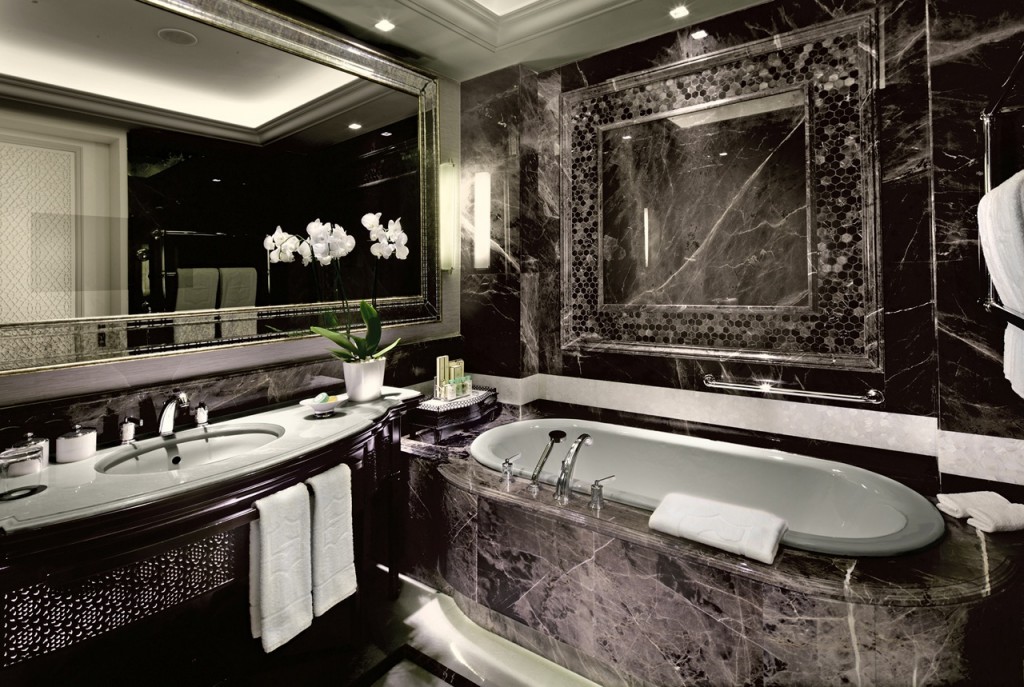 Shangri-La Suite, Shangri-La Bosphorus, Istanbul, Turkey
All seven of Istanbul's famous skyline silhouettes are visible from the three separate private terraces of this Shangri-La Suite. The two-bedroom marble-clad suite features bathroom with heated floor, a 19-inch TV embedded in the mirror, and toiletries by Bulgari.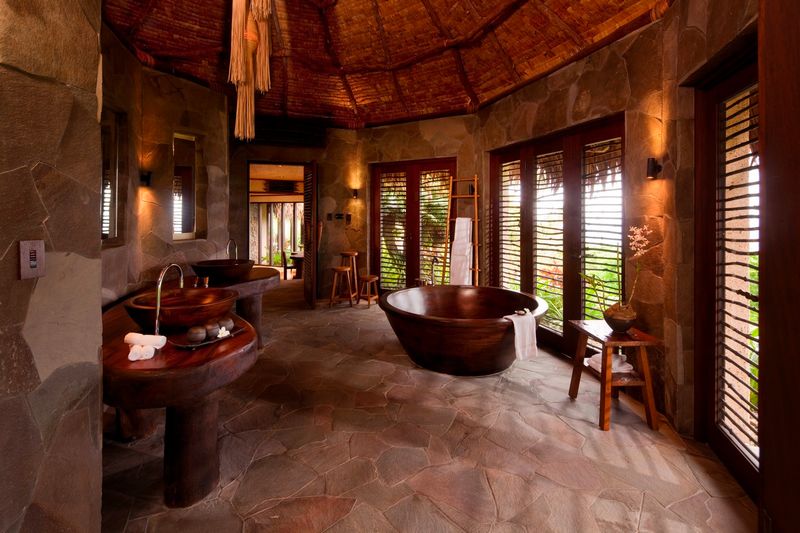 Hilltop Estate Owner's Accommodation, Laucala Island Resort
This most exclusive of paradise villas can be yours for US$40,000. It is available for rent, but only upon application. The large private pool has been carved directly into the rocks of the shore. The personal "Tao" (Tao means "my friend") makes sure each guest's private dreams of paradise come true.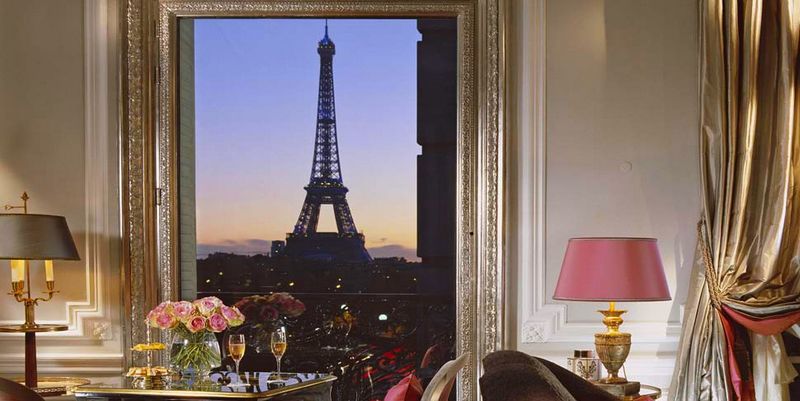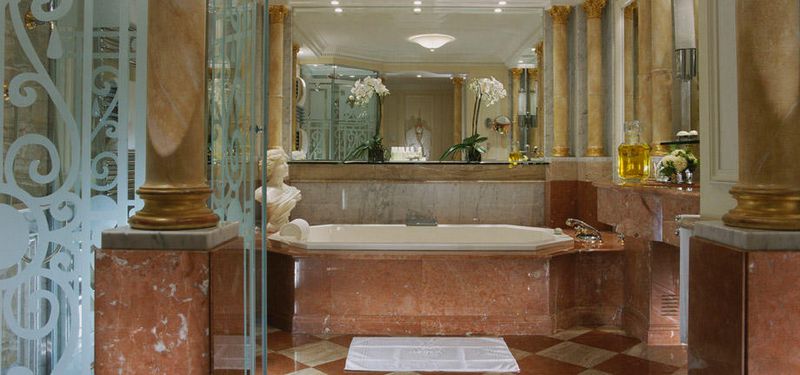 Royal Suite, Hôtel Plaza Athénée, Paris, France
At US$27,000 per night, the Royal Suite at Hôtel Plaza Athénée is one of Paris' most expensive hotel suite. The luxury residence inspired by the refinements of the 18th century, the the most Parisian Royal Suite in Paris features state-of-the-art technology and two full marble bathrooms with a steam shower (remote controlled), a Jacuzzi, and a dressing table with a mini-bar for cosmetics. The unique bar allows cosmetic products to be conserved at an optimal temperature.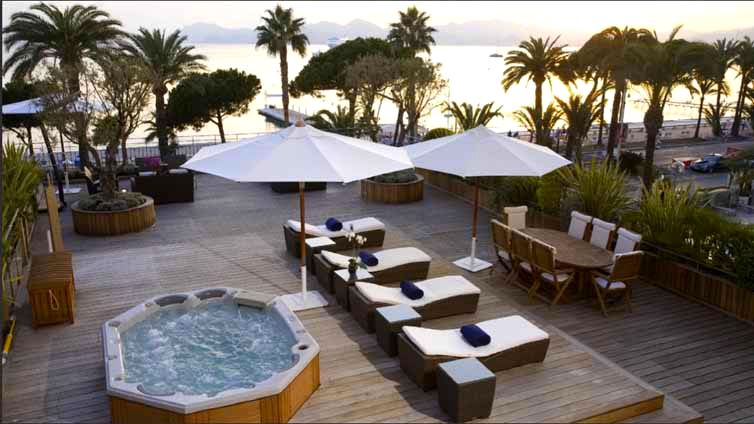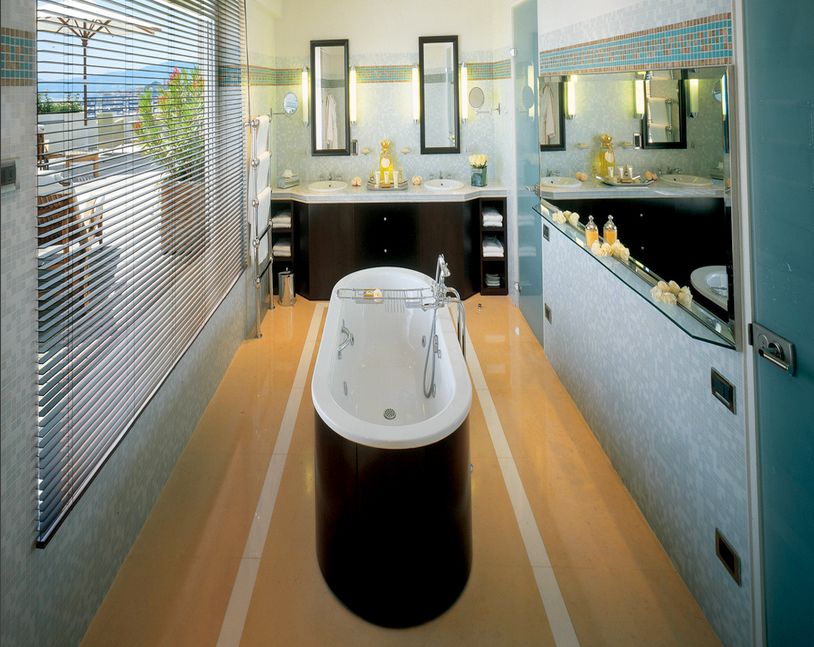 Penthouse Suite, Grand Hyatt Cannes Hôtel Martinez, Cannes, France
The legendary Penthouse Suite (180 square metres) at Grand Hyatt Cannes features two king-size bedrooms complete with marble bathrooms, a living room and dining room. For fabulous views of the Bay of Cannes, we are invited on the private 290-square-metre terrace with a Jacuzzi. The international glitterati certainly appreciated the indoor heated pool with the fully equipped gym, steam bath, private butler, private beach path land a private deck at sea level.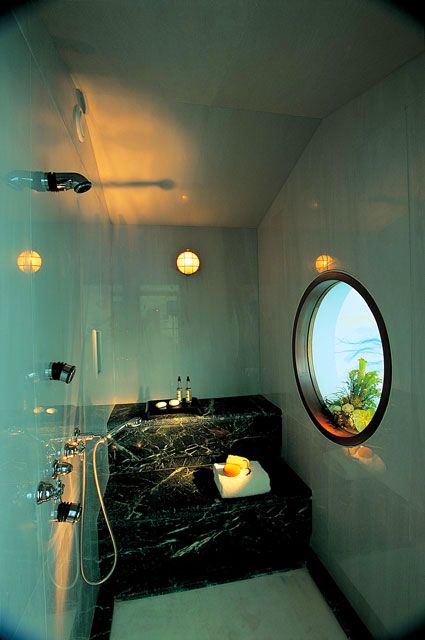 The Royal Villa, Grand Resort Lagonissi, Greece
The Royal Villa at the Grand Resort Lagonissi had Leonardo di Caprio and Mel Gibson as guests. They paid US$35,000 per night for an oversized marble bathroom, additional guest bathroom, separate glass enclosed shower / steam bath in each marble bathroom, private massage area with a massage-table, remote controlled mattresses & curtains, and heated floors.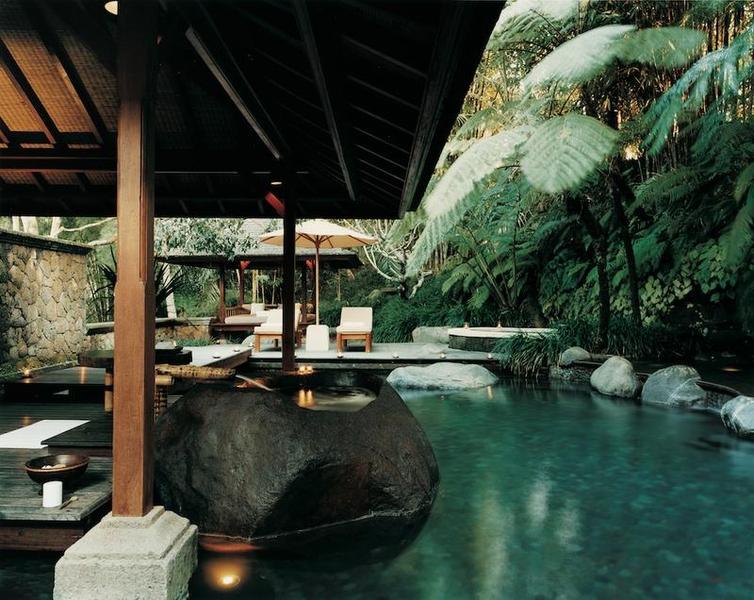 Tirta Ening, COMO Shambhala Estate, Bali
At Tirta Ening the sound of water can be heard throughout. The luxury resort provides a immersive, 360-degree wellbeing experience. This Bali health retreat (whose name means Clear Water) offers a 91sq m (890 sq ft) COMO Shambhala Suite with a Japanese water garden and private waterfall.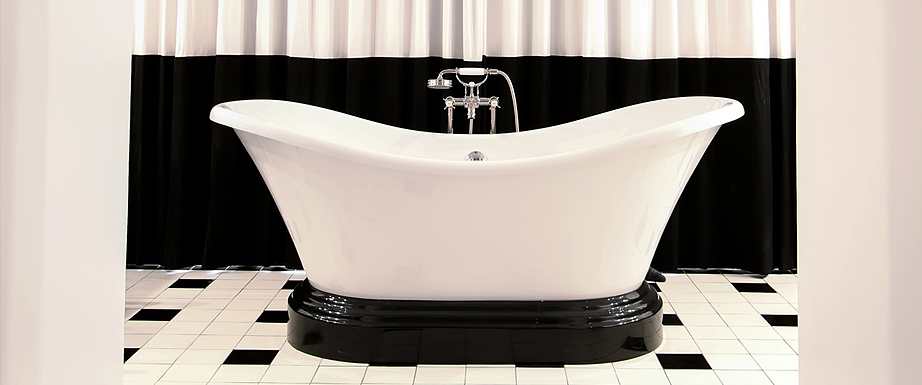 Siam Suite, the Siam, Bangkok
This gorgeous freestanding bathtub in the Siam Suite, the Siam, Bangkok is inspired by Art Deco and Thailand under King Rama V (c. 1853–1910). Siam Suites feature deep bathtubs and separate walk-in showers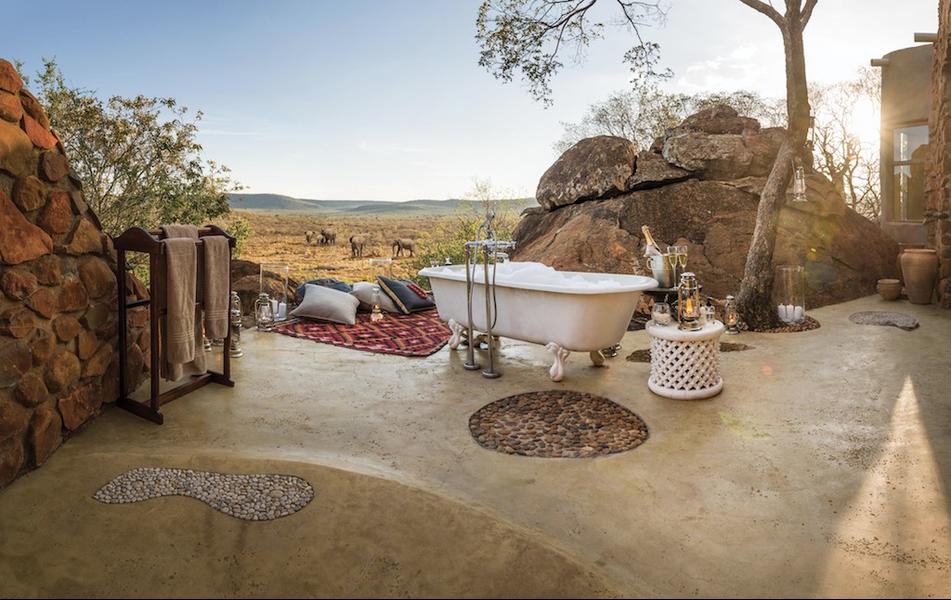 Madike Hills Private Game Lodge, South Africa
The Honeymoon Suite at the Madikwe Hills Private Game Lodge offers has no walls and has savanah creatures looking at the guests.
A not to be missed event for fans of wellbeing, technological and design innovation and product research is the International Bathroom Exhibition at Salone del Mobile Milano, one of the leading showcase for domestic technological innovation in bathrooms.