At 30, the Italian chef, born in Umbria, can claim to have gained more relevant experience. Noted for his potential and his desire to learn, Adriano Venturini was associated with the greatest and cut his teeth in the most prestigious venues all over Europe.
In summer 2010, he joined the kitchen of Bocconi Restaurant spurred by Fulvio Pierangelini, emblematic of the international gastronomy and culinary consultant today for all the Rocco Forte Hotels restaurants. The Grand Maestro, two-starred Michelin – was able to detect, some years ago, when he welcomed the young clerk in his restaurant, promising beginnings.
It is under the aegis of this great leader, Adriano Venturini shares with us his passion to "Bocconi".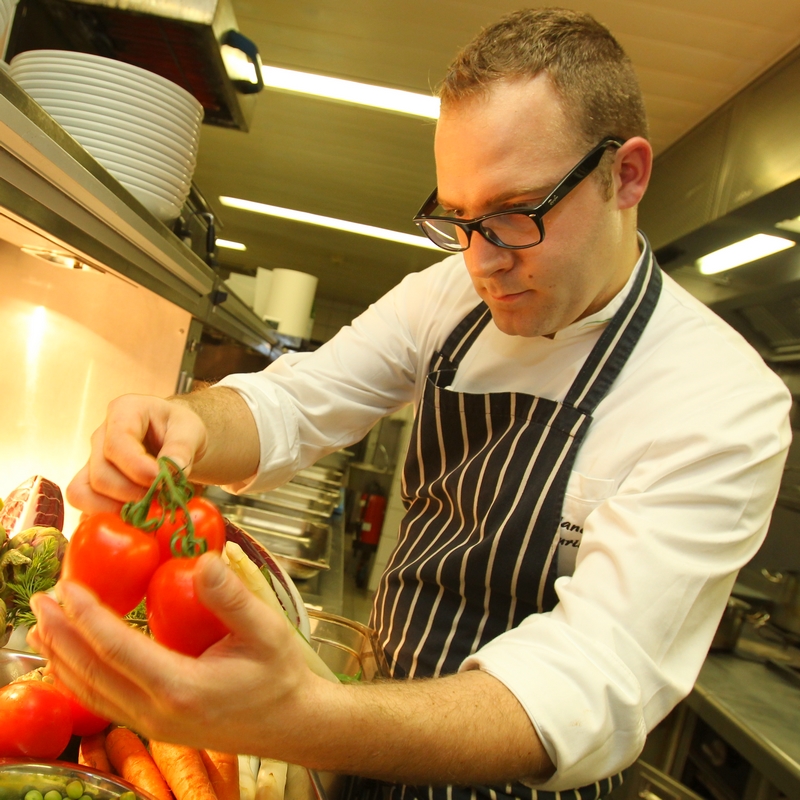 Above, an exclusive 2LUXURY2 interview with the Italian Chef , right on his play ground – The kitchen of the Bocconi Restaurant in Amigo Hotel – Brussels. 
"The kitchen says it is written in my genes"
Like his mentor, Adriano is a necessary requirement in this timeless quest that animates his rigorous daily experience and refines never satisfied.
Adriano Venturini expressed in the kitchen a creative energy in an imperturbable concern for the respect of the product.
Passionate, attentive, curious, inventive, Adriano shows an endless appetite for improving the accuracy of each of his dishes.
For Adriano, nothing is ever trivial or anecdotal. The key is in the generosity of expertise and simplicity of expression using genuine products.
Located in the heart of Brussels, one can find the restaurant Bocconi part of the Rocco Forte's Hotel Amigo. Stepts away from the pitoresque Grand Place – considering being one of the most beautiful squares in Europe.
Awarded best Italian restaurant in the city , the restaurant Bocconi is popular with locals , guest and celebrities, as it offers a relaxed and sophisticated escape from the hustle and bustle of the surrounding streets. Experience any meal from family brunches to business lunch to the most romantic dinners.
In the end, bellow is Adriano's recipe for Peche Melba: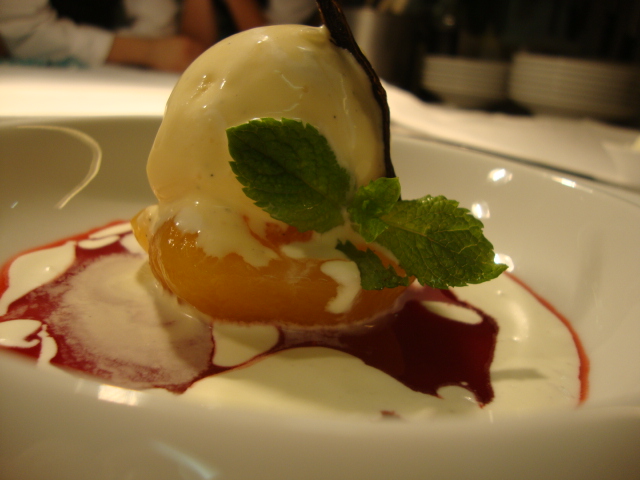 Ingredients
4 ripe peaches
1 cup (250 mL) granulated sugar
2 cups (500 mL) vanilla ice cream
12 raspberries, for garnish (optional)
Raspberry Sauce:
1/2 cup (125 mL) fresh raspberries or frozen raspberries, thawed
4 tsp (18 mL) granulated sugar
1/2 tsp (2 mL) lime juice
Preparation
With knife, score X in base of each peach. Plunge into boiling water for 30 seconds. Transfer to ice water. Drain and peel.
In saucepan, bring 2 cups (500 mL) water and sugar to boil; boil for 5 minutes. Reduce heat to medium-high. Immerse peaches in liquid; poach for 8 minutes, turning halfway through. With slotted spoon, remove to rack; let cool.
Raspberry Sauce: In blender, purée raspberries with 2 tbsp (25 mL) water until smooth. Strain through fine sieve into bowl, pressing with spoon. Stir in sugar and lime juice. (Make-ahead: Refrigerate sauce and peaches with syrup in separate airtight containers for up to 2 days.)
Halve and pit peaches. Scoop 1/2 cup (125 mL) ice cream into each of 4 serving bowls. Top each with 2 peach halves; drizzle with raspberry sauce. Garnish with raspberries (if using).