---
This article titled "Prada, Versace and Dolce & Gabbana – the power trio hit Milan's catwalks" was written by Lauren Cochrane, for theguardian.com on Monday 19th January 2015 09.58 UTC
This weekend at the autumn/winter 2015 menswear shows in Milan, the main points could have been summed up by looking at a triumvirate of brands: Dolce & Gabbana, Versace and Prada. It is these three big hitters – and their sometimes wildly different points of view – that set the agenda for Italian menswear and beyond.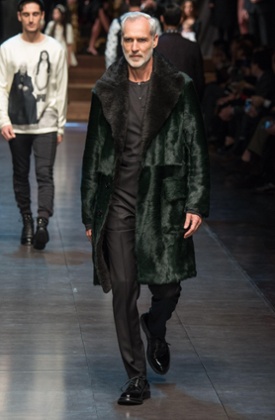 Dolce & Gabbana was up first, with its show on Saturday afternoon, and the more social-media-minded of observers would have seen the theme coming. The label, which has been using the #dgfamily hashtag on Instagram in the week leading up to the show, started proceedings by opening a pair of red velvet curtains to reveal a tableau of real-life families. With an age range from two to 82, a throne, and the cast kitted out in ballgowns, hotpants and miniature suits, the effect was of a very glamorous family-reunion portrait.
Models walked out in front of the families, with a collection broadly based on that theme. Typically opulent, with brocade, fur and silk all featuring heavily, Dolce & Gabbana's collections are always rich in detail. Sweatshirts came with photoreal family portraits on them, or the phrase "amore per sempre", while some embroidered pieces used the idea of family crests. The tagging of tops with the "dgfamily" hashtag was probably over-egging things a little but a subtler message did emerge. With casting that ran from teenagers to fiftysomethings, three consecutive looks neatly demonstrated Dolce & Gabbana's position now. A young man wore the polo shirt, fitted pants and flat cap of a fifties barista; a thirtysomething had on a neat blazer and carried a day bag for work; a 50-odd-year-old sported a more decadent double-breasted suit. What did they convey? This is a brand that can be worn and bought across generations of Italian men.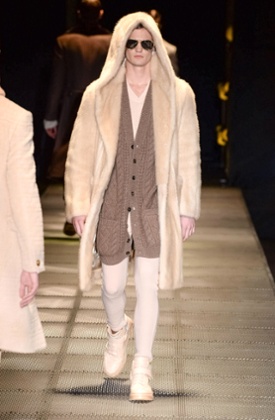 If Dolce & Gabbana enjoys taking signifiers of national identity and adding its brand voice to the conversation, Versace concentrates on its own dynasty. The world of Versace is where Donatella finds her collection each season, with the aim to reinvent the brand wheel, or at least evolve it, each season. Contrasting from a spring collection that was full of pattern, bold colours and a 1980s aesthetic, this was relatively pared-back – for a brand that loves bling, anyway. The set was industrial, with scaffolding spelling out "Versace" as guests walked in, and models reaching the catwalk via a set of metal stairs. The house "codes" were still there, however, in the form of giant-sized, Instagram-ready medusa head made of scaffolding front row centre above the catwalk.
The clothes stuck to a masculine colour palatte – grey, brown, ivory, blue, black – and created a silhouette that played with volume and rigour. Knitted joggers – described by their designer as "molto sexy" – were paired with slouchy knee-length cardigans, and Oxford bag-style trousers contrasted with a nipped-in blazer. Always with an eye on men with expensive tastes, a fur coat with hood would have been just the thing for an evening in Aspen. Donatella explained that this look – part sport, part louche – was always in the Versace DNA. "Silhouettes, sensuality and fabrics are Versace," she said. "It was about going back to the start to make a medusa for the next century." She argued that this was the way for her to inject new ideas into her brand. "Neutral colours are difficult for me," she said "but you have to change. I hope I have done that by going back to the core of the brand. You can't always go back to the same thing." Wise words from a brand matriach – she manages to make things just different enough each time out.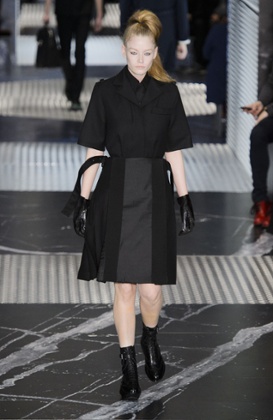 Prada's Sunday night show spurned any idea of family or convention. Instead, designer Miuccia Prada did exactly what she wanted – as always. Despite these being the men's shows, her collection featured an almost equal number of male and female models. It was shown in a set that looked like a space ship, all low ceilings, corridors of shredded chrome and anterooms. The clothes concentrated on the idea of "uniforms" – both explicitly in school kilts and air steward jackets but also conceptually. One uniform – that presumably of the office worker – was in focus with macs, briefcases and a work-friendly colour palette of grey, navy and black. Sounds boring, perhaps, but was anything but. And that's why Prada wins every time. She is the queen of Milan – and worldwide – fashion.
guardian.co.uk © Guardian News & Media Limited 2010
Published via the Guardian News Feed plugin for WordPress.