---
This article titled "How Vivienne Westwood fell in love with Prince Charles" was written by Morwenna Ferrier, for theguardian.com on Monday 19th January 2015 14.38 UTC
For a designer who has long used the establishment as a frame of reference for reaction, Vivienne Westwood – the anti-monarchist, anti-establishment, godmother of punk – dedicating her autumn/winter 2015 collection to Prince Charles in celebration of his environmental work was always going to polarise fans.
"I want to pay tribute to Prince Charles," wrote Westwood on a set of briefing notes (emblazoned with an image of Charles in a beret) given to guests at her autumn/winter 2015 menswear show in Milan. "If Prince Charles had ruled the world according to his priorities during the last 30 years, we would be alright and we would be tackling climate change."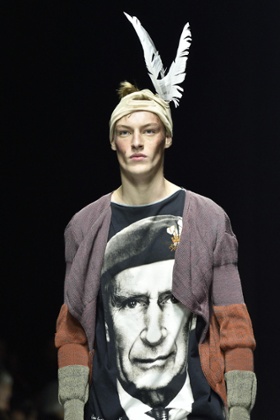 The T-shirts, worn under blazers and by Westwood herself, are part of a Westwood perennial of using fashion as a political vehicle; fans might recall tops embellished with "I Am Not a Terrorist" for civil-rights charity Liberty, and an entire collection in 2013 dedicated to Chelsea Manning. The rest of the collection, though, was relatively staid for the designer, referencing traditional royal sartorial norms: sharp Savile Row-style tailored suits, trad brocade florals on blazers and coats in a houndstooth print.
Given Westwood's history with the royal family – she has twice attended Buckingham Palace with no knickers on, and has regularly goaded the establishment in various ways over the past forty years – this homage might seem implausible. But she recently set her targets on the environment, and previously endorsed Prince Charles, saying he had done an amazing amount in this world.
Charles has long been an outspoken environmentalist, and was recently handed increasing responsibility of the Queen's Sandringham estate as part of the "gentle succession". He is expected to use the land to implement more changes, including organic farming, an activity Westwood has backed with equal candour.
It's evidence of the designer's continued move away from her roots. After all, along with her partner Malcolm Mclaren, she played a pivotal role in establishing the punk scene in the late 1970s and has previously described her motivation for adopting anti-establishment messages into her collections as "an heroic attempt to confront the older generation". But as Westwood knows, the medium is the message – and what better way to send it home that by subverting expectation?
guardian.co.uk © Guardian News & Media Limited 2010
Published via the Guardian News Feed plugin for WordPress.