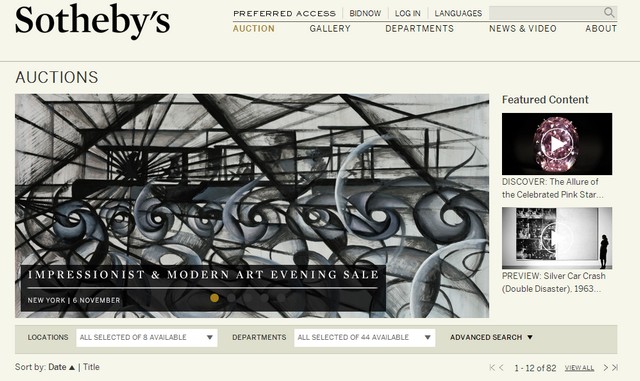 This article titled "Sotheby's and the $14bn hedge fund hawk struggle for control of art market" was written by Edward Helmore New York, for The Observer on Saturday 26th October 2013 12.07 UTC
The seasonal display of the world's wealthiest people bidding for art and driving up prices to record levels is being overshadowed by a backroom drama pitting the venerable British auctioneer Sotheby's against one of New York's most aggressive investment managers.
Dan Loeb, 51, art collector and chief executive of Third Point, a hedge fund sponsor with $14bn under management, is campaigning to unseat Sotheby's long-serving chairman, president and chief executive, William Ruprecht. Loeb, who has a 9.3% stake in the 269-year-old British salesroom, claims it has failed to "grasp the central importance of contemporary and modern art to the company's growth". It has also failed, he says, to take advantage of new markets in Asia and the Middle East and is experiencing "a crisis of leadership" that has created "dysfunctional divisions and a fractured culture".
Loeb, who is known for acquiring stakes in companies and then launching attacks on their managements, has shed light on the increasingly competitive battle to sell art that is threatening the delicate balance between galleries, which traditionally discover and develop young artists, and auction houses, which traditionally sell work by artists with a proven value.
Loeb says Sotheby's arch-rival, Christie's, owned by luxury goods billionaire François-Henri Pinault, has aggressively gone after new markets, including low-priced contemporary art, while Sotheby's has been more content to sell only the priciest headline pieces – like Edvard Munch's The Scream last year for a record $120m – to top collectors. Art advisers familiar with Loeb's thinking say he believes Sotheby's executives confuse their lifestyles with those of their clients and run departments as personal fiefdoms. "Sotheby's is like an old master painting in desperate need of restoration," he wrote in an open letter to Ruprecht this month, accusing him of enjoying privileges of "the long-gone era of imperial CEOs".
Sotheby's calls Loeb's accusations "incendiary and baseless". Loeb's attack, say figures close to the firm, is merely typical of an activist shareholder looking to leverage their investment.
The art world, though, is on the fence about whether to take Loeb's actions seriously. Many suspect he wants to turn the auction house into an aggressive cash-and-carry for contemporary art and force up the value of Sotheby's shares before cashing out. If Loeb fails to force changes at the auction house, they say, he will move on to a new target.
Art critics, too, have their doubts. Sotheby's management may be approaching Caligula on the scale of self-indulgence, says art critic Dave Hickey, but turning the business over to hedge funders is not a good solution. "The idea of turning Sotheby's into Lehman Brothers is ridiculous, because contemporary art has no intrinsic value," he says. "I don't think a bunch of business school graduates are going to be able to offer an environment in which art can flourish."
For this new breed of collectors, Hickey adds, "it's nearly all about swanning around with your little paddle. That's what most of these hedge fund guys are getting out of it. They're selling shit to suits."
The danger of auction houses muscling in on galleries' turf was vividly illustrated last week at Christie's when collector-dealer Charles Saatchi dumped 50 large sculptures from his collection, several by artists with little or no auction history, on the market. Few sold, and those that did sold poorly. "The auction was an experiment that didn't really work," noted art adviser Emily Tsingou.
In August, Loeb was forced to back down in a confrontation with Sony over film production at its film studio, after George Clooney moved to defend the studio, accusing Loeb of being an interloper "trying to spread a climate of fear".
guardian.co.uk © Guardian News & Media Limited 2010
Published via the Guardian News Feed plugin for WordPress.