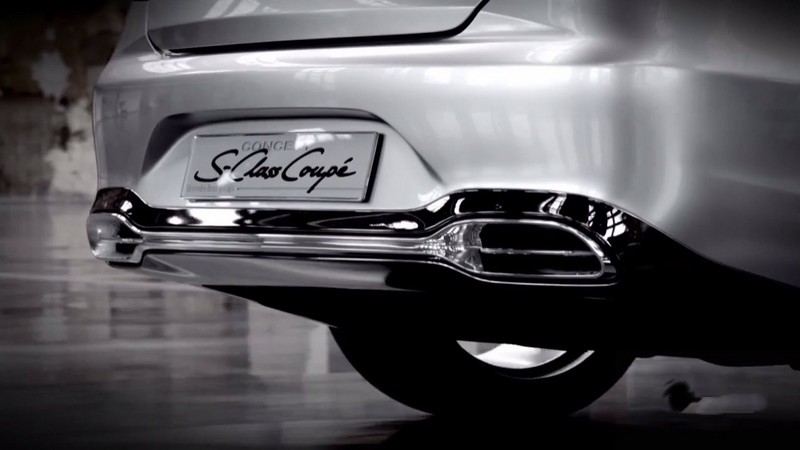 Traditionally the top of the Mercedes-Benz product range is occupied by the grand coupé. With the Concept S-Class Coupé the company will provide a concrete vision of the next model generation at the International Motor Show (IAA) in Frankfurt.
"On the S-Class Coupé as the traditional top of our product range the designers take advantage of their additional freedom and thus create an automotive masterpiece," explained Gorden Wagener, Vice President Design at Daimler AG.
"Design needs the sublime! Because design is the best brand ambassador. At the centre of our work is sensual clarity as an expression of modern luxury, because this is precisely what gets to the heart of our brand philosophy – the bipolarity of intelligence and emotion", says Wagener.
The long bonnet with distinctive lines and powerdomes, the cowering greenhouse with high beltline, the accentuated wheel arches as well as the 21-inch wheels (tyres at front 265/35 R 21, at rear 295/35 R 21) and the visually broad rear substantiate the claim of the Concept S-Class Coupé as a masterpiece of automotive refinement. With a wheelbase of 2945 mm the coupé measures 5050 mm in length, 1958 mm in width and 1409 mm in height.
Sculpted elegance and simplicity also characterises the interior. The white instrument panel exudes sensual clarity. Its curved shape is reminiscent of a whale fluke just before it re-enters the water.
The Concept S-Class Coupé is powered by a V8 Biturbo engine. This engine produces 335 kW (455 hp) from a displacement of 4663 cc.
The peak torque is 700 Nm.
The Concept S-Class Coupé is equipped with the "Intelligent Drive" technology from Mercedes-Benz. Thanks to two "camera eyes" the stereo camera can get a three-dimensional view of the area up to about 50 metres in front of the vehicle, and as "6DVision" can detect the position and movement of objects. It monitors the surroundings ahead of the vehicle over a range of up to 500 metres.
These data are combined with the data from the radar and ultrasound sensors. A multitude of assistance systems monitors the surrounding traffic for the driver. According to Daimler, this helps to reduce the burden on the driver and other road users are also protected.
At the Frankfurt International Motor Show, Mercedes-Benz presented not only new models to the world public, but had a very special innovation to offer as well: as the first car manufacturer, the premium brand launched its own digital radio programme – broadcasting 24 hours a day with a fixed programme schedule and editorial content.