Rolls-Royce's zodiac-inspired Ghost.
"The Year of the Horse" inspired an iflux of China-exclusive luxury products. British Luxury car manufacturer Rolls-Royce stepped into the new year with a Chinese culture-influenced Ghost model. The special limited-edition "Majestic Horse" Ghost celebrates the year of the horse with depictions of the horse in traditional Chinese ink painting. The equestrian motifs are stitched in the headrests and rear seat cushions. A horse logo is painted on the side and on the wooden dashboard.
Because 2014 is the first time in over half a century that the element "wood" and the "horse" are marked together, the interior of the luxury car is all about wood. Rolls-Royce Ghost Majestic Horse Edition will be available in the second quarter of 2014.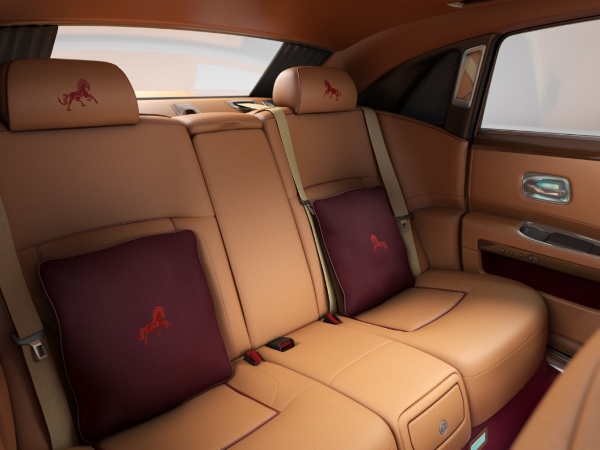 "This limited series of motor cars perfectly marries Chinese artistic tradition to the very best in contemporary British automotive design. Highly discerning customers have a profound appreciation of fine craftsmanship, with many delighting at travelling to the Home of Rolls-Royce in Goodwood, England to consult with designers and witness first-hand the practices that reinforce Rolls-Royce Motor Cars' position as purveyor of the world's pinnacle super- luxury good," explained Rolls-Royce Asia Pacific Regional Director Paul Harris.
The Rolls-Royce Ghost Majestic Horse Edition is a standard Ghost with a 6.6-liter twin-turbocharged V12 engine producing 563 HP.
Last October, Rolls-Royce revealed the one-of-a-kind "Chendu Sun Bird" model featuring a motif taken from a Shang dynasty relic found at Chengdu's Jinsha ruins. The car had the hood, roof, trunk lid, tread plates, wheel hub, and logo, all coloured in gold.