Gucci China-red – exclusive Year of the Horse collection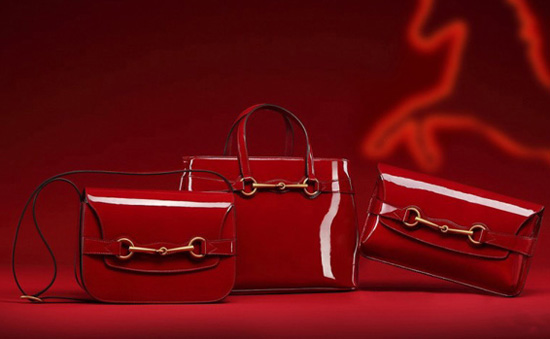 Italian luxury label Gucci is the latest to jump in on the year of the horse bandwagon with China-exclusive Year of the Horse collection, following in the footsteps of fashion designer Carolina Herrera who launched a special-edition red-and-gold Matryoshka bag, DKNY's new 16-piece collection, Moleskine x Shanghai Tang notebook, the Rolls-Royce Majestic Horse Ghost model, or S.T.Dupont two special-edition Horse Prestige collections. All the custom "Year of the Horse" luxury products celebrate the year of the horse for China's Spring Festival (Chinese New Year).
Perfect for this year's zodiac animal, Gucci's iconic "horse bit" is mixed with Chinese red on the Bright Bit bags in patent leather, a clear example of the shift away from logos. The signature horsebit in golden bronze is accompanied with a "China Exclusive" label inside as well as a red star alongside the Gucci brand. The equestrian tradition and riding heritage have inspired the Gucci luxury house for over 90 years.
Not only a symbol of traveling, but also a sign of speedy success, the horse is one of Chinese favorite animals. The Horse symbolizes such character traits as strength, energy, and an outgoing nature. Extremely animated, Horses thrive when they're the
center of attention.