Independent Escape.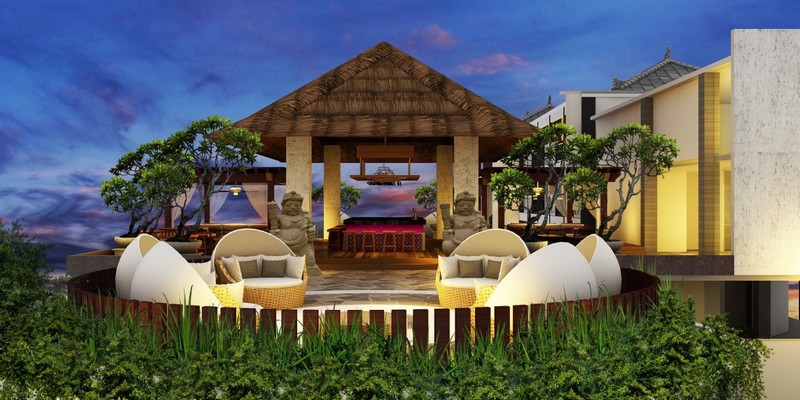 Take a moment to sit back and enjoy the serenity of Bali's surroundings; located in the Naga Rooftop Bar & Lounge, the bamboo woven chair at the new Sthala, a Tribute Portfolio hotel, is a wonderful location to unwind.
Perched on a hilltop among the tropical landscape in Lodtunduh, Ubud, Sthala offers stunning ridge views of the steep Wos River valley. Featuring 143 rooms and suites, this new upscale hotel encompasses a design narrative that focuses on traditional Balinese elements, while blending seamlessly with the natural surroundings of the picturesque location.
Independent by Nature
As with all Tribute Portfolio properties, Sthala, A Tribute Portfolio Hotel, Ubud Bali features a selection of #independentmoments: distinct design touches and experiences found at each Tribute Portfolio hotel and resort that illustrate what guests love about "staying independent." These socially-sourced vignettes extend beyond the typical hotel brochure to highlight the secret spots, must-sees and can't-miss experiences at each Tribute Portfolio property. Guests are also encouraged to share their own #independentmoments throughout their stay at the hotel. The #independentmoments for Sthala Ubud Bali include:
Bebek Semudera – A twist on one of the Ubud region's signature dishes, Bebek Semudera is more than just a meal, it's an experience. Prepared by Chef Wayan Semudera, this tender, juicy duck is cooked ever-so slowly and is best enjoyed at the Sungai Restaurant while taking in the stunning scenery.
Dragon Wood Carving – A traditional Indonesian symbol of power, strength and good fortune, the dragon wood carvings at the hotel were created by local Balinese craftsmen.
Signature Wos Breeze Cocktail – Beat the Bali heat with the Woss Breeze, which blends local ingredients including rum, lime, red chili, lemongrass, ginger, and fresh mint into a refreshing libation.
Wos River – Embrace the true essence of the jungle with the perfect view of the Wos River from the Panorama Pool and Sundeck Lounge.
Stone Carvings – Situated at the epicenter of culture in Ubud, the hotel features three stone carvings of Trimurti – the trinity of supreme divinity in Hinduism which represents the three manifestations of God (Brahma, Wisnu, and Siwa).
Tegel Tiles – With diverse colors and patterns, the classic vintage and retro tiles in the Naga Rooftop Bar & Lounge are the perfect design surprise when looking down.
Sthala provides a range of distinctive dining venues for guests to explore and enjoy. The Naga Rooftop Bar & Lounge features an airy atmosphere with ample natural light, as well as majestic valley and river views. Sungai Restaurant is an all-day dining experience that offers Asian cuisine with Balinese touches, as well as a range of Western dishes. Alternatively, guests can enjoy the Panorama Pool and Sundeck Lounge, which serves cool cocktails and light bites set against the unforgettable backdrop of the Wos River and forest.
Guests can enjoy a myriad of facilities ranging from a fitness centre and spa, to a wide selection of guest activities, such as yoga on the dedicated yoga deck. Additionally, Ubud offers a truly diverse experience, from wellness and nature to art and culture, all within easy access of the hotel. Sthala, A Tribute Portfolio Hotel, Ubud Bali also features nearly 400 square meters of function space, ideal for intimate weddings and professional meetings in a truly remarkable lush setting.