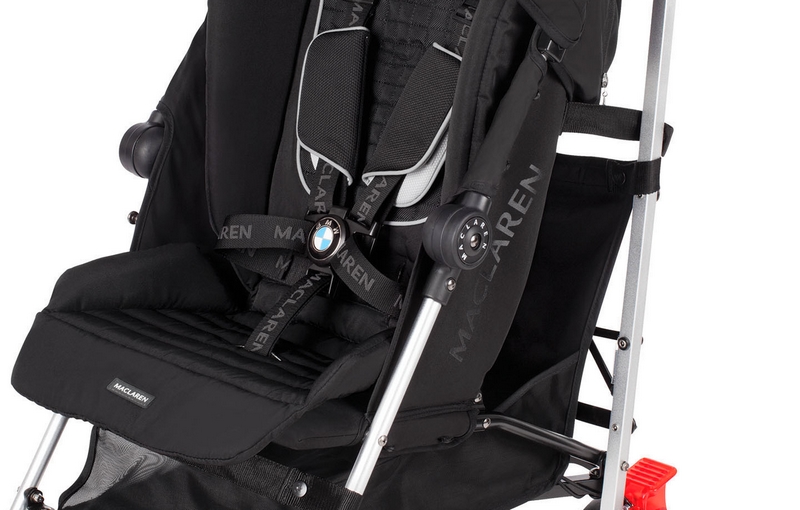 Maclaren, the premium parenting company and creator of the world's first umbrella-fold baby buggy has released the first of its kind, a limited edition Maclaren BMW Buggy and accessory collection.
The BMW Buggy will join Maclaren's highly sought after Objects of Design collection amongst the ranks of other premium brand partners, which have included Burberry, Philippe Starck , Lacoste, Lulu Guinness and Juicy Couture.
Suitable for babies from +6 months, the Maclaren BMW Buggy features a multiple position seat recline, custom BMW insignia buckle and a BMW interior-inspired removable seat liner. Responsibly sourced and built with an aluminium frame, sustainable and recycled material options were an integral part of the design lending the Maclaren BMW Buggy to be a fully recyclable model. Automotive styling and design touches like rear reflectors and authentic BMW-inspired wheels give this buggy a sleek look, while "the lightweight chassis and easy, compact fold make it classic Maclaren".
To complement the design-led stroller, a full collection of BMW accessories will be available and sold separately. The collection, based on Maclaren's sought after accessory category, includes an organiser, an Expandable Footmuff, Insulated Pannier, Messenger Bag, Lightweight Storage Bag, Cup Holder, Park Blanket, and an Umbrella and Storage Case designed new for this collection.