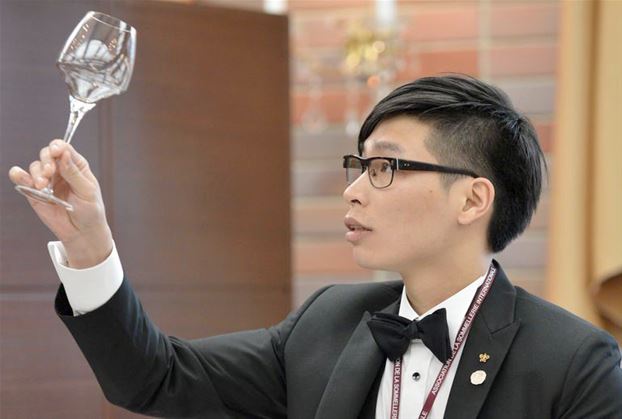 Best sommeliers of the world with contestants from from 54 countries compete in Japan for world's best title won last
in 2010 by Britain's Gerard Basset, when the contest was held in Chile. The wine waiters contest, is being held for the 14th time.
The Association de la Sommellerie Internationale (A.S.I.) established in 1969 hold the 14th Contest of the Best Sommelier of the World, for the second time in Japan in Tokyo from March 27 through March 29, 2013.
"The twelve successive bet sommeliers will get together for the first time in Tokyo to welcome this contest, although we miss one best sommelier who cannot come to Japan. I am proud of having the 14th contest here at the Grand Prince Hotel Takanawa where I became the world best sommelier in 1995," said the President Shinya Tasaki. "Five years ago under the late Mr. Kazuyoshi Kogai, ex A.S.I. President, it was decided that the 14th Contest would be held in Tokyo. Tomorrow is the anniversary of Mr. Kogai's death. I hope that this contest will be truly successful with the help of the participants," added Tasaki.
"We found something new every year. What kind of discovery will we have? The contest include a written test, tasting a variety of wine, service presentation in a foreign language other than the candidate's mother tongue, finding the mistakes on the wine lists, marriage between wine and food. The contest will be rather difficult," noted Serge Dubs, Vice president for the European Continent.
"A good sommelier not only has to have good knowledge of wine, but he also needs to be able to put customers at ease
and know what to do to let them enjoy the food," explained the chairman of the jury and a former champion.
Tasting, service, matching of food and wines will took place in front of some 500 spectators in the banqueting room of the Grand Hotel Prince Takanawa in Tokyo. The names of the 3 finalists will be announced just before the final, on Saturday, on the stage of the Tokyo International Forum.
The 2013 Best Sommelier of the World is among them. The 12 semi-finalists of 2013:
– Franck Moreau, Australia, 2012 Best Sommelier of Asia & Oceania
– Véronique Rivest, Canada, 2012 Best Sommelier of the Americas
– Paolo Basso, 2010 Best Sommelier of Europe
The other 9 are :
– Maria Paz Levinson Huarte, Argentina
– Aristide Spies, Belgium
– David Biraud, France
– Fabio Masi, Italy
– Francesco Azzarone, Norway
– Julia Scavo, Romania
– Eric Zwiebel, United Kingdom
– Jon Arvid Rosengren, Sweden
– Isa Bal, Turkey.