The pearl is a treasure born and nurtured by the oceans. Akoya pearls represent the very foundation of MIKIMOTO jewellery. MIKIMOTO continues its pearl journey as it explores ever new designs which represent the ultimate in beauty.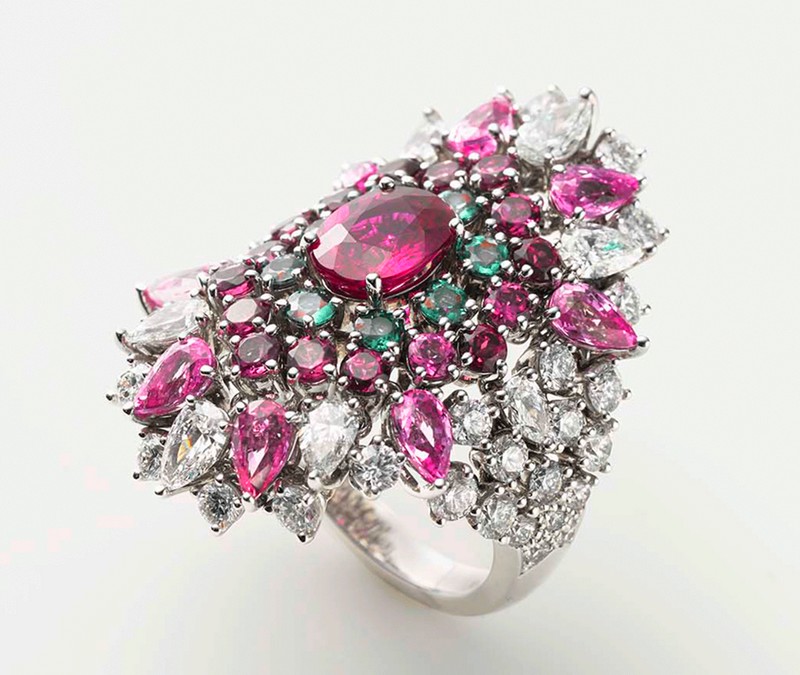 Not limited to pearls, MIKIMOTO selects truly beautiful stones which are worthy of its designs and sensibility. Vivid rubies mirror underwater volcanoes in the Praise to Nature, a collection portraying volcanoes' vigorous energy and nature's dynamism. "Praise to Nature" is the new theme introduced by MIKIMOTO this year to its range of jewellery, and specifically represents MIKIMOTO's praise – through the beautiful art form of jewellery – for the vibrantly changing faces of nature
This Mikimoto necklaces and rings capture the mysterious, yet magnificent stories of the sea. Diamonds glitter like the sun reflecting off the ocean surface, while opals gleam, like a school of delicate fish darting playfully through the water underneath.
This Mikimoto design is inspired by coral found within the ocean. It is an embodiment of oceanic mythology. The serenity of the sea emanates throughout this long pearl necklace from the gradation of pearls and colored gemstones.
The magnificent, satiny luster of these fantastic white pearls is produced by the silver-lipped South Sea oyster. Their subdued opalescence will subtly change in appearance under different light conditions, making them a constant marvel to behold. Harvested in sizes from 9mm and up, their shapes range from round, oval or teardrop to free-form baroque.
This June, Mikimoto celebrated the grand opening of its Ginza Main Store. Since opening Mikimoto's first pearl store in Ginza in 1899, the luxury jewelry house has achieved international acclaim as the leading jeweller of Japan. The façade of our Ginza Main Store pays homage to the luxury brand's roots, the natural world which gives rise to the pearl, with the concept "Shimmering Spring Sea".