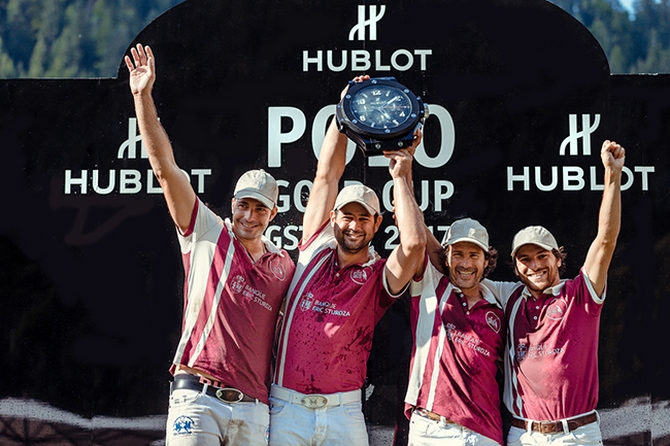 Cedric Schweri and his Team Banque Eric Sturdza won the 22nd Hublot Polo Gold Cup in Gstaad, Switzeland. After trying and getting very close for several years, the Swiss captain finally can claim the trophy. This 22nd final started out quite messy with multiple faults being blown but thanks notably to the talents of Marcos Riglos (MVP) and incredible goals by Nico Lopez Fuentes (riding the BPP), Team  BANQUE ERIC STURDZA turned this difficult final in their favor.
Four times Cedric Schweri already tried to win the Polo Gold Cup and the Hublot watch that goes with it. His father even said it might be easier to just buy one rather then try to win it playing the tournament. But Cedric knew the fifth time would be the right one. With his Team Banque Eric Sturdza he finally won the trophy and therefore the most important summer tournament of Switzerland: The Hublot Polo Gold Cup of Gstaad.
Like most finals, the polo game was very tense. Pressure, stress, fear of loosing and like Marcos Riglos, MVP, pointed out : "The field  was not easy to play on after five games. It was difficult to make the ball roll and to control it. It was not an easy polo to play, but we succeeded anyways. I am proud to have been nominated MVP but this victory truly was a team effort. I am here for the third time and it is an incredible place. The organization is perfect and the atmosphere great."
In front of 4000 people, a rare number for European polo, the game took some time to get under its way. Multiple faults and time-outs and
only 4 goals after two chukkers (2-2). With three goals, one of which by captain Cedric Schweri, BANQUE ERIC STURDZA managed to
create a small gap during the third chukker but not for long as RIVA nearly closed it in the forth chukker being only one goal behind their
rivals (6-5). The game was not yet settled, but in the last minutes Marcos Riglos and Nico Lopez Fuentes sealed the deal: 8-5.
Team GSTAAD PALACE claims the third place defeating Team HUBLOT in the first game of the day. During the first three chukkers the
teams were tied, but in the last chukker and within a few minutes GSTAAD PALACE scored three goals in a row, a gap HUBLOT could
not fill, leaving the final score at 10-7.
Once again the tournament was a huge success and the weather had an important part in it. The sun was out every day driving a big
number of people to this 22nd edition. A truly traditional tournament, the Hublot Polo Gold Cup is also one of the most beautiful ones of
the European season.