The global market for luxury goods has returned to steady growth, after the recessionary decline of 2008. While the developed countries dominate sales, the emerging ones are growing faster. In consequence, luxury brands manufacturers and retailers will continue to switch their focus to these new sources of growth.
Three BRIC countries will be the runner-ups after the US in terms of absolute value growth in luxury alcohol, and India and China are predicted the highest Compound Annual Growth Rates (CAGRs) over 2012-2017, according to the latest Euromonitor's "Luxury Alcohol in the BRICs: How the BRICs Are Reshaping the Luxury Alcohol Industry" study.

Sales of luxury alcohol are growing in the BRICs, as both disposable incomes and alcohol consumption increase. But while the developed countries have similar consumption drivers, this is not the case in the BRICs. Acknowledging cultural diversities and accumulating local knowledge will be crucial for the successful navigation through these markets, say the authors of the study.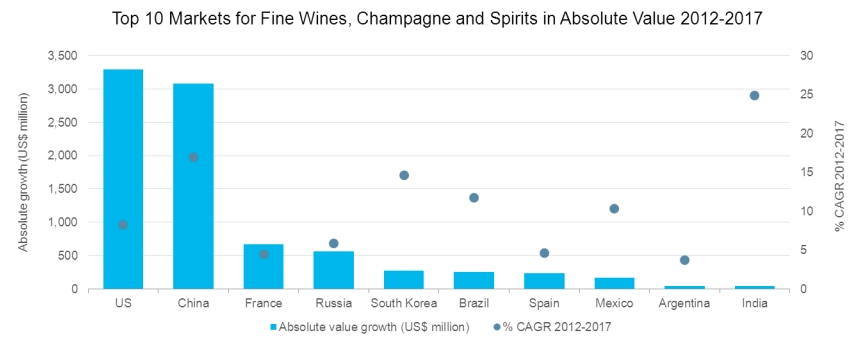 Although India stands out in terms of growth, with a 25% forecast Compound Annual Growth Rate (CAGR) for the period 2012-2017, sales are expected to grow by less than US$44 million, as the consumer base remains relatively small and has lower purchasing power. By 2016, the richest 10% of households in India are expected to have an average annual disposable income of US$26,329 (in constant terms, compared to US$59,378 in China and US$124,543 in Brazil.
With a combined retail value of over US$33 billion in 2012 the BRICs now account for 11% of total luxury sales, up from just 4% in 2004. However by 2017 this figure is set to increase further by 78% in real value terms to reach US$59 billion, representing almost 16% of the global luxury goods market.
The significant number of very rich people, combined with the Byzantine culture of flamboyancy, has made Russia a perfect target for luxury products. Luxury alcohol – fine wines/champagne and spirits – is a big business in the country, with value sales forecast to grow at a CAGR of 6% over 2012-2017, despite increasing state involvement in alcohol sales and consumption.
Euromonitor International's latest research on the global luxury goods market indicates another solid year's performance in store for 2012. Driven mainly by strength in emerging economies, overall retail growth in 2012 is set to be stronger than in 2011, with luxury goods sales expected to exceed US$302 billion worldwide.