A new Louis Vuitton advertising campaign conjures the original Spirit of Travel for the next generation.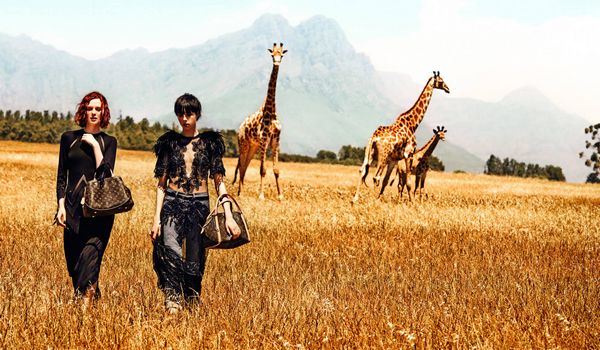 The new Louis Vuitton's Spirit of Travel Campaign Film was the perfect excuse to announce the launch of the official Louis Vuitton Youtube Channel at http://youtube.com/LouisVuitton. Models Karen Elson and Edie Campbell embody the new generation of Louis Vuitton's avid travelers. Director Peter Lindbergh captured in South Africa a series of images with models walking through savannah full of cheetahs, lions and giraffes. Karen Elson and Edie Campbell are always armed with a complete Louis Vuitton bag collection, in complete harmony with wild creatures of Africa.
Styled by Carine Roitfeld, the ad campaign, with scenes which has not been manipulated, presents Louis Vuitton's Speedy, Keepall and Neverfull monogram bags, alongside two new styles for Spring-Summer 2014.
"There is no such thing as a destination, because the journey never ends. 
My favorite place is somewhere I have never been. 
Never ask for directions, just be where we are. 
Don't believe in borders. Dare to move frontiers;
To travel is to live," is the new Spirit of Travel's mantra.