Wynn Las Vegas unveils Tulips sculpture by renowned artist, Jeff Koons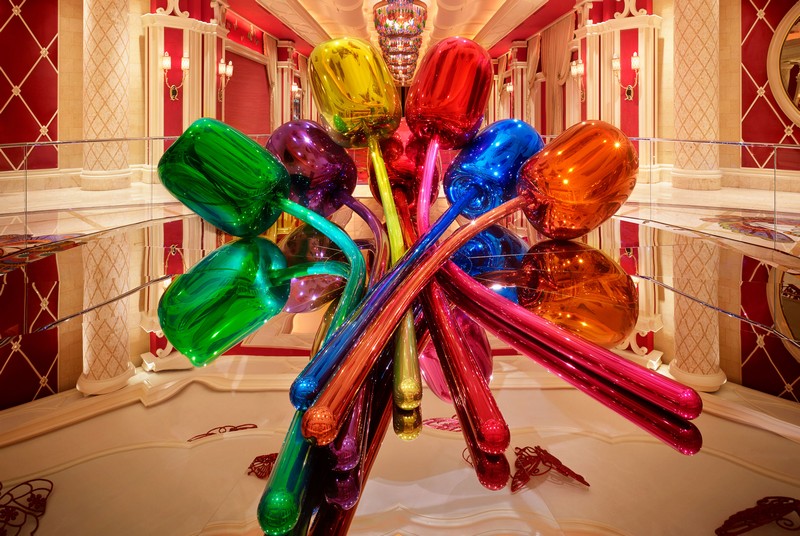 Wynn Las Vegas unveiled "Tulips", a sculpture by renowned artist Jeff Koons, acquired at auction in November 2012 for a price of $33,682,500. Jeff Koons (born in York, Pennsylvania in 1955) is seen as one of the most important living artists on canvas and in sculpture in the world.
The legendary piece is the sculptural culmination of Koons' Celebration series. Created in five unique versions, Tulips is one of the largest and most complex sculptures in the series. The sculpture represents a bouquet of twisted balloon flowers, which have been cast in stainless steel and brought to a high mirror polish and plated in a vivid spectrum of color.
The sculpture creates the sensation of weightlessness but is paradoxically heavy, employing more than 3 tons of meticulously sculpted stainless steel.
"Tulips is a symbol of hope and the strength of life's energy," said Jeff Koons. "It reflects the viewer to affirm the viewer's existence. I am thrilled to be in the Wynn collection. Steve Wynn is known for collecting great works of Modern and Contemporary art so to be able to have my sculpture, Tulips, included in his collection has profound meaning to me."
Rendered in mirror-polished stainless steel and transparent color coating, Tulips will illuminate the Wynn Theater rotunda at Wynn Las Vegas.
Jeff Koons gained acclaim for his public sculptures, such as the monumental floral sculpture Puppy (1992) shown at Rockefeller Center and permanently installed at the Guggenheim Bilbao. Another floral sculpture, Split-Rocker (2000), was installed at the Papal Palace in Avignon, the Palace of Versailles and Fondation Beyeler.
Koons has also received numerous awards and honors in recognition of his cultural achievements. Most recently, Secretary of State Clinton recognized Koons for his participation in the U.S. Department of State's Art in Embassies program with the first-ever Medal of Art. In 2009, the Royal Academy of Arts presented Koons with the John Singleton Copley Award, Koons received The Governor's Awards for the Arts Distinguished Arts Award and President Jacques Chirac promoted Koons to Officier de la Legion d'Honneur.