1.618 is a mathematical ratio that defines the divine proportion, a universal key to harmony that originates in nature and provides a formula at the service of aesthetics. It is a definition in symbiosis with the positioning of the event. 1.618 is a unique event, multidisciplinary, pioneering and innovative, at the crossroads of different worlds. It celebrates the new luxury, the beauty of the world which surrounds us, and the power of innovative creation.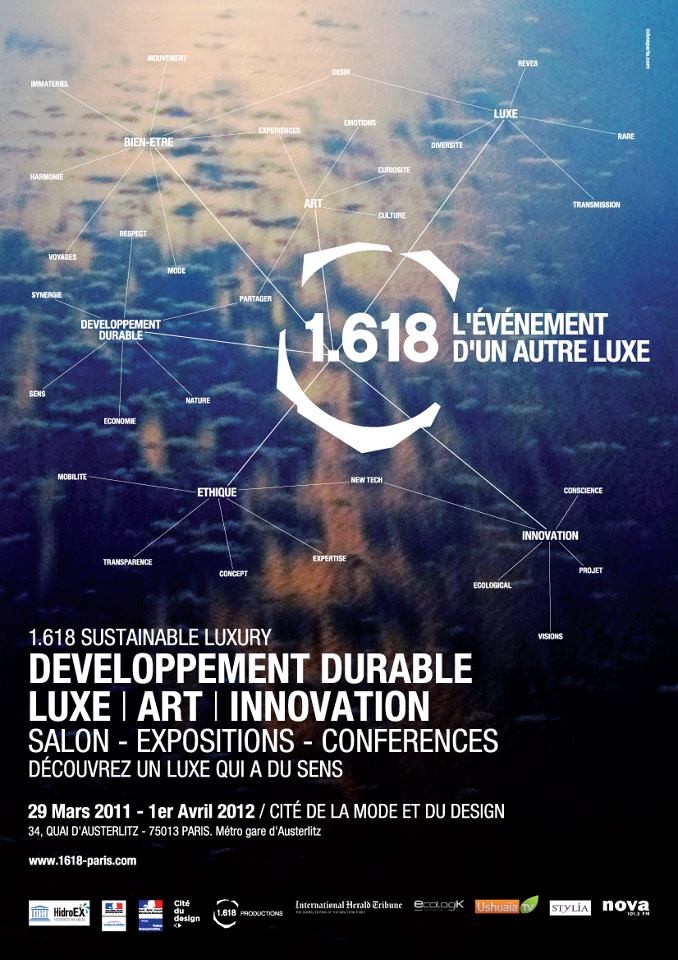 1.618 creates an environment for meeting and sharing, between the creative industry, and consumers' new expectations, around the issue of sustainable development.
But what is behing the curtain?  To find out  we've asked – Barbara Coignet, Founder and CEO at 1.618 Sustainable Luxury.
In your opinion, what does sustainable mean?  Why should luxury be sustainable in the 21st century?
Sustainable is the perfect word to define harmony as I see it.
Balance and respect of natural and human wealth.
If it wants to be an example, the luxury industry must strive to respect this balance, by adding transparency, knowledge transmission, and the protection of know-how and innovation.
21st century luxury no longer has a choice but to integrate these values.
Sustainable Luxury is not a concept but a reality resulting from the need to adapt and the changes taking place in the world, in both mentalities and economies. How did the concept of "Sustainable Luxury" evolve? How did the luxury industry adapt itself to sustainable development?
Just as other industries have done and probably much more easily, the luxury industry, is going to adapt and catch up quickly over the next 5 years.
After decades of lightning development during which the luxury industry distanced itself from its history and its promises to consumers, it is now getting back in direct contact with them and taking into account their expectations.
Consumers are now more informed, searching for transparency and highly aware of environmental issues.
The luxury industry is very keen on maintaining a sphere of mystery, but this no longer makes sense.
The internet revolution has taken place and the luxury industry must adapt to this new situation.
Brand and product history have become more important than the product itself, and feed the desire for the product.
The integration of sustainable development, authentic, transparency and qualitative values has become essential for brand survival.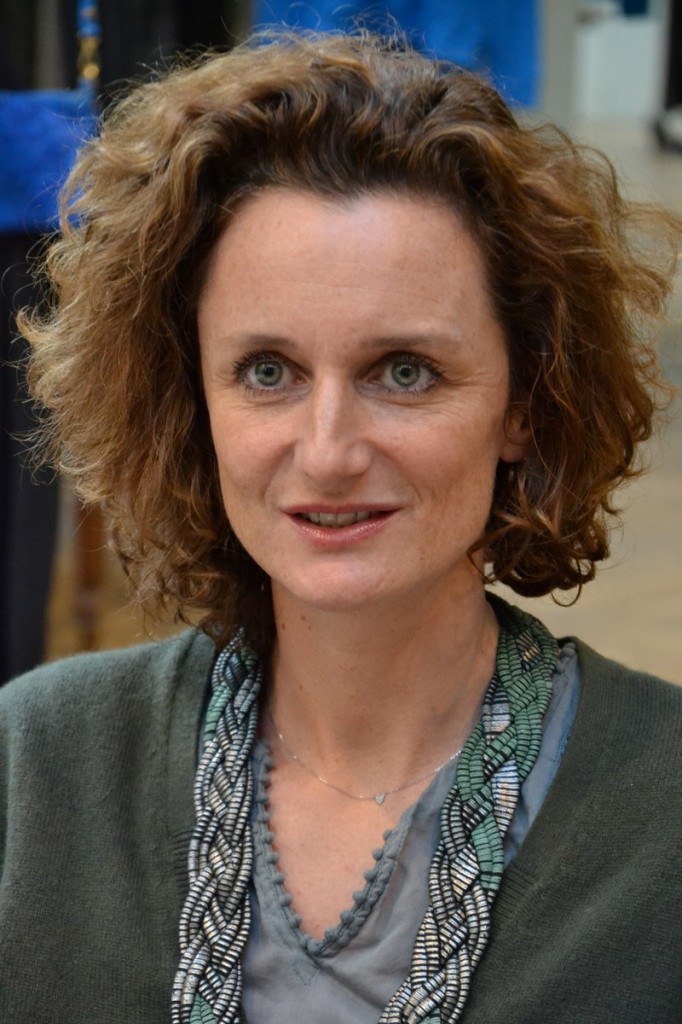 What is new in this 3rd edition of "1.618 Sustainable Luxury Fair? What are the "attractions" of the 2012 edition? What innovations and what brands should we expect?
For the first time, we have decided to choose a main theme that will be highlighted during the event: Water.
From the choice of exhibitors, partners and artists to the scenography and conference program, water will be the major underlying theme in 2012.
We are also paying homage to Brazil, with numerous Brazilian brands, NGOs and intiatives.
You will thus discover the first city entirely dedicated to water (Cidade das Aguas – Unesco/Hidroex), the fashion brand OSKLEN, and the responsible art center Inhotim, all present to speak for Brazil's unique dynamism!
Our sponsor Oskar Metsavaht is an extraordinary representative of luxury as seen by 1.618, who proves that social and environmental responsibility, creation and economic success can work together in perfect synergy!
You will also discover a new area that encourages visitors to reflect on the world of tomorrow. An exhibition on prospective innovation where sustainable development is synonymous of dynamism, creative synergies, and positivity for a better, more attractive world.
The 2012 event will be even more participative to allow the public to express itself and share its desires and expectations. The recognition systems SMARTSY (www.smartsy.fr) will be available to facilitate the visit and understanding of the event.
Furthermore, service companies will also be better represented: a 100% green reception space in the heart of area, an ethical translation company and the responsible communication agency Co-nekt. All those that offer creative and sustainable solutions will have their place in the event.
The electric car designed by Philippe Starck will be unveiled for the first time. You will also discover Norlha, a gorgeous brand of yak-wool stoles, the best ecological mattresses in the world by Lit National, Nomades by Edenismes and its unique view of travelling, the first 100% transparent fashion brand Honest by…as well as thirty other chic and responsible brands. All will share their story and explain how they found sustainable solutions.
Finally, our conference and projection area is particularly rich this year, with a highly interesting 4-day program to raise awareness of sustainable development issues. enjeux.
How was the concept of the event born (a transversal trade show, a contemporary art show and an environment dedicated to prospective innovation)?
The event is a reflection of our changing world and the exhibit space for those who act! I have always been part of a beautiful, sensitive world, so it seemed obvious to me to integrate this vision when address sustainable development, which is too frequently associated with constraints, backtracking and guilt.
It is the observation of the world around us, the desire to put forward those who are finding solutions and convince consumers that are reticent to changing their consumption patterns, that inspired me to found this event.
1.618 is synonymous with universal harmony and refers to beauty.
We have created a new equation: innovation luxury, art and sustainable development. We are convinced that these associated values will push things forward. Creativity and beauty are absolute forces that unchain emotions.
To raise awareness and inspire people to act, it seems obvious that there needs to be a desire or emotion.
A revolution is underway; we should stride into this world with enthusiasm!
You are one of the few events with a rigorous selection committee. Why it is so important to ensure the rigorous selection of participants and who are the members of the committee?
It is a sign of respect and is fundamental for our visitors.
Sustainable development has become a trend and many brands use the issue as a commercial argument. We want to guide consumers in their new choices by presenting them with genuinely responsible approaches.
Consumers have won back power and can push processes forward astonishingly quickly. We do not want to deceive them, so we orient them in the right path.
We also want to offer the participants the guarantee that they will not be featured next to brands that would use our event for "green" communication purposes.
Since we do not have the necessary expertise in all of the areas that we represent, we have brought together an expert committee whose credibility and experience will help us determine the authenticity of the different candidates' policies.
How do you see the evolution of the event in the next few years?
We are working on what comes after!
The community is growing, the movement is expanding and we want to offer a 1.618 platform all year long. It will translate into strong web activity and punctual events through the year on specific topics.
We have also created a structure (closed for now), a think- and a do-tank: 1.618 Community, whose ambition is to welcome members to think together on new, intelligent and responsible business synergies.
This will first take place in the form of a work-shop and experience-based trips. We will tell you more about it soon!
Furthermore, we are working of different partnerships so that 1.618 can intervene abroad, in Brazil to begin with. We are also looking into other geographical options.
What are the challenges you face in the organisation of the 1.618?
Fear !
The fear of those that see the world is changing and remain static in the face of these changes!
There is a lot of fear, especially in "classic" luxury, to speak out on sustainable development or to put their policies forward, despite the fact that many have integrated a sustainable approach since a long time and the public wants to know what is being done.
Luxury companies have always communicated on perfection and mystery, we are now asking them to accept their imperfections, express and show them! The pioneers that have understood this and communicate on it have a competitive advantage, while others believe that they have to be perfect before they can communicate.
Luxury brands have not yet taken the first step towards consumers and believe that since their sustainable development approach is not perfect, they will disappoint people by communicating it, when in fact it is the exact opposite.
Consumers expect brands to demonstrate authenticity and transparency, and understand that sustainabale development issues are too complex for anyone to be perfect. A changing world has to go through periods of trial, doubt and error, and accepting this helps us move forward.
Although in the defence of luxury brands, the media is very harsh with them when it comes to their socio-environmental commitment, and are quicker to judge than to encourage.
You have a notable experience in the fashion and luxury industries. How has your definition of luxury evolved over time?
Immateriality is for me the ultimate luxury. Emotions, experiences, discoveries.
In my opinion, brands that do not have a human story to tell will not survive.
The dream-like quality associated with the fashion world has to express a story. A simple black dress, even if it is cut to perfection, no longer makes people dream if it does not have a history, be it the magic of the hands that created it, the innovative material from which it was cut, or the knowledge that purchasing it does not contribute to human and/or environmental horror.
Luxury is once again marked by values, respect an re-connecting with the sense of quality and transmission of knowledge and cultures.
This is the luxury that I love above all.
What does luxury mean to you in one word?
Respect
What are your models or fundamentals in life which you recommend to others?
Passion –tenacity – enthusiasm in front of the beauty of a world or an encouter.
Believe in things-refuse the impossible. Challenges-creativity-self-expression
What are your criteria for luxury in order of preference?
N°1 : Time
N°2 : Experience (unexpected, sharing, encounter, action)
N°2 bis : emotion
N°3 : wild nature
N°4 : rarity and simplicity
N°5 : access to the creative world
What is your favorite luxury brand(s) and why?
SIX SENSES ! This hotel group brings together everything that corresponds to the criteris listed above.
And for a more « classic » luxury, Petit h by HERMES for the successful encounter of rarity and recycling, work honor, preservation of know-how, rarity and the integration of contemporary creations.
Name 5 luxuries which are "indispensable" to you and why:
1- my wild and isolated land in the dunes of Northern Brazil
2- my horse, the guardian of this land
I love the option of being able to retreat to this preserved place whose astonishing simplicity gives me the necessary energy to face my high-paced urban life. It is the essential motor of my imagination.
3 – my photographs, traces of wonderful spontaneous moments and souvenirs from my trips
4-  my friends
5 – traveling to discover other cultures and the beauty of the world around us, become more aware of inequalities and gaze at my navel less!
Digital and Luxury. Love or Hate? What does "digital" mean to you ?
Neither love nor hate.
Digital is another form of global communication, a link, access to information both good and bad, the opening of knowledge.
But nothing will replace the real shared moments. I have rarely experienced strong emotions related to Internet.
It is not one or the other, it is both but differently.
What will luxury be like in the future?
Undoubtedly immaterial. Brands that will have integrated emotion and experience will have a strong, sustainable link with their consumers.
The future of luxury will also be a return to limited editions and the total or partial relocation of their manufacturating processes.