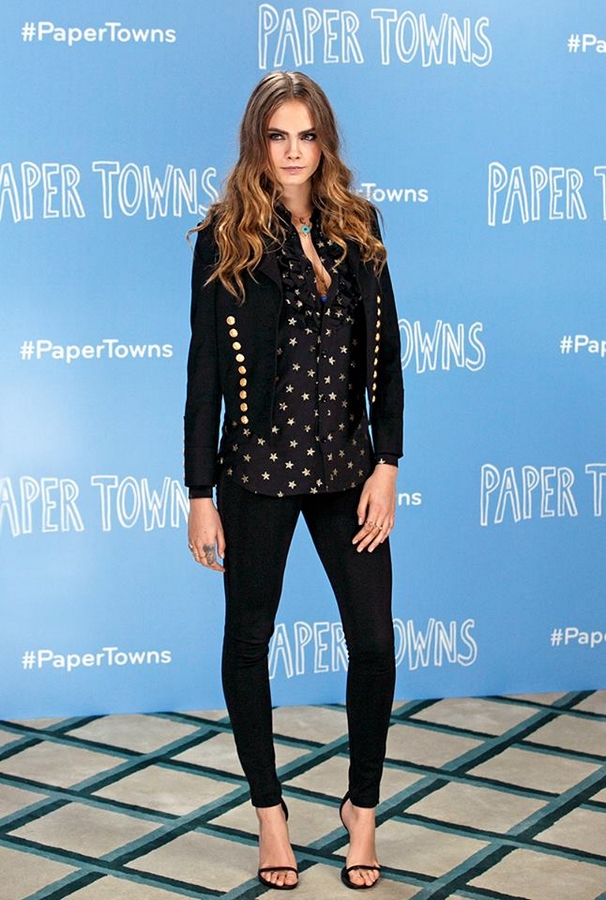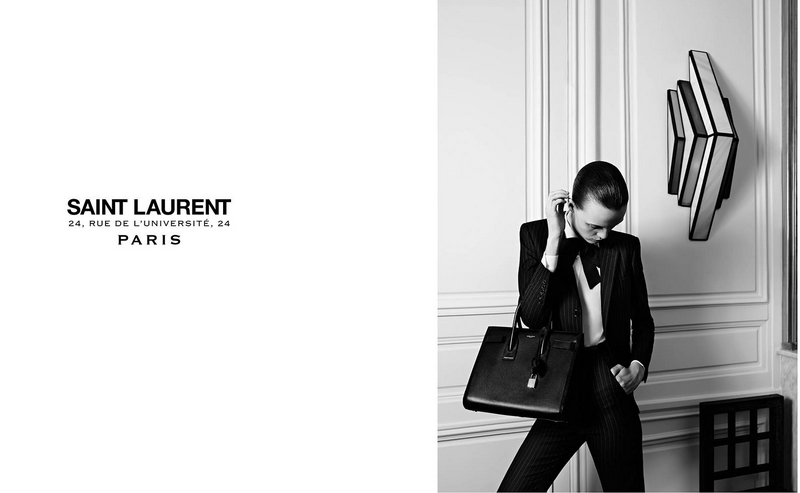 ---
This article titled "It's only rock'n'roll but they like it: Hedi Slimane's Saint Laurent makes it simple" was written by Hannah Marriott, for The Guardian on Thursday 29th October 2015 13.28 UTC
"Truly hideous." "Ugliest collection in Paris." "Insults fashion." Those reviews of Yves Saint Laurent's infamous Liberation collection in 1971 must make heartening reading for the house's current designer, Hedi Slimane, a man who has himself become accustomed to feeling the pointy end of a fashion critic's pencil.
Slimane took over at Saint Laurent in 2012 and has since won legions of celebrity fans and produced stellar commercial results. Last week, the brand's owner, Kering, announced a 36.9% quarterly sales rise for the third quarter of 2015, to €243.4m, defying wider gloom in the industry. The look Slimane has created – perhaps best described as "dolorous groupie", consisting of tough ankle boots, laddered tights, mosh pit hair and smudged eyeliner – has also become a key influence on the high street, with brands from Topshop to Asos ensuring that similar sequinned minidresses and leather jackets will be a dominant force this party season.
Justin O'Shea, buying director of luxury retailer MyTheresa.com, was one of the few in the fashion industry to buy into Slimane's vision immediately: "As someone who is perhaps a bit younger than much of the fashion elite, it's rare you go to a fashion show and think 'this is absolutely me'. But that's how I felt at his first show. I loved the rock'n'roll music; it didn't feel like a trend, it felt like a way of life."
Slimane's Saint Laurent's fashion shows are unlike anything else on the Paris fashion week schedule, populated by musicians from obscure bands, many of whom lounge, cross-legged, on the floor. This louche atmosphere is replicated across the brand's clear and carefully policed brand identity: each collection is a clear continuation from the last; even the brand's official Twitter feed is suitably monochrome and moody.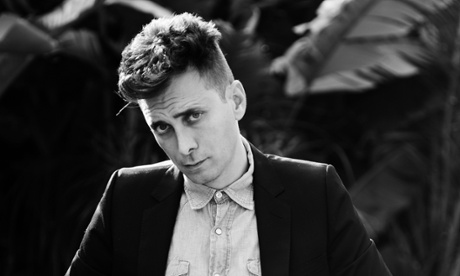 O'Shea believes the brand's success lies in simplicity and accessibility: "These are pieces that can be worn to the pub on a Friday; they feel comfortable and cool and you don't look like you are trying too hard – it's an ankle boot, or an army parka." For its many admirers, from Kate Moss to Lenny Kravitz, this is a big part of its appeal: when they are photographed in the slim-fitting tuxedos or leather trousers of Saint Laurent these rock'n'rollers look very comfortable and very much like themselves.
For anyone not on a Saint Laurent budget (the brand's now-cult bags start at around £400; its military parkas cost just under £2,000), versions of the look work on the high street, says Nivindya Sharma, an analyst at Verdict Retail.
"That almost grungy 90s aesthetic is something that has never really gone away from fashion," she says, "but the fact that a major luxury brand has now made it its brand signature makes it cool and relevant again. It's accessible, wearable and most importantly commercial.
"It's tried and tested and easy to replicate and it's relevant to a wide spectrum of age groups. If you're a 17-year-old, you'd wear the sequin embossed slip dress, but if you're a professional older woman you would wear one of the luxurious but edgy leather jackets."
Still, some critics remain unconvinced. Many still seem cross about Slimane's decision, in 2012, to remove "Yves" in his rebranding of the house as "Saint Laurent Paris". They accuse him of denigrating the designer's hallowed legacy by creating too simple, too accessible clothes.
Says O'Shea: "It wouldn't matter to them if God took over – they are a different generation who expect bows, bells, whistles and all the other things you generally associate with luxury design.
"But popularity and sellability is based on creating desire, emotion and passion – that's what Saint Laurent is about. Given that so many critics themselves just walk around in simple coat and trousers you have to wonder, what is wrong with simplicity?"
guardian.co.uk © Guardian News & Media Limited 2010
Published via the Guardian News Feed plugin for WordPress.