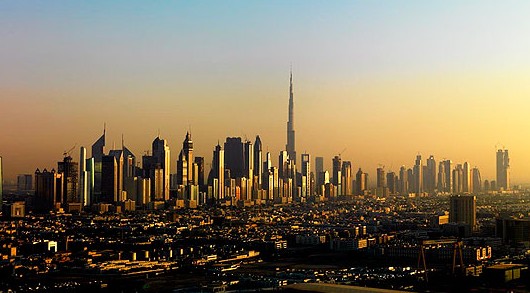 ---
This article titled "Is the Dubai desert about to go green?" was written by John Vidal, for theguardian.com on Thursday 24th October 2013 16.04 UTC
Dubai, the Arab emirate often compared to a teenager because of its youth, breakneck growth and profligate use of resources, is to dramatically change its ways in an attempt to show the world that it can develop into an environmentally mature nation in just a few years.
The indoor ski-resort, the manmade islands, the world's tallest building, the chilled sand and Armani hotels are not about to disappear, but the non-stop construction party which has seen the small fishing village on the edge of a stony desert turn into into a super-city of twisted glass towers and giant malls in under 50 years, may finally be over.
In place of Dubai's legendary excess and endless boom years comes a sober report from the state of energy on Wednesday, charting the new energy direction which the young city must take if it is to continue flourishing.
It must make strange reading for the average Dubai expat or emirati, normally used to being able to keep the air conditioning full on day and night and emit huge amounts of carbon.
Over the next 15 years, the emirate intends to cut its energy and water demand by 30%, retrofit 30,000 buildings to save energy, switch a quarter of the enormous government car fleet to run on compressed gas and keep the temperatures in many buildings at a modest 24C. Power subsidies will be slashed and new incentives offered to instal solar heating and electricity.
But that is just the start. As of last week, Dubai could generate just a fraction of the solar power of Britain or Germany despite the fact that it receives a nearly-guaranteed 10 hours of sun a day. That changed on Tuesday when Sheikh Mohammed bin Rashid Al Maktoum, ruler of Dubai, switched on phase one of a solar power plant 50km out of the city, as part of Dubai's bid to host the 2020 World Expo. It will have a capacity of only 24MW to start with, but in the next 15 years will grow into a monster 1GW plant covering 20 sq km of desert.
"The physical potential of solar energy in Dubai is enormous. It's possible it could provide more than twice Dubai's current electricity consumption", says Graeme Sims, British regulator of the water and electricity authority.
By 2030, says the energy report, Dubai will have cuts its carbon emissions by 29%, switched 30% of its 0bn a year economy to renewable energy, 'clean coal' and nuclear, and initiated a plethora of energy- and water- saving initiatives.
It may be too late for the Dubai coastline which has been trashed by strings of housing developments, but the authorities believe they can avoid having to desalinate 8bn gallons of water a year, turn waste into energy, curb pollution and recycle water.
Dubai grew up ecologically in 2008 when the recession hit and the property market crashed, says Ivano Iannelli, a former Italian diplomat who directs the Dubai carbon centre of excellence, and helped collate Dubai's green master plan.
Then, over just a few weeks, dozens of giant projects were halted and property values bombed. British expats living a luxury lifestyle but fearing prison for their new debts, dumped their Ferarris and 4x4s at the airport with the keys still in them, and as many as 2,500 people a week reportedly fled the boom town.
The crash, says Iannelli, gave the Dubai government the chance to rethink its direction. "Success is no longer recognised in short-term strategies, but the long-term. Now we have a road map for the next 20 years," he says.
"Never before did we have the technology to address the challenges of sustainability. The recessions certainly made us think," says Saeed Mohamed Al Tayer, chief executive of Dubai Electricity and Water Authority.
Waleed Salman, a member of the Dubai supreme council of energy, says: "The ideas have evolved. We have bigger targets. This is organic growth. We learned after the financial crisis to do things better. The new growth will be a new way."
On the horizon, he says, is the possibility of Dubai becoming the world's first "smart" city, where all energy use can be monitored and controlled. "We have everything in place in term of infrastructure. But we do not jump into the water without knowing how to swim.
"This is just the beginning. Ambition is in our blood. It's what makes our heart beat. People need to be led but a lot of coaching is needed."
Today, Dubai is booming again with property values soaring and investors flooding in from less stable Arab states as well as Europe. "They're all welcome. As long as they don't think they can act like energy hooligans," said one energy adviser to the emirate.
guardian.co.uk © Guardian News & Media Limited 2010
Published via the Guardian News Feed plugin for WordPress.