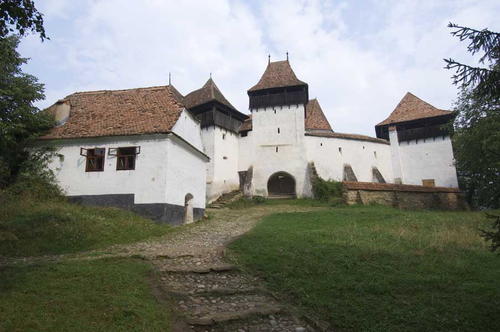 Viscri, a village in Transylvania (Romania) that became famous for the properties The Prince of Wales owns here, launched one of the world's most exclusive jams. The jam will make its world debut at Salon International de l'Agroalimentaire, the world's no. 1 food exhibition that will take place in Paris, from 21 to 25 October 2012.
Made from several types of berries with a secret recipe, Viscri's jam will cost ~250 euros per jar, obtaining the title of the most expensive confiture in Europe. The luxury jam will be wrapped in custom made silver fabric and will be accompanied by special silver spoon. The premiere in Paris is part of a promotion project of Viscri, Saschiz, Tarnava Mare rural communities in Transylvania, known for their unique fortified churches founded by the Transylvanian Saxons.
These Transylvanian villages, once a part of the AustroHungarian Empire, provide a vivid picture of the cultural landscape of southern Transylvania. The seven villages inscribed in the UNESCO heritage are characterized by a specific land-use system, settlement pattern and organization of the family farmstead that have been preserved since the late Middle Ages. They are dominated by their fortified churches, which illustrate building styles from the 13th to the 16th century.
The most interesting preserves in the heart of Transylvania are those made with rhubarb, wild fruit or apples and cinnamon.
Although an ancient tradition in the Saxon Villages of Tarnava Mare, up until 2005 preserves had been made exclusively for domestic consumption. No attempt at organising production for the market had ever been made untill the implementation of several regional projects that have linked biodiversity conservation with economic development for the people living in the area by developing eco-tourism and promoting traditional food products from the area.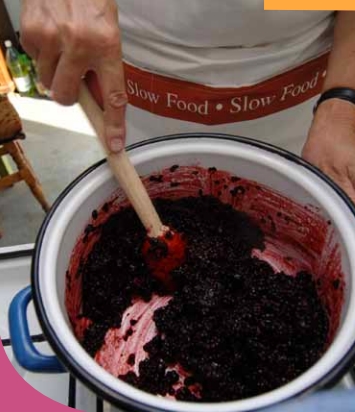 Women prepare the extraordinary variety of preserves for their families, changing the recipes according to the season in order to make use of their home fruit gardens. Traditionally, the Transylvanian preserves are eaten at breakfast with bread or used in sweets and pastries. The recipes are very simple and consist of fruit, sugar and, in some cases, a small addition of natural pectin (made with unripe apples). The mixtures are slowly cooked over the fire but not for too long in order to preserve the taste and smell of the fresh fruit.
In 2006, The Prince of Wales bought and restored two 18th century Saxon houses in the Transylvanian villages of Malancrav and Viscri to help protect the unique way of life that has existed for hundreds of years and promote sustainable tourism.
The village of Viscri has attracted international attention as an example of historic preservation combined with economic regeneration, being now visited by more than 10,000 tourists, mostly foreigners. Charles, Prince of Whales is the Royal Patron of the highly appreciated "Mihai Eminescu Trust", an organization dedicated to the conservation and regeneration of villages and communes in Transylvania and the Maramures, two of the most unspoilt regions of Europe.