The new Classic Fusion Chronograph Berluti fuses Hublot's creative watchmaking genius with the innovative — and inimitable — patina of Berluti leathers.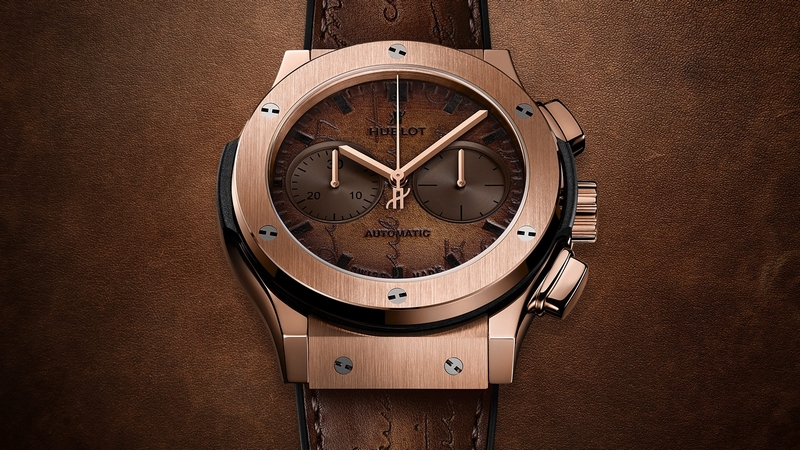 Swiss luxury watchmaker Hublot (founded in 1980 by Italian Carlo Crocco) and LVMH-owned luxury menswear house Berluti unveiled the Classic Fusion Chronograph Berluti.
In 2016, Hublot released its first innovation: the Classic Fusion Berluti line. In honour of Berluti's 120th anniversary these luxury pieces encapsulated the inimitable style of the famous shoemaker in a watch for the first time. This model employed Berluti's famous Venezia leather for both its strap and its dial. Developed by Olga Berluti, a proud descendent of Alessandro, this exclusive tanning technique needed to be developed into a delicate and complex process before it could be used to craft a watch. For example, all of the moisture had to be removed from the leather before it could be enclosed within the sapphire crystal.
One year on, Hublot decided to take its use of Berluti's signature high-end leather even further, combining this prestigious, natural material with its Classic Fusion chronograph. Evidently a more complex task, as the dial features two counters at 3 o'clock and 9 o'clock, craftsmen had to go back to the drawing board and develop new practices to ensure the leather could be made stable despite these new additions.
The result: the new 2017 Hublot Classic Fusion Chronograph Berluti, available with a 45 mm case in a choice of two
finishes, Scritto King Gold and Scritto All Black. Limited to 250 pieces of each, both models feature hand-crafted
straps, presented in a Berluti bespoke box containing a complete Berluti leather care set. Thanks to Hublot, the
expertise of the Berluti leather is now worn on the wrist.
"Over the generations, Berluti has developed its exceptional expertise to perfect the patina of its leathers. Combining
traditional craftsmanship with our technical expertise has enabled us to marry this natural material with the mechanical
refinement of Hublot. With a coordinated style from wrist to toe, the modern gentleman is the epitome of elegance!"
Ricardo Guadalupe, CEO, Hublot.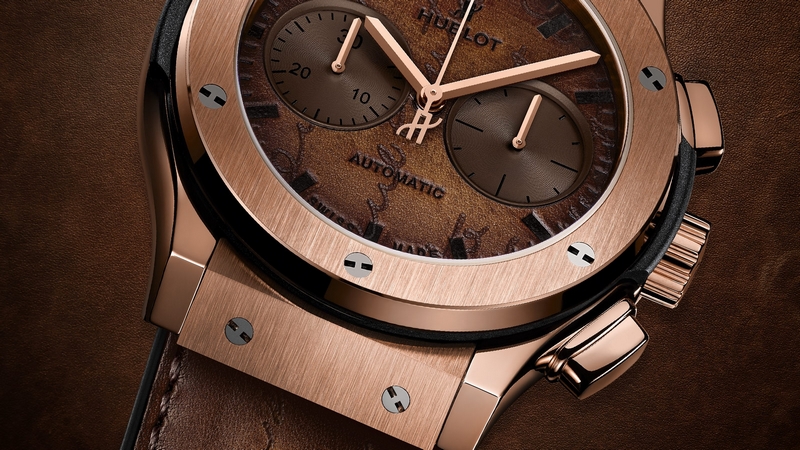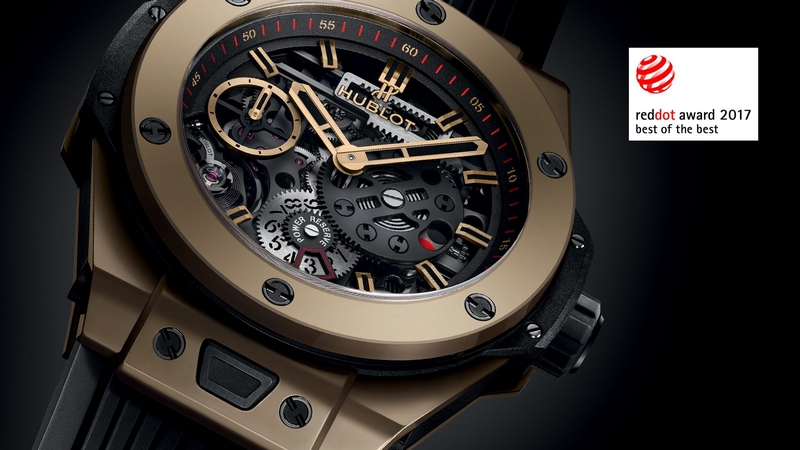 On 21st April, Hublot announced a new major award. Hublot's Big Bang Meca-10 Magic Gold watch has won first prize in the "Best of the Best" category at the Red Dot Awards.
After having examined the 5,500 creations of participants from 54 different countries, a jury of 40 professors, journalists and independent designers chose to give the highest distinction of the Red Dot Awards: Product Design, "the Red Dot: Best of Best 2017" to the Hublot Big Bang Meca-10 Magic Gold watch.
The Red Dot Award is a competition organised by Design Zentrum Nordrhein Westfalen in Germany. It was created in 1955 by rewarding for the first time the most worthy designs of the period. A Red Dot Award is like an Oscar in the film world, it is the ultimate award.