MIAMI ART BASEL CELEBRATIONS: Sang Bleu x Hublot x Tristan Eaton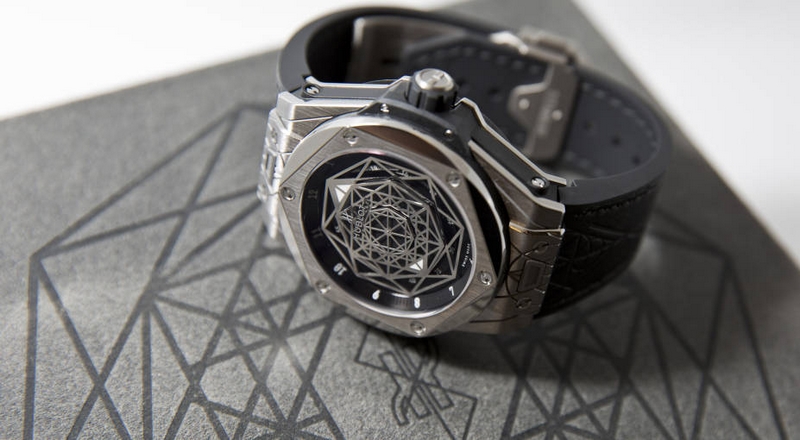 Hublot showcased two exciting collaborations with artists at Art Basel Miami this year, one with New York street artist and muralist Tristan Eaton, the other with graphic designer Maxime Büchi, founder of the Sang Bleu Studio in London. The watchmaker celebrated these two creative partnerships by unveiling two new luxury watches, the Classic Fusion Aerofusion Concrete Jungle and a redesigned Hublot Big Bang timepiece.
Hublot and Maxime Büchi first announced the Big Bang Sang Bleu timepiece earlier this year in celebration of the creative partnership – but now the limited edition watch is being delivered.
The brand-new, totally redesigned 45mm Big Bang in titanium, which sees its lines beveled, features a signature Sang Bleu geometric graphic – evoking the harmonious and proportional relationships derived from Leonard de Vinci's Vitruvian Man. The titanium bezel of the Big Bang sees its
roundness shaped into a hexagon. These facets confer a three-dimensional effect upon it. The matte black dial presents a wide black satin-finish circular flange stamped with the hours. The numerals created for this piece by Maxime's typeface-design agency SwissTypefaces SARL. As for the seconds counter, it appears discreetly on the metal sculpture that dresses the dial. Curves that contrast with the piece as a whole.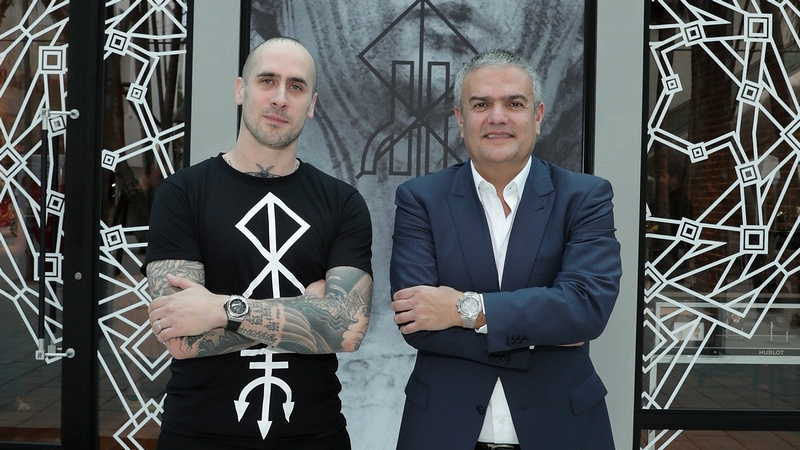 "For me, the coming together of Sang Bleu and Hublot is a "match made in heaven" insofar as the two projects, in their respective domains, represent the highest level of technical and creative innovation without ever compromising the quality of their aesthetics. A feature of Sang Bleu and
Hublot is the principle of "fusion", in their manner of building bridges between materials, techniques and cultures. As a watch lover, I have always dreamed of such a collaboration, and I cannot imagine a greater opportunity to further develop my creative scope and the reach of Sang Bleu," revealed Maxime Büchi, tattoo artist and founder, Sang Bleu.
Hublot's collaboration timepiece with Tristan Eaton was first introduced earlier this month in New York City, titled "Concrete Jungle;" the brand's first watch made with real elements of concrete. The "Concrete Jungle" Classic Fusion Aerofusion timepiece is limited to 50 pieces, available for purchase at Hublot boutiques for $19,500.
Tristan Eaton, street artist and muralist, shared, "When I left New York, one of the things I left behind was this five story mural of the Statue of Liberty at Canal Street and Mulberry, which I wanted to paint because I was so scared of New York forgetting I was ever there. When Jean-Francois got to know me, he knew this was very symbolic so he asked me to recreate the Statue of Liberty in an exclusive way for Hublot. This is definitely the craziest collaboration I've ever done. The watch is a love letter to the city that made me who I am. It's really an honor to have my art elevated to the quality of the craftsmanship that you see here on this watch. For Hublot to say my art was worthy of this is a big deal."