---
This article titled "How the poshed-up polo shirt became the ultimate humblebrag" was written by Lauren Cochrane, for The Guardian on Tuesday 14th July 2015 17.30 UTC
Humblebrags are so hot in fashion right now. That doesn't mean you should be going on about how you're so in demand that all you long for is a night on the sofa watching Dragon's Den. It's more about clothes that appear humble, unremarkable and downright boring, but are secretly high fashion. See mom jeans, white Stan Smith trainers, sweatshirts, pool sliders and denim jackets. These are clothes that speak of their wearer's down-to-earth nature while crackling with in-the-know status.
The latest addition to the humblebrag wardrobe is the polo shirt, that don't-think-about-it summer staple that everyone – man, woman, child – has in their wardrobe. Yours is likely to come from Uniqlo or Gap and cost less than £20. But now fashion has got hold of it and appended a zero to the price. The polo shirt, to put it simply, has gone posh.
The tipping point came earlier this month. Sure, there was Wimbledon – spiritual home of the summer polo, where the men's winner, Novak Djokovic, and his coach, Boris Becker, both wore them at the final (the losing Roger Federer wore a collarless number). But the polo's position as a fashion cult item was cemented elsewhere: the couture shows in Paris. There, Lacoste presented a collaboration with Lesage, the embroidery atelier owned by Chanel. The result? Two hundred extremely limited-edition, extremely haute polo shirts, covered in beads and mesh, with graffiti-style slogans. Couture versions will be available to order and the ones for us norms – still priced at about £100 for the cheapest – are out this week. It's all very far away from that plain navy number you might wear to a friend's weekend BBQ. Lacoste designer Felipe Oliveira Baptista described the collaboration as a "way for us to push boundaries. It's a good idea for a brand to work outside of its register and find a new language." Fashion speak if we ever heard it.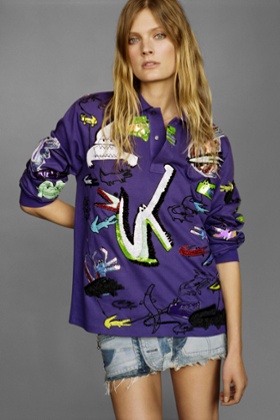 The polo shirt's rise has been bubbling for a while. There was one in Alexa Chung's first AG range and catwalk brands including Jil Sander, Alexander Wang, Balenciaga and Chanel (Chanel! The home of tweed skirt suits!) produced polos for the fashion consumer. These designs might take the key components of the polo – the collar, the cuffs, the buttons – but they're luxed up. See the oversized lurex collar and cuffs at Chanel, and cut-out longline versions at Balenciaga, a polo shirt for the space age. This is a trend that goes across men's and womenswear – the finale at Dolce & Gabbana's men's show this June featured all the models in the show dressed in printed, embellished and, basically, poshed-up polo shirts. "The rise is due to activewear becoming more aligned with the fashion world and designers pushing the boundaries with fabrications," says Net-a-Porter's Abigail Routley. "The cashmere Rhones piece that Elin Kling developed for our Totême capsule has all the comfort of a polo shirt, yet feels incredibly luxurious."
The polo has its roots in poshness. The original design – pique cotton, white, with that collar – was created for tennis, with René Lacoste wearing it from 1926 onwards, and the leisure classes following suit when it was put into production seven years later. Fred Perry began making them in the early 50s and the battle between the wreath and the crocodile began. It's since been taken up by subcultures ranging from the mods and skinheads (Fred Perry) to football casuals (Lacoste). Amy Winehouse, as anyone who has seen the documentary Amy can attest, looked great in hers, worn with cropped sleeves and other Amy-ish things such as ballet flats and beehive.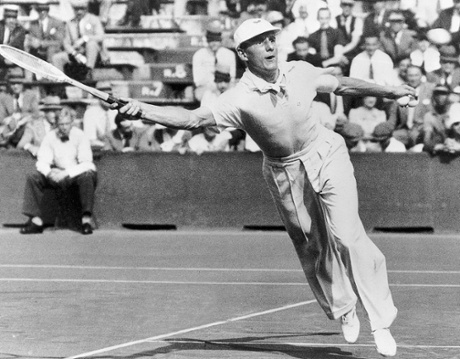 The sure sign that the posh polo is here is the take-up by models as an off-duty staple. Kate Moss has been spotted wearing a striped one with jeans and those discreetly expensive (very humblebrag) accessories such as a four-figure watch and Longchamp clutch. Edie Campbell wears hers with grubby trainers, a short skirt and jumper tied round the waist for boarding-school chic. And Hanne Gaby Odiele dresses hers up with a tiered skirt and heels. The polo functions as a downplay but needs to have something about it – a bold colour, a pattern – to work. "It's the pattern and print which will make them look more 'now'," says Damien Paul, head of menswear at matchesfashion.com. The polo has long been part of fashion's lexicon, but Paul is right – it's these twists that turn something everyday into something luxury, fashion's current favourite party trick. Buy a posh polo and watch your wardrobe humblebrag its way through the summer.
guardian.co.uk © Guardian News & Media Limited 2010
Published via the Guardian News Feed plugin for WordPress.