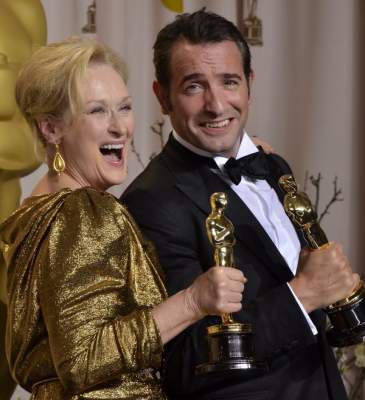 The Internet-tracking firm Bluefin Labs counted 3.4 million Oscar-related comments on Facebook and Twitter, up from 966,00 for the 2011 Academy Awards telecast.
Those numbers are likely to be significant for Oscar producers, who could point to viewers' higher level of social media engagement to win greater advertising revenues for next year's show, says Reuters.
Academy Awards 2012 had the Web buzzing about Meryl Streep's first Oscar victory since 1983, the dangerously cut neckline of singer-actress Jennifer Lopez's dress and the striking resemblance that French producer Thomas Langmann was said to bear to the late actor Peter Lorre.
The Oscar celebrity most often mentioned by social media commentators on Sunday night, according to Bluefin, was Meryl Streep. The 62-year-old actress won the third Academy Award of her career for her role as former British Prime Minister Margaret Thatcher in "The Iron Lady."
Although "The Artist" claimed the best picture Oscar, it was Martin Scorsese's rival nominee, "Hugo" — another homage to the film industry's silent era — that ranked as the most mentioned film in that category, according to Bluefin Labs.