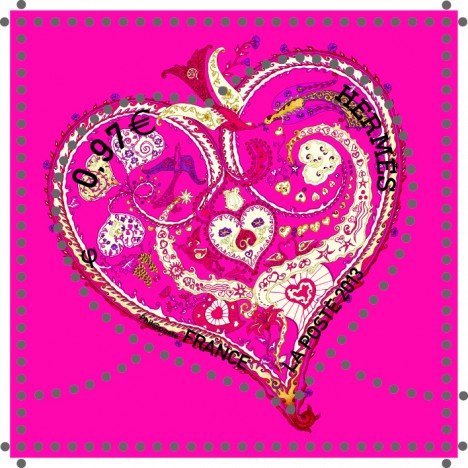 Hermès French luxury house joins Chanel, Givenchy, Christian Lacroix, Ungaro, Lanvin and Adeline André in creating a heart stamp for La Poste, France's national postal service. The heart edition of stamps is issued each year in France to celebrate Valentine's Day.
Zoé Pauwels' design "De tout coeur" with images of swans, hearts, shooting stars and a lyre was chosen to illustrate the 2013 Heart Stamp collection. The Hermès stamps will go on sale on exclusively Jan. 25 and 26 at the postal service's "Le Carre d'Encre" store in Paris, with other locations selling it from Jan. 28.
The French postal service issued limited-edition Valentine's Day stamps regularly since 1997. From 2000 onwards, La Poste partnershiped with famous designers or fashion houses.
Here the Heart stamps authors and themes:
Yves Saint Laurent, 2000: entwined snakes and female profile;
Christian Lacroix, 2001: jewelry;
Yann Arthus-Bertrand, 2002: Voh heart in New Caledonia forest;
Torrente, 2003: hearts and roses;
Karl Lagerfeld for Chanel, 2004: No. 5 perfume and jewelry worn by a model in front of the Eiffel Tower;
Cacharel, 2005: embroidered bubbles and cacharel (birds);
Stéphane Rolland Jean-Louis Scherrer, 2006: furs and animal hearts;
Hubert de Givenchy, Givenchy designer, 2007: Art Nouveau-inspired tree branch;
Franck Sorbier, 2008: kissing faces and hearts tree;
Emanuel Ungaro, 2009: Couple of parrots;
Alber Elbaz for Lanvin, 2010: woman reading on a bed of bow and woman under the sun.