Gucci for the Green Carpet Challenge bags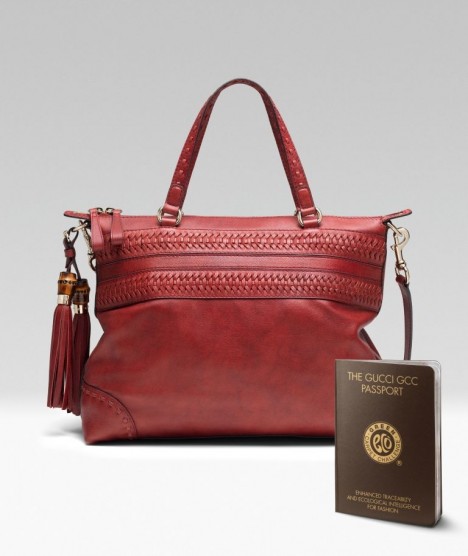 Gucci, in partnership with Livia Firth's Green Carpet Challenge, shows how the Italian fashion house can be pro-active on environmental issues, by raising awareness and demonstrating action on the subject of deforestation.
The Italian luxury house launches a capsule collection of handbags produced with Rainforest Alliance-certified leather. "Gucci for the Green Carpet Challenge" bags are world's first leather products to earn the moniker "deforestation-free," carrying a "passport" with details – from the "birth of the cow to the beautiful final product."
"Today more than ever before customers want to be associated with brands that are thoughtful and responsible," said Frida Giannini, Gucci's creative director. "Through our sustainability, humanitarian and philanthropic actions we would like Gucci to not just be synonymous with 'Made in Italy,' but also made with integrity."
"This is a breakthrough moment for sustainable style," said Livia Firth. "Once again, our collaboration with Gucci spotlights this fashion house as a genuine leader. Working together to utilize on-the-ground research by the NWF means that we have created a chain of custody that brings real change to the fashion industry."
"The bags represent a "critical point" in our consumption of luxury. "I've long maintained that too many of us who love fashion are forced to consume pieces of uncertain provenance," continued Firth. "When it came to leather that was potentially driving the destruction of one of our most critical ecosystems, the Amazon, we didn't see why luxury and fashion lovers needed take that chance. Together we've produced a range that marries ethics and glamour in the most authentic way. The GCC brand mark is a guarantor of those exacting sustainable standards."
"This new line of Gucci for the Green Carpet Challenge bags connects consumers with rainforest conservation and best practices of cattle production in Brazil," explained Mauricio Voivodic, manager of agricultural certification at Imaflora, the Brazilian organization responsible with the audit of the Fazendas São Marcelo, the group of ranches that provide the leather used in Gucci's GCC collaboration. "This is a very important step and demonstrates that a responsible value chain is possible for the cattle sector."
"The majority of deforested areas in Brazil are used for cattle ranching," said Nathalie Walker of the National Wildlife Federation, the NGO that conceptualized this collaboration and verified the bags' extensive chain of custody. "Without incentives to protect forests, long-term forest conservation cannot be assured. Certification can offer a benefit for ranchers and encourage the protection of forests and improved management of ranch land."
The new Gucci for the Green Carpet Challenge Handbag Collection, is offered in select Gucci flagship stores worldwide and online in the US and Europe via Gucci.com. This announcement reflects growing consumer demand for sustainability and traceability, with 71 percent of US consumers now aligning their spending with their values, according to John Gerzema and Michael D'Antonio in the Wall Street Journal best seller, Spend Shift. The handbags are also the first products to feature the Green Carpet Challenge Brand Mark.
"Our new sustainable bag line addresses consumer demand for sustainability, while perfectly matching Gucci's exacting style standards" said Rossella Ravagli, Head of CSR and Sustainability at Gucci. "This launch proves that the fashion industry can be a force for good through directly addressing a fundamental environmental issue."