Great Britain Team Yacht to demonstrate the UK as a place to visit and invest in.
GREAT Britain Team Yacht launched in Trafalgar Square.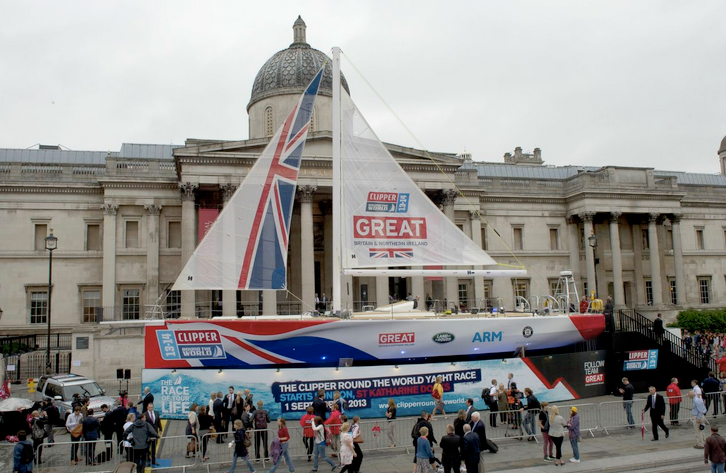 The GREAT Britain yacht will be flagship of Clipper Round the World Yacht Race fleet as longest ocean race on the planet prepares to depart London 1 September. The yacht was launched on the North Terrace of Trafalgar Square, while legendary UK yachtsman Sir Robin Knox-Johnston named the GREAT Britain entry in the 2013-14 edition of the unique Round the World Yacht Race.
GREAT Britain is one of twelve new identical third generation ocean racing yachts commissioned by UK based race organiser Clipper Ventures.
Clipper Race chairman and founder Sir Robin Knox-Johnston became the first person to sail solo, non-stop, around the world in 1968-9; he launched the biennial race for amateur sailors 17 years ago; the unique global event has also grown into a successful platform to promote trade and tourism along the way. The Clipper Race attracts large global media audiences with a cumulative reach in excess of two billion people in more than 200 countries.
"I can't think of a more fitting place to launch a GREAT Britain yacht than in Trafalgar Square. This is a unique project and I am very proud that the Clipper Race can provide a powerful platform to promote GREAT Britain to a global audience. We have helped to train over 3000 people how to sail and introduced scores of businesses and destinations to new opportunities as we follow in the spirit of the original Clipper ships which plied the trade winds to make Britain a great maritime trading nation," said Sir Robin.
"This is a remarkable endeavour," said Sports and Tourism Minister, the Rt Hon Hugh Robertson MP, who climbed aboard the 70 foot ocean racer to help officially name the GREAT Britain yacht. "It captures the great British spirit of adventure perfectly by opening up the opportunity of ocean racing to so many people.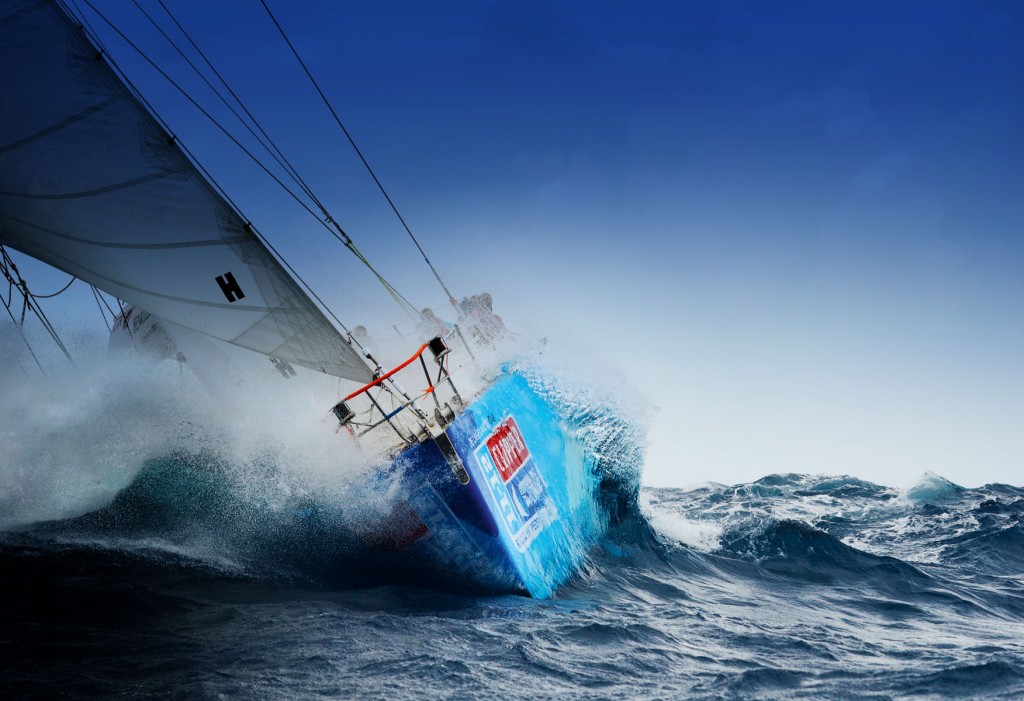 "The Clipper Race has played a leading role in promoting British sailing and is now a core asset for British business internationally; it is organisations like this that will continue to push our sporting prowess.
"The GREAT Britain yacht brings together our sporting legacy with some of the strongest and most vibrant British brands in a unique global promotion that will reach out to international markets on six continents over the course of the next year," concluded the Minster.
London born professional skipper Simon Talbot (44) will lead an amateur crew that has been trained in preparation for the 40,000 miles race which will take 11 months to visit 15 ports on six continents over the eight leg series in a matched fleet of twelve 70 foot ocean racing yachts.
The GREAT Britain campaign is an ambitious international marketing campaign that showcases the very best of what Britain has to offer in order to encourage the world to visit, study and do business with the UK. Unifying the international growth promotion efforts of UK Trade & Investment, Visit Britain, British Council, DCMS, the Foreign & Commonwealth Office and the Department for Business Innovation and Skills, GREAT aims to deliver significant increases in trade, tourism, education and inward investment. The campaign has won international awards and is being used in 86 countries worldwide.