Jetman takes to the skies in the United States for the first time in public.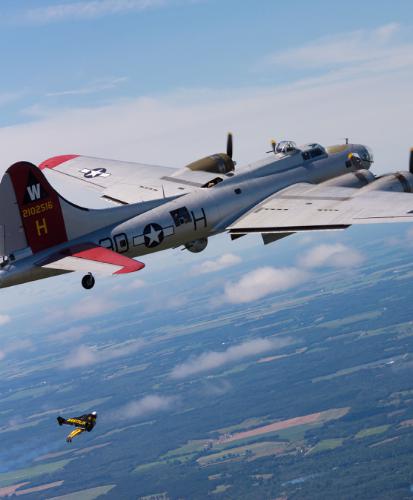 Outfitted in his custom-designed Jet-wing, Yves 'Jetman' Rossy, the world's first jet-powered man, thrilled crowds during his first public flight in the United States at the EAA AirVenture Oshkosh fly-in. Jetman soared over the crowds free as a bird, reaching speeds of 190 mph.
"It's thrilling to do my first public flight for such an enthusiastic crowd and be a part of the biggest aviation gathering in the world, and I look forward to the rest of my flights this week," said Yves 'Jetman' Rossy, 54, shortly after his flight. "I have been pursuing my dream of flying in the most natural possible form for many years, and I am always experimenting to get as close as possible to that goal. By being a part of this highly-regarded and world-famous aviation event, I'm sharing with this audience of enthusiasts, fans, and young people that it's possible to push the frontiers of aviation."
"It's gratifying to be so well-received and to have so many fans here supporting my efforts and witnessing the new technologies I've developed. EAA AirVenture highlights how experimental projects like mine can encourage aviation innovation," added Rossy.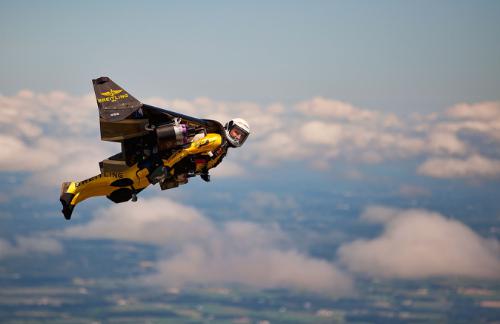 Using a carbon-Kevlar jetwing with four engines, each of is which capable of a 22 kg thrust, the Swiss aviator was able to propel himself through the skies at upwards of 190 mph, controlled by a simple throttle in his hand. The rest of the controls were left to the human fuselage — Rossy himself — who simply used his shoulders, body and legs to steer, pitch and descend. This forward-thinking technology has allowed Rossy to achieve many outstanding feats, including soaring above Rio de Janeiro, completing aerobatics from the Breitling Orbiter Balloon, crossing the English Channel and flying in formation with the Breitling Jet Team, Warbirds and passenger aircraft.
Yves Rossy first started developing the Jetman project in 1993 and in 2008 completed the first significant Jetman feat by crossing the English Channel. In 2010 the Swiss watchmaker Breitling joined as the main sponsor and the joint venture has continued to achieve many aviation firsts.