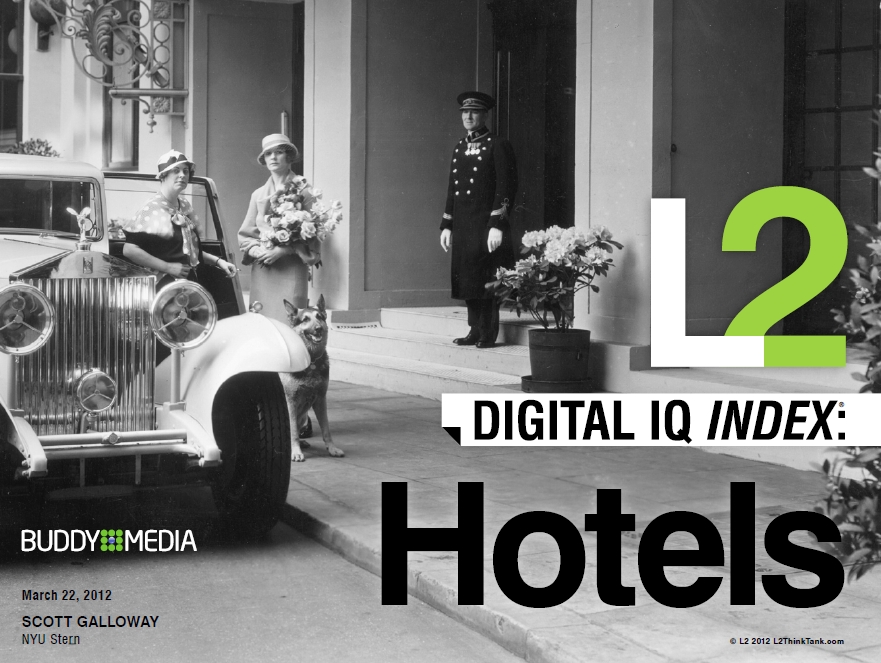 A brand's site remains hotels primary revenue generator. Hotel brands indicated they would spend 34 percent of their 2011 online budgets on site redesigns and optimization; however, the second annual L2's "Digital IQ index: Hotels" research demonstrates that the industry is slow to adopt best practices.
Four Seasons, Hilton and Marriott Top the Digital IQ Index: Hotels. The study reveals that differentiated content on site and mobile bookings drive traffic and high margin revenue. The research demonstrates a clear relationship between hotel brands' Digital IQ and shareholder value.
Top ten ranked brands in thesStudy are:
1. Four Seasons
2. Hilton
3. Marriot
4. Hyatt
5. The Ritz-Carlton
6.  InterContinental
7. Westin
8. Sheraton
9. W Hotels
10. Fairmont
Incorporation of the Facebook "like" API and other social-sharing functionalities has increased significantly since 2011, but only 40 percent of brands employ such features.
Social sharing has a demonstrable impact: Brands that offer the feature saw page views grow by 12 percent, versus -2 percent for those that do not.
Social media usage continues to soar. Hoteliers face a significant challenge maintaining both global brand accounts and property specific pages. The percentage of brands deploying both global and property pages on Facebook rose from 73 percent in 2011 to 95 percent in 2012, while the proportion on Twitter increased from 56 percent to 70 percent. Brands providing local or bilingual language postings on their Facebook property pages registered interaction rates 45 percent higher than pages that posted only in English—so local messaging matters.
Emerging platform adoption is also relatively high across hoteliers. Nearly two-thirds of brands maintain a presence on 2011 upstart Google+, and six in 10 have an official presence on geo-local leader Foursquare. Instagram, Tumblr, and Pinterest register less penetration across brands, with fewer than 20 percent present on these emerging platforms.
Analysis of 1,391 property Facebook pages and 412 property Twitter accounts demonstrates that local efforts can build significant communities with global reach. Asia-Pacific led all regions in Facebook fan followings, followed by North America.
Twitter is more U.S.-centric, and North American properties (the majority in the U.S.) boast, on average, twice as many followersas other regions. Communities linked to Eastern European properties brought up the rear on both platforms.
Larger organizations with multiple brands significantly outpaced independent hoteliers on digital platforms, registering an average Digital IQ of 109 versus 92 for independent private brands and 87 for independent publically traded brands.
Two thirds of brands in the study support a mobile optimized site with all offering mobile-booking functionality. Mobile enabled
brands may be capturing the most profitable bookings as 70% of bookings via mobile are for same day (high price) stays.