For this year's holiday season, Dolce&Gabbana and Harrods tell a story of true love. The lights are shining bright in store at the Dolce & Gabbana luminaria! Designed by Domenico Dolce and Stefano Gabbana, the lights symbolise holiday cheer.
Dolce & Gabbana brings the magic of an Italian Christmas to Harrods with festive window displays and exclusive pop-up spaces on the Ground Floor, plus, a traditional Italian street market on the Fourth Floor. The ground floor hosts a special pop up boutique showcasing the most precious Fine Jewellery and Watches from Dolce&Gabbana Collections. The luxury fashion house celebrates the younger individuals that suppot the luxury maison with a new book published with Rizzoli.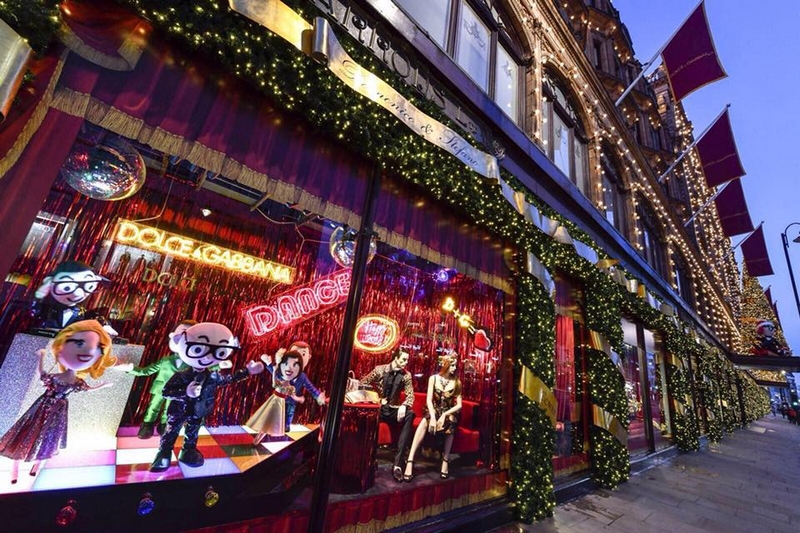 From November 2nd to December 28th Harrods will be transformed with a festive Italian atmosphere. The unmistakable passion for Italy, for the hidden beauty that every town conserves with care and pride, for the landscapes, the people and the lights, the luminaries that sparkle at Harrods with a magic of their own, imbued with deep and authentic values, with devotion and respect for their origins.
Not only is this a story of light displays, it is one of Sicilian carretti, of flowers, of unique traditions and of a celebration of being
bound by a feeling of shared experiences and coming together. In need of some Christmas present inspiration? Visit Dolce &
Gabbana's Italian Market on Harrods' Fourth Floor to discover exclusive pieces and amazing gift ideas.
The book. "Dolce & Gabbana: Generations: Millennials: The New Renaissance"
Dolce&Gabbana turns the spotlight on a selection of young influencers who are changing the rules of contemporary
communication through their style expertise and their flair on Instagram.
With millions of followers, the new royalty of social media are the offspring of actors, actresses, singers, and models: from
Cameron Dallas to Rafferty Law; from Zendaya to Austin Mahone; from Brandon Thomas Lee to Sonia Ben Ammar, to name but a few of influencers. In this project, the millennials who form part of this surprising gang of under-35 VIPs reinterpret Dolce&Gabbana fashion,blending the label's clothes with their own exuberant personalities. The book not only presents iconic portraits of the digital generation through the most significant photos from fashion shows, advertising campaigns, events and selfie snapshots, it also shows a completely new way of thinking and of perceiving reality.
Photographs: harrods; dolcegabbana.