A masterpiece of watchmaking craftsmanship, this automaton by Jaquet Droz Atelier de Haute Horlogerie based in La
Chaux-de-Fonds (Switzerland) is truly a piece of art come to life, presenting an allegory of love and nature.

The Loving Butterfly Automaton watch tells a story with its memorable dial and ultra-creative mechanics giving the illusion to the casual observer that the butterfly and the chariot are operating under their own power. The owner can contemplate a cherub seated on an animated chariot drawn by a butterfly that flutters its wings over a black onyx dial with 18-karat red gold appliques, 18-karat gold appliques of cherub, chariot and butterfly body.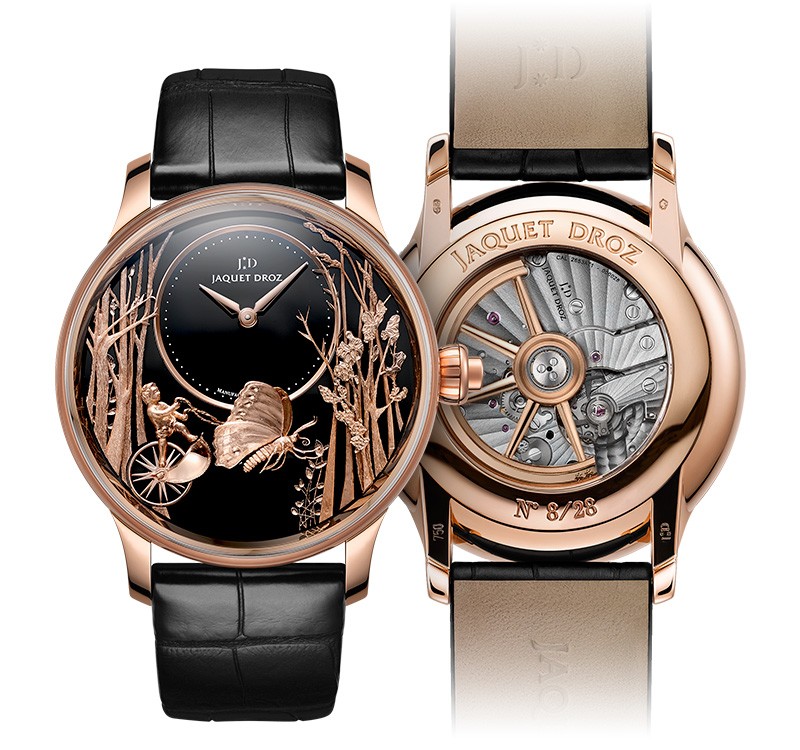 As part of the prestigious collection of Jaquet Droz automaton watches – the Bird Repeater, Charming Bird, Lady 8 Flower – the Jaquet Droz Loving Butterfly Automaton is a rare feat of technical and aesthetic prowess. A delight to the eye and reserved for true connoisseurs, each version has a limited edition of only 28 pieces and is accompanied with a certificate of authenticity signed by the craftsmen of Jaquet Droz.
This exclusive automaton mechanism, for which two patents are also pending, took three years to develop. The power reserve, maintained with three barrels manually wound using the crown, allows the butterfly to delicately flutter its wings 300 times over a period of approximately two minutes. Positioned side-on, the realistic effect of the scene is even more captivating. The hour/minute movement is equipped with an oscillating mass in 22-carat gold, featuring the pattern of the chariot's wheel, a symbol of life.
Everything is achieved in the tiniest details. Forty hand-engraved parts in white or red gold are assembled manually with incredible meticulousness, from the small Cupid's arms and defiant face, to the infinitely fragile legs and antennae of the butterfly. The trees, only 0.2 millimeters thick, are individually driven like the hands of a watch, bringing watchmaking expertise to art: an innovative, patent-pending technique. The fine gold volumes contrast with the dial in onyx or Polynesian black mother-of-pearl, making the magic of this timeless scene still more hypnotic.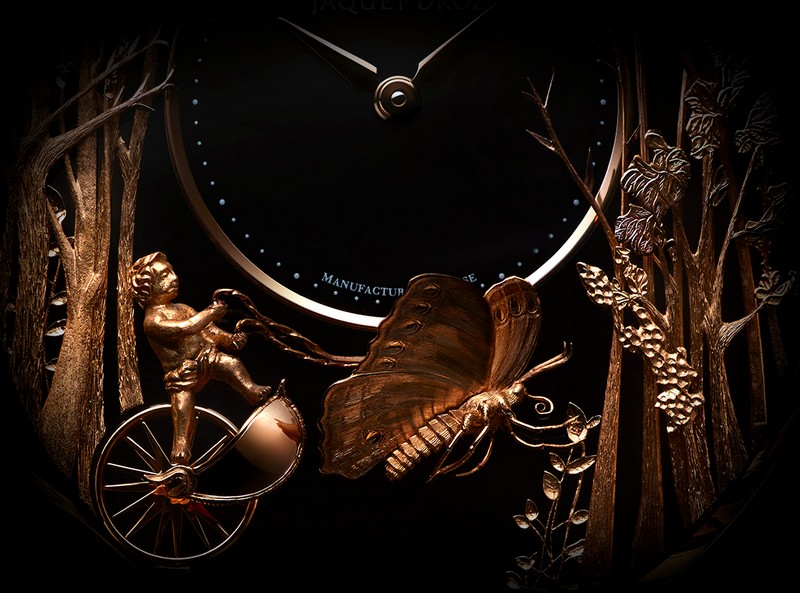 This June Jaquet Droz is presenting its iconic Grande Seconde Off-Centered model in four versions with a diameter of
39 mm.
The brand founded by Pierre Jaquet-Droz has created one of the most beautiful dials in European watchmaking. The two intersecting dials form a figure 8: a symbol of completion, balance and infinity. A lucky number for the brand known by its twin stars.