Christian Louboutin, upcycled denim, circular embroidery and other sustainable approaches to fashion.
Christian Louboutin launched a dedicated capsule collection as part of the Selfridges Project Earth initiative.
Supporting Project Earth's pillar on waste reduction. Christian Louboutin unveiled an exclusive capsule collection
crafted from upcycled denim sourced by global charity Caritas International. The six-piece collection inspired by
archival pieces will include men's trainers, women's pumps, boots and handbags all reimagined in upcycled denim.
Each pair of shoes or bag is unique reflecting the past life of the denim- original denim pocket seams and stitching
are integrated on each piece.
"There's a lot more to what meets the eye with the Elisa bag from Christian Louboutin – let us explain. Helping us celebrate our sustainability initiative Project Earth, the French shoe connoisseur dreams up an exclusive-to-Selfridges capsule collection that supports waste reduction. Inspired by archival pieces, this signature silhouette keeps all its traditional hallmarks (like the twist-lock closure and chain strap), but it's made entirely from upcycled denim. (Height 15cm, width 22cm, depth 8cm)" – Selfridges.
8 by YOOX Circular Embroidery: a capsule collection channelling care for planet and people
8 by YOOX Circular Embroidery collection, a sustainable capsule which sees items such as t-shirts and sweatshirts
upcycled with colourful motifs and positive messages. The capsule, a pilot project that embraces circularity
principles, features colourful embroidery created and hand sewn by luxury Italian artisanal house, Ricamificio
Antonella: four different original designs, crafted with care for the environment.
8 by YOOX, the private label collection by the world's leading online store for fashion, design and art YOOX, has
been designed with sustainability at its heart since first introduced in 2018. This latest special capsule upcycles
organic cotton T-shirts, sweatshirts and hoodies that were previously unsold, giving them a new life with
embroidered motifs. The four designs reflect positive sentiments relating to subjects that 8 by YOOX customers hold
dear, from care for the planet, to freedom of speech and the fundamental importance of respect for human dignity.
The embroideries have been designed and crafted by Ricamificio Antonella, an Italian house based in Modena
which has 50 years of heritage creating beautiful handmade embroideries for maisons across the world.
The label produces small batches of its collections to avoid overstock, prioritises timeless design and quality, and
uses low impact materials that guarantee opportunity to renew any unsold garments through upcycling in the future.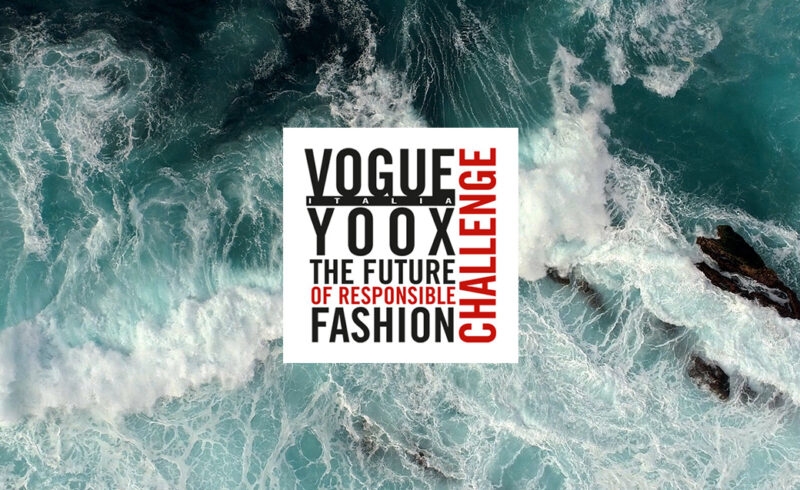 Vogue YOOX Challenge: The Future of Responsible Fashion
The second edition of the 'Vogue YOOX Challenge – The Future of Responsible Fashion' launched during the virtual
Milano Fashion Week 2021 aims to shine a light on designers, creatives and start-ups from around the world who
are investing in responsible, sustainable and innovative approaches to fashion and, for the first time this year,
design for art, objects and home décor.
Once again, this year, designers and start-ups are invited to present new ideas focused on sustainability, to change
and improve the fashion and design system from concept creation, throughout production process, and to point of
retail. All entries must be received by July 2, 2021 through the dedicated section on yoox.com.
The winner, to be announced in November, will receive a cash prize to develop and realise their creative idea during
2022, as well as support from Vogue Italia and YOOX for distribution, communication and mentoring.
"Innovation, sustainability and youth have always been at the heart of my work and will be the driving force to build a better future. The Vogue YOOX Challenge is a project that is very close to my heart and I am looking forward to seeing the new proposals of the designers who will participate in this year's edition." – Federico Marchetti, Chairman of YOOX NET-A-PORTER GROUP.
The 2020 edition was won by Salty Co. Their winning project aimed to reduce the consumption of fresh water in the
fashion supply chain, by producing high-quality natural fabrics derived from plants capable of living in arid and salty
soils and being irrigated with sea water. The idea was born in 2020 by a group of students from Imperial College
London and the Royal College of Art – Julian Ellis-Brown, Finlay Duncan, Antonia Jara and Neloufar Taher – who are currently working on the development of a collection in partnership with YOOX's own label, 8 by YOOX.