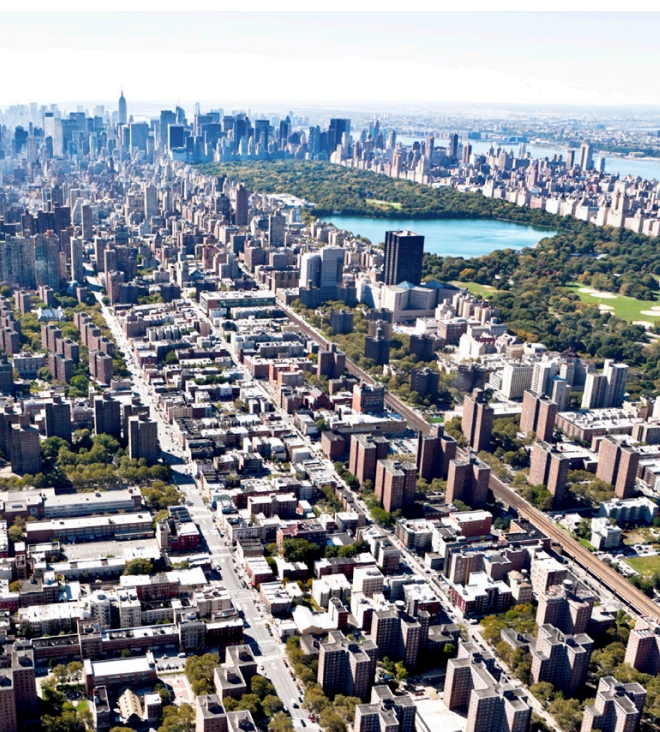 World's ultra wealthy population reaches all-time record. During the past year, the world's UHNW population reached an all-time high of 199,235 individuals and a combined wealth of US$27.8 trillion, according to latest Wealth-X and UBS World Ultra Wealth Report dedicated to the most commercially significant segment today – the ultra wealthy.
The total wealth of the world's UHNW population is equivalent to 40 percent of the world's GDP despite UHNW individuals accounting for approximately 1 in every 35,000 people.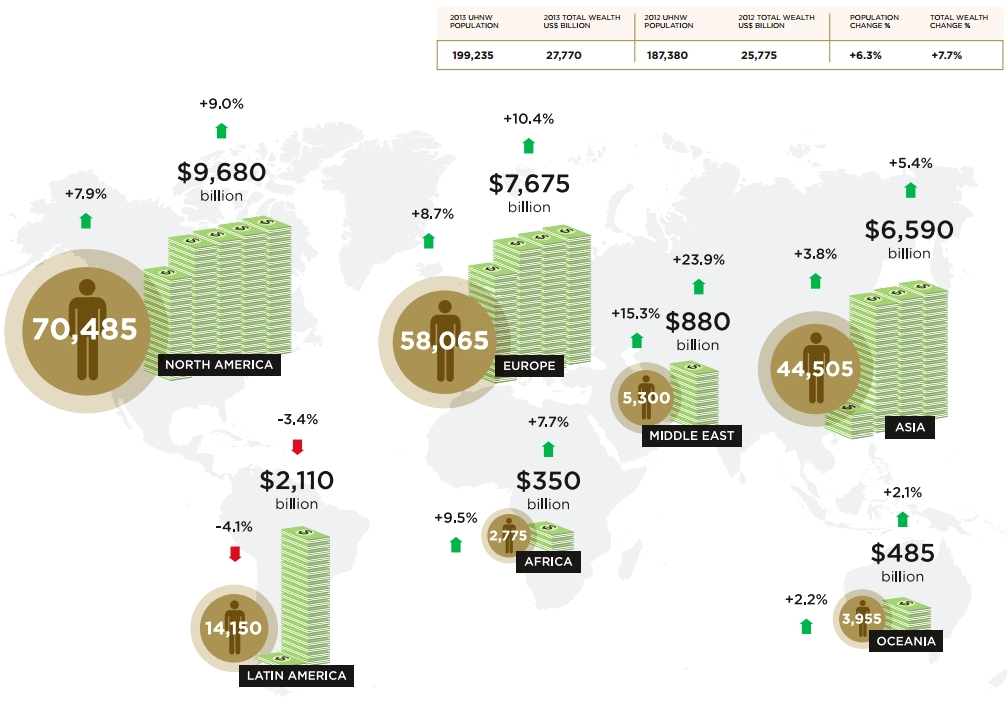 UHNW wealth has increased by just under US$2 trillion in the past 12 months, greater than the GDP of India. Average wealth of an UHNW individual has risen to US$139.4 million, up US$1.8 million from last year.
North America and Europe bounced back in the past 12 months. Strong equity markets have buoyed UHNW wealth despite high unemployment and slow GDP growth in Europe. Only the Middle East increased its wealth faster than North America and Europe.
Latin America was the only region to suffer a decline, with both its UHNW population and total wealth falling, by 600 individuals and US$75 billion respectively.
Asian growth has lagged behind that of Europe and North America in the past 12 months. However, Wealth-X continues to expect the long-term shift of wealth to Asia.
The report defines UHNW individuals as those with total net assets of US$30 million and above.
Other key findings from the report:
Growth was largely due to North America and Europe, with the two regions responsible for a net gain of nearly 10,000 UHNW individuals and a total increase in wealth of US$1.5 trillion.
China and Brazil, the fourth and seventh wealthiest UHNW nations in the world, saw a contraction in their UHNW populations and wealth due to economic slowdowns in these countries.
Asia rebounded from last year's contraction, when there were 42,895 UHNW individuals in the region. As of 2013, there are 44,505 UHNW individuals in Asia with a combined wealth of US$6.5 trillion, an increase of 5.4 percent from the previous year.
Although the United States and Europe grew faster than Asia in the past 12 months, Asia will produce more UHNW individuals and wealth than both regions in the next five years.
The report forecasts that at current growth rates, Asia's ultra wealthy population and wealth will eclipse that of Europe in 2021 and 2017 respectively. Asia will have a larger UHNW population by 2032 and have a greater total wealth by 2024.Latin America was the only region to suffer a decline, with both its UHNW population and total wealth falling, by 600 individuals and US$75 billion respectively.
The global UHNW population continues to be dominated by men, who form 88 percent of the total population. Female UHNW individuals make up the remaining 12 percent, or 23,505 individuals globally. Self-made individuals, forming 65 percent of the population, outnumber individuals who inherited their wealth.
The average wealth of an UHNW individual has risen to US$139 million, up US$1.8 million from last year.
North America – Capital of Wealth
Despite the existence of downside risks, economic recovery in North America has been positive. The International Monetary Fund (IMF) forecasts the US economy will expand by 1.9 percent in 2013, compared to the 2.5 percent GDP growth that the country experienced in 2012. Canada is expected to grow moderately at 1.5 percent in 2013, having experienced GDP growth of 1.8 percent in 2012.
Recovery in the region was marked by strong equity markets. The S&P 500 and Dow Jones indexes hit record highs in May 2013, breaking the 1,600 level and reaching 15,000 respectively. Job growth in the US provided support to sales of new homes as consumer spending and confidence improved. The overall outlook for North America is positive but cautious as the region's economy still hinges on reassurances from the Federal Reserve.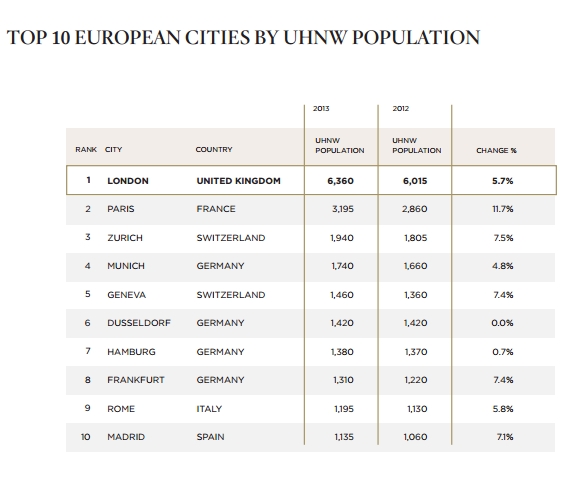 Europe – Signs of Rebound

Europe's economic morass caused growth in the region to stagnate, but there were signs of a rebound in the second half of 2012 going into the first half of 2013. The strong performance of German and Swiss stocks have helped the region's economy to bounce back. Swiss UHNW wealth currently stands at 116 percent of its GDP.
Even Greece, one of Europe's most embattled economies, is now home to the second fastest growing UHNW population in Europe. Fears of an exit from the Eurozone have receded and the Athens Stock Exchange has increased more than 35 percent in the past 12 months, boosting the country's UHNW population and wealth.
Africa – Promising Economy
According to the African Development Bank (AfDB), Africa's economy is growing faster than any other continent.
Nigeria has now overtaken South Africa as a fledgling star in the region. The country's UHNW population grew by 32 percent and UHNW
wealth increased by 33 percent.
Economic growth in Africa was driven by gains in oil exports, as well as in the manufacturing, hotels and restaurants, and construction sectors. A growing middle class has strengthened consumer spending and confidence and the region's economy has been further buoyed by strong domestic demand. However, inflation continues to be an issue as African governments set targets to prevent rates from spiralling.
Asia – Modest Growth
Asia as a region is expected to grow by 5.7 percent in 2013, according to IMF estimates. Between July 2012 and June 2013, Asia suffered a slowdown in China, but was propped up by growth in Japan, Hong Kong and Indonesia. Prime Minister Shinzo Abe's economic policies have helped boost growth in Japan, as the country lifts itself out of a protracted recession.
China has experienced slower GDP growth, a credit crunch and a government clampdown on luxury spending to combat corruption in the
country.
Faced with these economic pressures in their home country, many wealthy Chinese from Mainland China are diversifying and moving their assets to Hong Kong, where the city has witnessed an increase in UHNW population and wealth. The growth trajectory for domestic demand in Indonesia continues, spurring the surge in population and wealth for UHNW individuals.
Latin America – Opportunities Unfulfilled
Latin America entered 2012 with promising growth and economic opportunities. However the region's economic performance has been disappointing. It is the only region in the world to have experienced a decline in UHNW population and wealth, dragged down by the
poor performance of the Brazilian economy.
Despite being known as one of the world's emerging economies, Brazil's economic growth failed to meet expectations. Exports fell, consumer spending was low and protests in the country continue unabated.
One highlight was Mexico. Fuelled by agricultural activity, the Latin American country is expected to spearhead growth in the region, as the Mexican government's reforms seek to spur consumption and investment.
Oceania – Lagging growth
Oceania showed impressive growth at the start of 2012, but going into the first half of 2013, slowing growth in Australia appears to have disproportionately affected increases in UHNW population and wealth.
The days of riding on China's booming growth appear to be fading for Australia with its mining sector being negatively hit by the slowdown in the Chinese economy. New Zealand has seen rosier growth, led by increases in exports of dairy products, logs and meat to China. Stocks rose 24.3 percent from July 2012 to June 2013, propelling the growth in UHNW population and wealth in Oceania.