The world of childrenswear, as well as that of children's books, are both able to reveal their timeless magic. 2020 Pitti Bimbo, the International fair of childrenswear and the key-event for presenting the new lifestyle trends for kids' fashion, celebrated its 90th edition with an ideal showcase for children of all ages.
For 45 years Pitti Bimbo has been the epicenter of a project for kids that, starting with the wardrobe, has expanded to touch on lifestyle and accessories in a world that has managed to engage the entire family beginning with children. Three days offering an extraordinary international overview ranging from designer labels to small experimental brands.
Emporio Armani Junior Fall/ Winter 2020-2021 Collection.
For girls, the Emporio Armani Junior Fall/ Winter 2020-2021 Collection offers dresses with all-over prints, jumpsuits, and denim, velvet and houndstooth outfits. The logo is seen in a tape version on trousers and dresses, while the colour palette features various shades of pink, blue, black and white. For boys, there are bomber jackets and trousers in back-to-school versions in red and blue, as well as elegant suits in grey and blue with sporty details. The logo theme appears as an all-over print, a tone-on-tone tape execution on velvet, and as a print on sweatshirts, outerwear and trousers.
The 'Mini Me' idea is always present in Emporio Armani Junior, with the shapes and fabrics of garments taking inspiration from the Emporio Armani adult wardrobe, and used here in a more fun way. Prints and graphics are also "borrowed" from the grown- up world of Emporio Armani to create a broad and complete wardrobe, which includes casual looks, sportswear and outfits for formal occasions.
New for the 2020 season, the 'Mini Me' theme has now been extended to the baby category (from six to 36 months), with shapes and themes re-imagined in a romantic version for baby girls, and reconfigured with more playful elements for baby boys. The Manga Bear, with its unmistakable character, is ever-present on baby sets and accessories. The offer is completed by accessories: brightly-coloured shoes, hiking boots and combat boots, as well as backpacks and pouches featuring the Emporio Armani eagle logo.
Emilio Pucci Junior Fall/ Winter 2020/2021 collection
Season after season, the Emilio Pucci girls' line reinforces its own identity by confidently developing iconic motifs and colors in a surprising play of intarsia and chromatic matchings. Heliconia once again proposes itself as the most iconic theme of the collection. Monreale lives in dailywear, with its sparkling and energetic patterns that convey a contemporary and modern mood to the garments. Mini Me translates the Siren's Song theme of the women's ready-to-wear collection.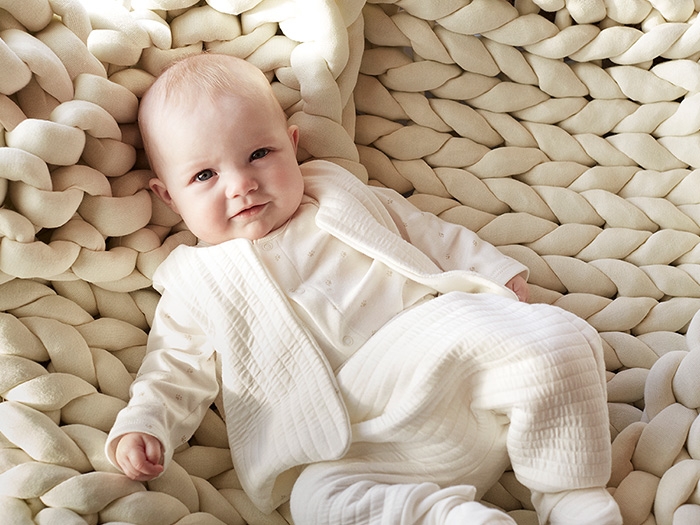 Petit Bateau, the historic French maison of clothing and underwear for children and Treedom, the only online platform in the world for the remote planting of trees, joined forces in promoting an eco-friendly culture with a concrete initiative of environmental and social sustainability. The project was presented on the occasion of the ninetieth edition of Pitti Bimbo Italy.
Petit Bateau will propose in its boutiques and direct stores an exclusive newborn kit in organic cotton, with each purchase including the planting of a tree species as part of Treedom's agroforestry projects. With this gift, it will be possible to associate the child's name with the tree, a strong message that will allow the child to grow up with special sensitivity to nature.
The project aims to celebrate the choice of the brand to create, starting that same year, 100% of its Newborn collection in organic cotton.
The Monnalisa Fall Winter 2020 Fashion Show – The magic of an ancient show combined with the great excitement of fashion.
Italian high-end brand Monnalisa, a leader in premium childrenswear, presented their new collection during Pitti Bimbo 2020 with a special catwalk show at the Stazione Leopolda. The circus was the incredible setting of the Fall-Winter 2020 Monnalisa fashion show, in the gigantic Leopolda Station in Florence. While the children get ready and makefriends in the backstage, the spectators were enraptured by the gigantic tent, the performances of the artists, and the long runwayon which many very young models parade. 30 minutes of emotion ending with the public warmly applauding our stylists.
65 Benetton Street
Kids from all around the world live in a place created by Jean-Charles de Castelbajac for his first kids' collection under UnitedColors of Benetton, featured at Pitti Bimbo, the world's biggest junior fashion fair.The new kids' collection by Jean-Charles deCastelbajac for United Colors of Benetton made its debut at the Teatrino Lorenese, within the colorful, playful and lively world of"65 Benetton Street".
Sarabanda and Ducati team up for a capsule collection
Sarabanda announced the collaboration with Ducati for a capsule collection that combines the unmistakable style of the Tuscan label, its great care for details and attention to trends, with the active and bold spirit of the brand from Bologna.
Fruit of the collaboration between Sarabanda, the children's clothing brand of the Miniconf Group – with 45 years as a leading kidswear company – and Ducati, the historic Italian excellence, the first collection features twelve pieces, including nine garments and three accessories, created for kids aged 6 to 16 years old. The items have a comfortable and sporty fit and are made from materials like jersey and fleece, with definition provided by tech details like reflective finishes, technical zips and rubber hangtags with relief writings, while all-over tone-on-tone graphics characterize them.
The books selection of C'era una volta
The brand C'era una volta offered a selection of books to give to customers for creating a window. The goal was to bring childrencloser to the discovery of words, stories and emotions on paper, inviting adults to share this moment with them.
C'era una volta – Once upon a time… That's how all fairy tales start. As well as a true story. C'era una volta is an Italian brand thatdresses kids aged from 0 to 12 years with a delicate, sophisticated and timeless style. At Pitti Bimbo the unique style of C'erauna volta also adorned the love of reading. The brand presented a selection of ten international illustrated albums, short storiestold in pictures that provided an ideal showcase for children of all ages. These tales bring fashion icons like Coco Chanel to thepage, playing with shapes and colors, portraying fashion and inviting us to exercise our sense of wonder and astonishment.